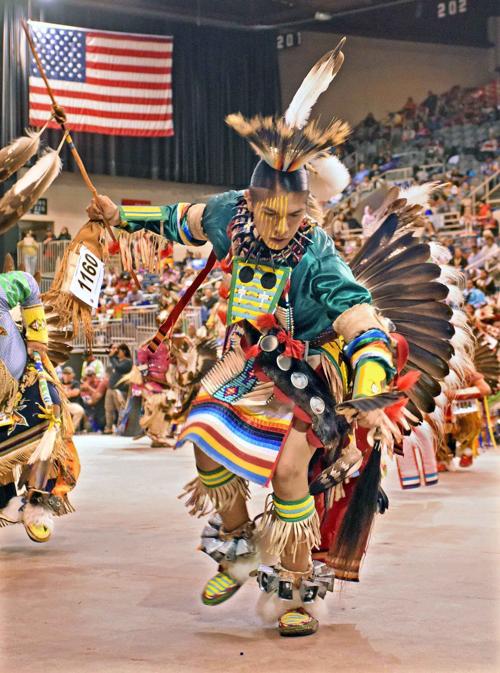 The coronavirus pandemic has prompted organizers to cancel the 2020 United Tribes Technical College International Powwow, an event that typically brings about 10,000 people to Bismarck.
The annual powwow attracts dancers from dozens of tribes across the U.S. and Canada and awards more than $100,000 in prize money. It's considered one of the top powwows in the nation.
"At this large a gathering, it would not have been possible to maintain the recommended social distancing and feel confident about avoiding the virus," powwow committee chairwoman Melissa Plenty Chief said in a statement.
The move also impacts other events during "United Tribes Events Week" that had been scheduled for Sept. 8-13.
"As we continued planning through the spring, we kept a close watch on how the COVID-19 pandemic was progressing across the country and on the Great Plains," college President Leander McDonald said. "We concluded that our highest priority is to the health and safety of employees, students and the community." 
Events affected by the decision are the three-day 51st Annual Powwow, Tribal Leaders Summit, Legends Softball Tournament, Golf Tournament, Thunderbird Run and Youth Basketball Tournament.
"We felt it was our responsibility to model the kind of responsible behavior and leadership that would guide our relatives and friends safely past this unprecedented global threat," said Turtle Mountain Band of Chippewa Chairman Jamie Azure, who also is board chairman of the college run by North Dakota tribes.
The decision to call off the powwow follows the coronavirus-related cancellation of other large entertainment and cultural events in North Dakota, including the summer State Fair and the Norsk Hostfest in the fall. Those two events together contribute about $90 million to Minot's economy, according to Visit Minot.
The cancellation of the powwow also will have a financial impact. It boosts the Bismarck-Mandan economy by more than $4 million, according to the college. United Tribes also uses the proceeds from Events Week to fund student scholarships.
Last year's 50th anniversary powwow also was disrupted, by bad weather, but it was still held. It was moved from Lone Star Arena at the college to the Bismarck Event Center.
Stay up-to-date on what's happening
Receive the latest in local entertainment news in your inbox weekly!