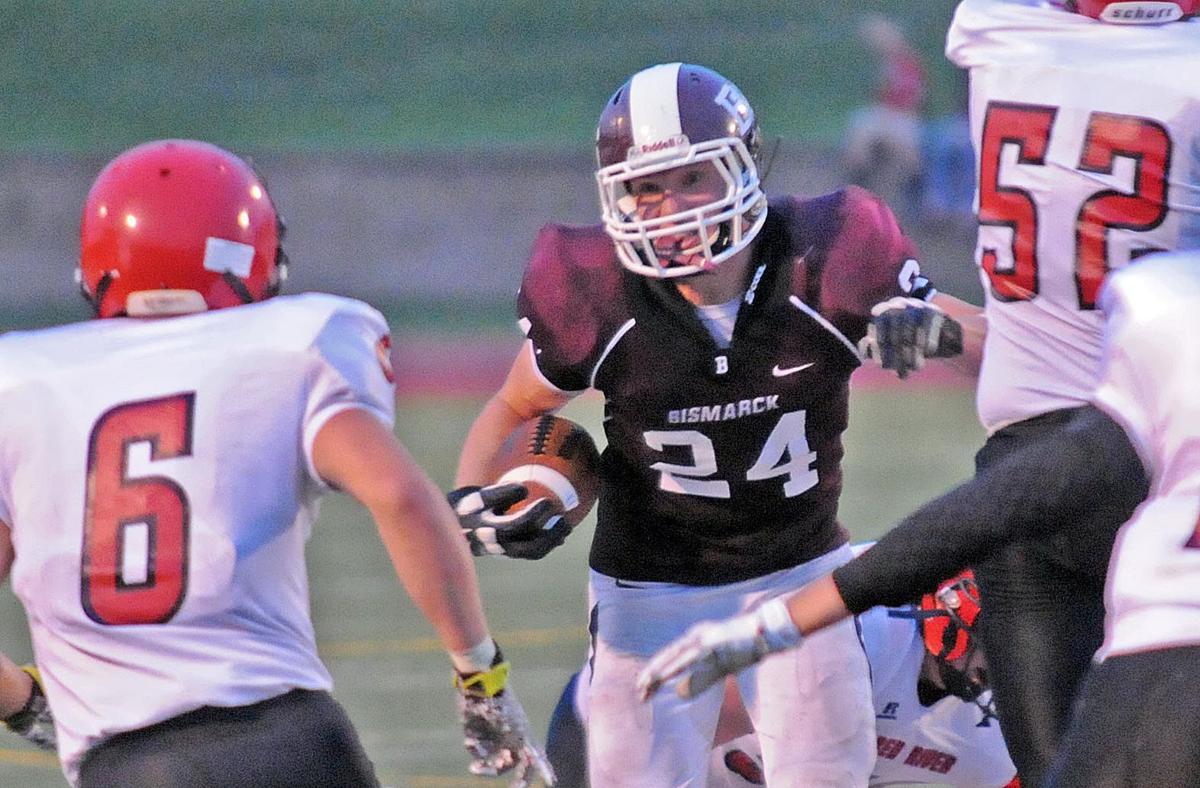 Prior to the first scrimmage, Bismarck Demons football coach Mark Gibson was talking about his team in historic terms.
 "With our lack of numbers, indications are we'll probably play kids both ways a lot more than in the past," Gibson said amid preseason workouts. "It's probably to the point where it will be like 1999, my first year. In 1999 we had nine people starting both ways."
Ominous though that may sound, Gibson isn't necessarily predicting  a repeat of the Demons 4-6 record of 1999. He says BHS will probably wind up in the middle of the West Region, fighting for a playoff berth.
 "It will be the top three (Minot, Century and Legacy) and the rest of us in a muddled mess," he said. "The top three are shoo-ins, but nobody (in the state) is close to West Fargo."
 Although Gibson has many candidates for two-way duty, he's hoping only a couple will be called on to be iron men. They're sophomores Dalton Gullickson, a 190-pound tight end-defensive end, and Chase Dockter, a 225-pound tackle-nose guard.
  However, there are plenty of other candidates for extensive two-way action. Senior possibilities are 210-pound lineman Preston Mayer, 240-pound lineman Nic Carter, 220-pound fullback-linebacker Justin Bergquist, 220-pound fullback-linebacker, Connor Piatz, 150-pound wide receiver-defensive back Matt Schaner and 220-pound tailback-defensive end Lucas Butts. Juniors who will probably see two-way duty are 210-pound tight end-linebacker Mark Stumpf, 170-pound tailback-defensive back Jalen Sprecher and 210-pound fullback-defensive back Jared Rath.
  "They're all going to be spotted on offense, defense or somewhere," Gibson said.
 Gibson, who has 62 players listed on his varsity roster, says such a modest head count isn't a mere bothersome aberration. With the opening of Legacy, he thinks it may well be the wave of the future.
 "It's probably a trend that we're going to have to get used to," he said.
  Butts, an all-region nose guard last season, will likely be primarily a tailback this year. That will lend a little more experience to an offense that was devastated by graduation. Jack Sullivan, a 185-pound senior wide receiver, and Mayer in the line are the only other returning regulars on the offensive side of the ball. Mayer returns after missing the second half of last season with a broken ankle.
 Butts' move is not without precedent.
  "Over the years we've been mainly a senior-dominated offense. ... Layne Johs, for example, started on defense and later in his career became our tailback," Gibson observed. "That's the same thing we're doing with Butts."
 Johs earned all-state honors as a senior tailback in 2012.
  With Butts, Sprecher, Bergquist and Rath on hand, Gibson believes the Demons will be well-fortified at running back.
 "I can't remember a year when we had four running backs like them. ... Butts is a big, strong kid, a grinder. Sprecher is the dart -- a little scatterbug. The two fullbacks are mirror images of each other -- very tough hard-nosed football players."
 Defensively, Gibson and his staff can build around five returning regulars -- Mayer in the line, Butts, who is moving from nose guard to defensive end; Bergquist, who will move from tackle to linebacker;  senior linebacker Tanner Jochim and Sprecher in the secondary.
 "We've got more kids returning on the defensive side of the ball. ... Our secondary was young last year, so a lot of those kids are returning. I've been really pleased with the leadership on the defense. We need to develop that on the offensive side of the ball," Gibson said.
  The move of Bergquist is vital to the BHS defense, according to Gibson.
 "He has to be our leader on defense," the coach noted.
  As the Demons prepare for their Friday opener at Fargo Davies, Gibson said the biggest question marks are the line play, both on offense and defense, and at quarterback. He's concerned with a lack of size and experience up front.
 "The top three teams, with the veterans they have, are going to be a lot bigger than anyone else," he observed.
 Bismarck's tentative offensive interior five will average about 235 pounds.
 Gibson's likely BHS quarterback, 160-pound Will Madler, is a sophomore, hardly the norm in AAA football. He's thrown only one pass in varsity action.
  Because the Demons are counting on so many newcomers, Gibson says it's important to make progress in the two non-regional games with Davies and Fargo South.
 "More so than any year we've had, the preseason is vital for this team," he said. "The glaring thing is we have no idea how these kids are going to line up on Friday night. ... We've got two preseason games with two strong opponents where we get to figure out the pieces of the puzzle," he said.
 Gibson is confident he's already found one of those pieces. Junior Zac Schmidt will take over for graduated all-state kicker Hunter Johnson. Like Johnson, Schmidt is a soccer player.
 "He's kicked all summer. I went by the Bowl one day when it was about 95 (degrees) and he was out there kicking. He's a great young man," Gibson noted.
 Gibson is hoping intangibles can diminish the Demons' shortcomings in size and experience.
 "I like their attitude. They definitely understand the challenge ahead of them," he said. "If they continue to be hungry at practice they can develop into a pretty good football team at the end. The attitude has been great."
 Bismarck's football tradition ranks with the best. The Demons have played in seven state championship games in the last nine seasons, winning four championships. They've been to the playoffs the last 26 seasons.
 Gibson said tradition has merit, but the tradition he values is that of commitment and unrelenting hard work.
 "Hopefully they want to have success, and they've seen what it takes to get to where they want to go," he said.