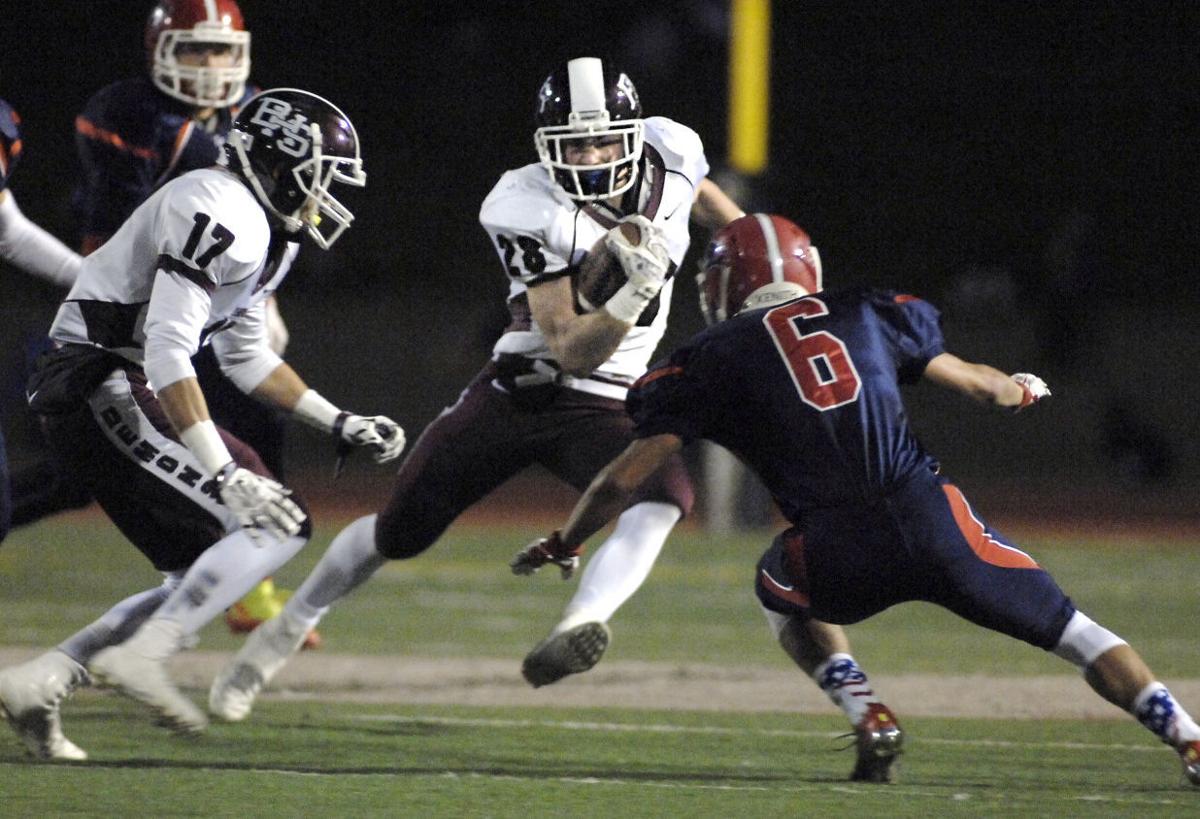 Standout senior tailback Jaxon Ford lives happily in the 21st century, but the motivating forces in his life are clearly old school.
For that, Bismarck Demons football coach Mark Gibson couldn't be happier.
"Jaxon Ford is a kid who, no matter what the situation is, will give you every ounce of energy in his body. ... He doesn't give up. Those are traits you don't find in very many kids," Gibson said.
Last week, with Bismarck's season hanging in the balance, Ford scored six touchdowns to lead the Demons to a 62-39 victory over Mandan. That victory thrust the Demons into the playoffs. Ford's long night's work included 40 carries for 360 yards, both career highs. For lagniappe, he grabbed a 25-yard TD pass.
Ford's performance amazed Gibson, who has seen a lot of impressive things in his 17 seasons as BHS head coach, five state championship seasons included.
"I know personally I could never do the things he does," Gibson said. "I'm not sure that he has a breaking point. He reminds me of Weston (Dressler) -- that quiet presence that never stops.
"It's an old adage, but you can't measure the heart."
When it comes to defining the forces that drive him, Ford, too, speaks of the heart.
"I guess it's my heart. My heart is in it. My heart wants to win," he said. "Everyone wants to be successful. You get out of it what you put into it, that's the way I look at it. That's just the way I do everything."
Ford knows a little bit about success. In his two years as a varsity starter he's played in 19 games, 16 of them victories. He's a returning all-state player who rushed for 1,398 yards and 22 touchdowns last season.
Last week's production boosted his senior year tally to 1,708 rushing yards in 213 carries with 20 touchdowns. He's caught 11 passes for 190 yards and three scores and returned a kickoff 85 yards for a TD.
His work load is up significantly. As a junior he averaged 17.7 carries per game. This year he's toting the ball 23.7 times per game. 
That suggests durability. He's suffered a broken nose and broken wrist in baseball and a broken nose and a couple of shoulder injuries in hockey. In football, however, he's never been banged up to the point that he's missed significant playing time.
At 5-foot-11 and a trim 170 pounds, in mufti Ford looks more like a pole vaulter than a football player. Yet he's seldom on the ground for more than a heartbeat after being tackled, even if he's taken a thundering hit.
"In the game against Mandan he had 40 carries," Gibson recalled. "I had no idea he was close to that. He'd get hit hard, put the ball down and jog back to the huddle. ... Every team we play tries to punish him. They hit him every way they can. It's amazing with the size he has."
Ford said his durability isn't the result of any special training or technique.
"I put it in God's hands," Ford said by way of explanation. "I put God first and I guess I don't play not to get hurt."
Yet he doesn't claim to be a superman. He just saves the soreness for Saturday morning.
"After a game I definitely do feel aches and pains, but on Friday nights the adrenaline is going and I try to tone everything out," he noted.
Bismarck, 7-2, finds itself in the unusual position of entering the playoffs as the No. 4 seed from the West. That puts the fourth-ranked Demons at West Fargo  tonight in a quarterfinal game. Third-ranked West Fargo is the No. 1 seed from the East.
In another quarterfinal contest, Century, 7-2 with five straight victories, plays host to defending state champion Fargo Davies, 5-4 at the Community Bowl. Elsewhere, Fargo South, 5-4, visits top-ranked Minot, 8-1, and Dickinson, 7-2, is at West Fargo Sheyenne, 7-2. All four games are scheduled for 7 p.m. kickoffs.
Based on Bismarck's 25-18 win at West Fargo in the second game of the season, Ford expects a bruising game tonight.
"Definitely. We all remember that game. ... Now we're all playing to move on. They are good, I'll give that to them," he said. ... We think we've come a long way as a team. Everyone knows it's going to be a battle."
From Ford's perspective, the outcome of tonight's game will be influenced more by human forces than Xs and Os.
"Everybody knows the things we have to do, but I think it comes down to who wants it more," he said. "... The No. 1 thing is to play as a team. You can't be broken apart or brought down if you play together. 'One heartbeat' is our motto."
Statistically, West Fargo is imposing. The Packers lead the East Region in scoring offense (34.7) and scoring defense (10.6). Big and physical up front, the Packers give up yardage on the ground grudgingly.
Although Ford ran 26 times for 120 yards in the first encounter with West Fargo, the BHS offense was inconsistent, scoring just one touchdown. Two Hunter Johnson field goals and a defensive score by linebacker Brayden Gieser made the difference for the Demons.
Quarterback Creighton Pfau, a 6-3, 185-pound senior, is the sparkplug of the Packer offense. He leads the team in rushing with 778 yards on 92 carries and has thrown for 871 yards on 57-110-5 accuracy. He's scored 10 touchdowns and passed for nine.
Pfau rushed for 131 yards and a touchdown on 17 carries in the first meeting with Bismarck and threw touchdown passes to Haboniman Simon and Michael Yeanay.
With a playoff berth on the line, Ford played outstanding football against Minot, Century and Mandan over the final three weeks of the season. He ran 93 times for 724 yards and seven touchdowns in those three games and hauled in four passes for 54 yards and a TD.
Ford said it would be nice to be thought of as a big-game player, but that's not the way he sees it.
"I'd like to say that ... but each game is as big as every other game," he said. "They're all big, especially now. ... Everyone has to be perfect in the postseason."
NOTES: Minot, with the state's best record at 8-1, topped the final AAA poll. Behind the Magicians come Century, West Fargo, Bismarck and Dickinson. Minot, Century and West Fargo all drew first-place voting support. ... Bismarck has won its last eight encounters with West Fargo, dating back to 2010. The Demons stand 14-4 against West Fargo during the Mark Gibson era, including a 6-2 playoff advantage. BHS has won its last six playoff games with the Packers. ... Century and Fargo Davies have played just four times. Century has won three of the four, including a 31-28 victory in the 2013 playoffs. The Patriots won 21-0 in this year's season opener. ... South boasts seven straight wins over Minot. The Bruins have beaten Minot in five straight playoff games, including a 40-0 victory in the 2006 state championship game. ... Dickinson and West Fargo Sheyenne are meeting for the first time.