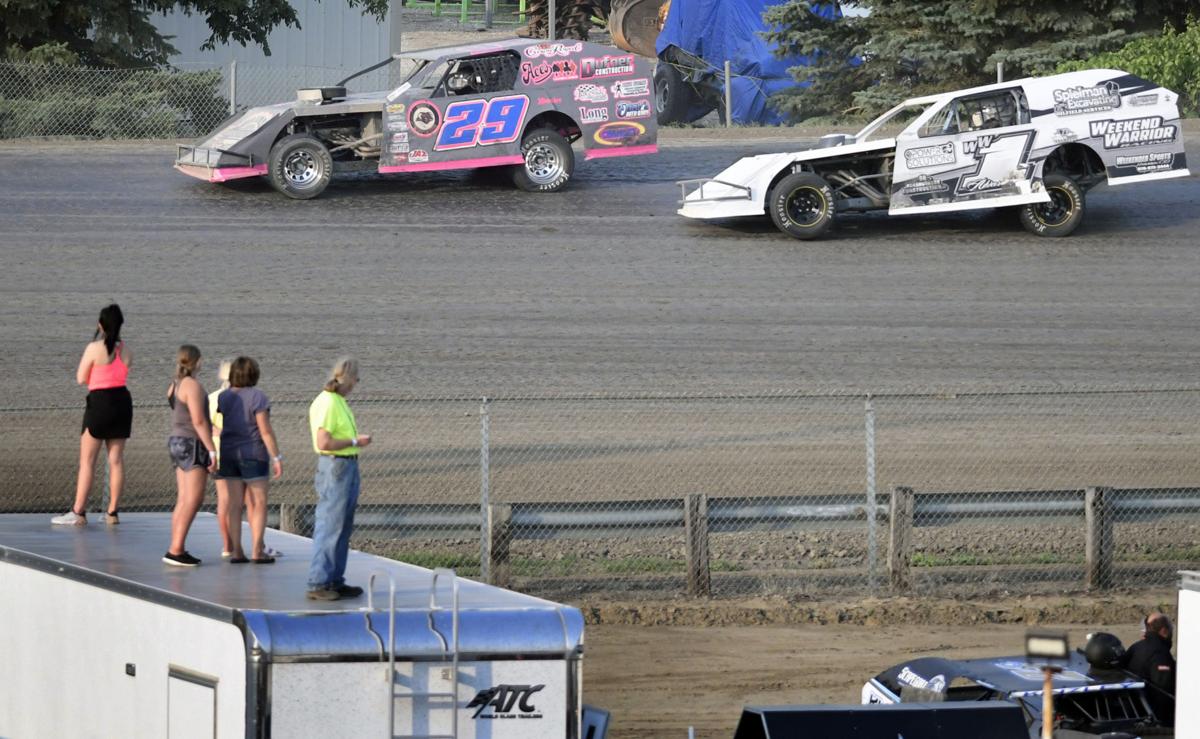 Persistent and consistent, 27-year-old Tim Ward of Harcourt, Iowa, drove away with the IMCA Modified championship in the 32nd annual Dakota Classic Modified Tour.
The six-stop tour wasn't a paying proposition for Ward in his first five trips around the tour from 2014 through 2018.
"I may have run third in points one year," he recalled.
The scheduling didn't work out the last two years. But Ward came back this summer and cobbled together a championship by doggedly running near the front of the pack.
He didn't pull down a $2,000 prize for a feature win at any of the tour stops, but he picked up second-place money twice, placed in the top five four times and the top 10 every night.
He ran fourth in the tour opener in Jamestown, 10th and ninth the two nights in Minot, and second in Williston and Dickinson.
That left him two points behind Cody Laney of Torrance, California, the Modified points leader, going into the June 15 tour finale at Dacotah Speedway in Mandan. He overtook Laney with a fifth-place finish. Laney finished ninth, leaving him two points behind Ward.
Ward, who has been racing Modifieds since he was 14 years old, long since gave up speculating over his chances. He chooses to respect the sport, race hard and accept the results.
"(Thursday) was just like any other race. Anything can happen. ... Everybody is so close," he observed.
"There are so many good cars," he added. "You've got to be lucky and fast and be consistent, not crash and not break down. A lot of things can happen."
His No. 4 car eliminated any worries of a breakdown, however.
"The car was pretty smooth. We just did normal maintenance all week long. ... It went pretty well," he said.
Ward qualified for Thursday's feature race by winning his B-main race. He started Thursday's 30-lap feature on the inside of the seventh row. He worked his way up to second behind Bricen James for a couple of laps in the middle of the race before eventually dropping back to fifth.
Bricen, from Albany, Oregon, ran first the entire race to win his first feature of the tour.
Likewise, Jake Nelson of Williston drove in the lead from start to finish to win the 25-lap IMCA Stock Car feature to pocket $1,000. Preston Martin fought off an early challenge from Ivan Sailer to win the Legends feature. Both are from Bismarck.
Zachary Madrid of Phoenix, Arizona, topped the Stock Car points standings with 229 points, eight ahead of runner-up Dalton Flory of Williston.
Ward said past experience has convinced him that winning the DCMT is an accomplishment.
"This is a pretty big deal," he said. "I've seen a lot of good drivers win this championship."
The Dakota Tour victory comes on the heels of a profitable visit to Minnesota. He won the 50-lap feature on the final day of the Land of 10,000 Lakes tour in Granite City, earning a $10,000 payout in the process. He placed fifth in the Modified points standings in Minnesota.
Winning the DCMT points title was worth $1,600, plus the placement earnings he picked up with his consistently high finishes.
Ward said he hopes to return to North Dakota for another run through the Dakota Tour in 2022.
His more immediate plans involve returning home to Harcourt, which is located in west central Iowa near the Des Moines River. In Iowa he does most of his racing at tracks in Boone, Marshalltown and Stuart.
"We'll go to the Boone speedway on Saturday and West Union for a special on Wednesday," he said.
NOTES: The June 15 show attracted 106 cars, 52 of them Modifieds. ... Thirty-five Legends ran, along with 19 Stock Cars. ... Kollin Hibdon of Pahrump, Nev., won features at Jamestown and Minot, but placed 13th in the Modified point standings with 148. He failed to make the feature three of the six nights. ... Ward becomes the fifth Iowa driver to win the DCMT. Dean Mahlstedt won in 2005, followed by Troy Cordes in 2006, Jay Noteboom in 2009 and 2011, and Tom Berry Jr. in 2019. ... Austin Arneson of Fargo and Elijah Zevenbergen of Ocheyedan, Iowa, were the 2020 champions in the Modified and Stock Car divisions, respectively. Neither entered the Tour this year.