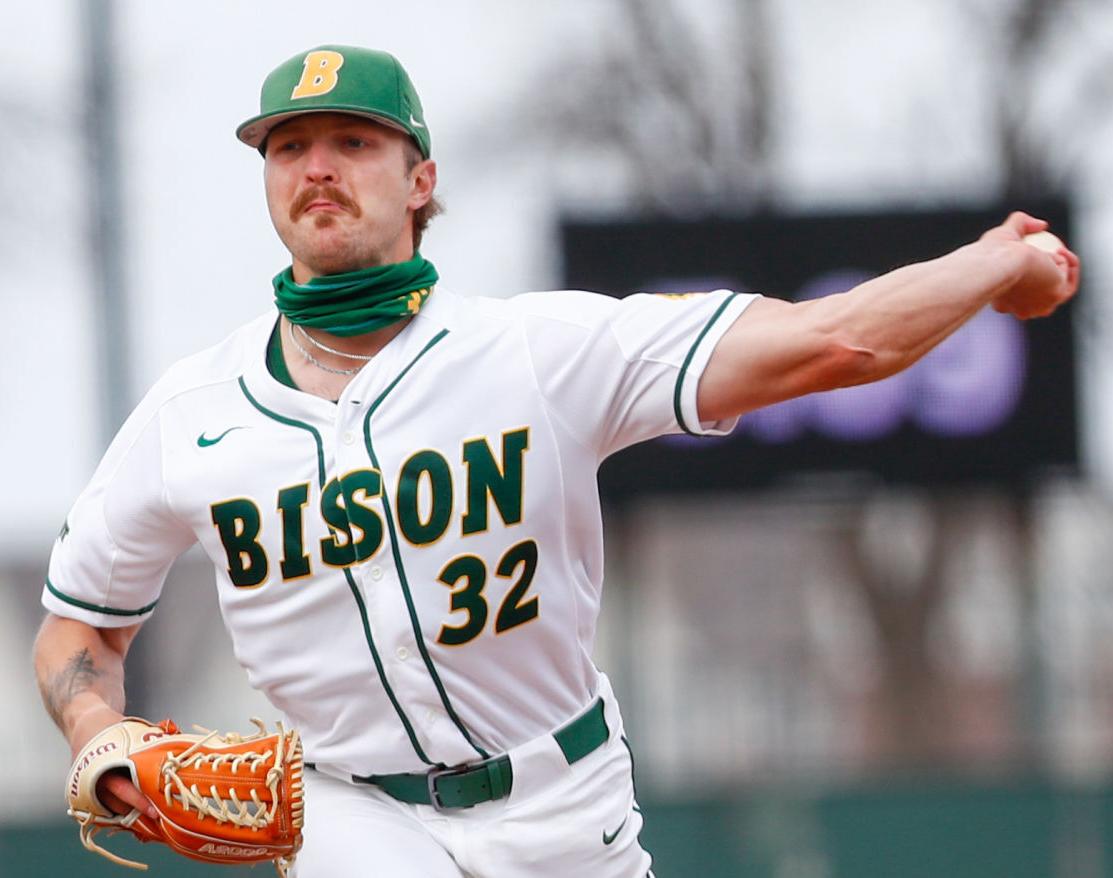 Parker Harm was hoping for a chance. Tuesday, the Kansas City Royals gave it to him.
The Mandan product was not selected in the 20-round Major League Baseball draft, but the North Dakota State All-American left-handed pitcher was quickly scooped up by Kansas City. In fact, the Royals called Harm before the draft was over to tell him he would not be selected, but that they wanted to sign him right after it was over.
"Obviously, you'd like to be a draft pick, but I'm very happy with everything at this point with how old I am," he said. "It's the draft. It could either way. A lot of guys in my position won't get an opportunity like this, so I'm very grateful that I get to continue playing and hopefully it blossoms from here."
Harm's age (24) was the only strike against him. His senior season for the Bison was off the charts. 
In NDSU's NCAA Division I era, Harm was the first player to earn All-American honors. He ranked among the leaders in the nation in strikeouts-per-nine-innings at 15.1. He struck out 62 batters in 37 innings and posted an earned-run average of 1.70. His 12 saves set a new record and he finished with the highest strikeout rate (10.58) and tied for the second-most in saves (15) in program history.
It all came during NDSU's best season. The Bison went 42-19 and picked up their first NCAA tournament victory, a game in which Century's Cade Feeney pitched first six innings and Harm the last three to earn the save.
"It's all still surreal for me. I'm super happy with the way everything worked out," Harm said. "To win the Summit League championship with some of my favorite people in the world, and then win a game at regionals, it really was a dream-type season."
Now it's on to pro ball. The exact details are still being ironed out. He's not sure where he'll go first, but expects to begin his career soon and is happy it's with the Royals.
"A couple other teams were interested but I felt there were good relationships with the Royals and their core values or caring for their players was something that was pretty evident throughout the whole process," he said. "I don't know a lot of the specifics yet in terms of the contract details and where I'll start. I think by the end of the week I'll have a pretty good idea of what the next step is."
He's been trying to stay sharp in the meantime, pitching some innings for the Moorhead Brewers amateur team.
"It's exciting. I'm really looking forward to finding out where I'm going," he said. "I'm hoping for high A (minor league affiliate), but it could be anything from rookie ball in Arizona to a lower A team. Wherever it is, I'll be super pumped to go there and get started."