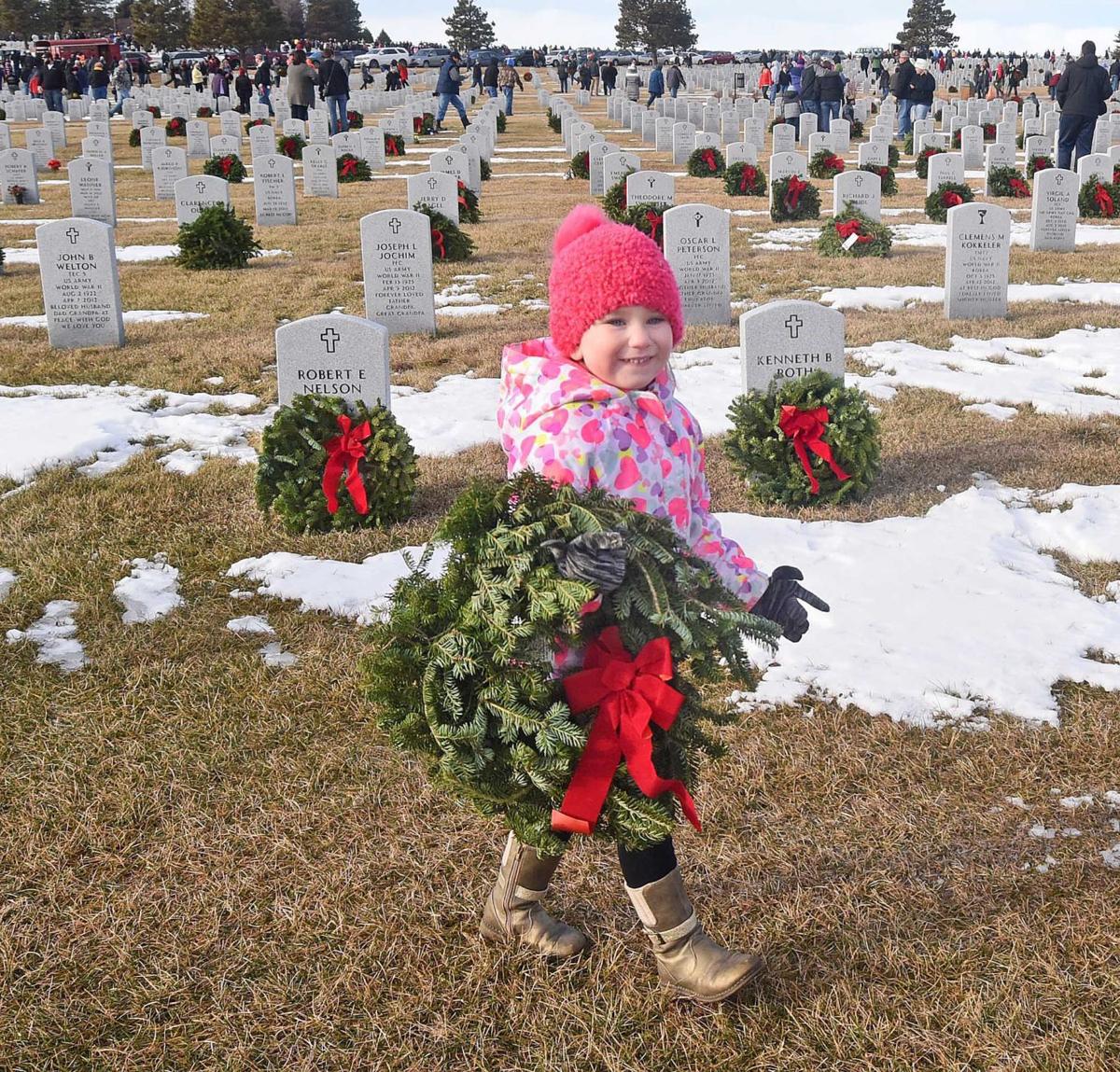 Every year, Mary Ellen Jesse sponsors three wreaths to be laid at the North Dakota Veterans Cemetery.
One for her husband. One for a friend. And one for a student she taught in first grade.
"It's very important to me that we remember members of our family who were in the services and friends and students, especially for people who aren't able to be here," Jesse said.
Her wreaths will be among thousands that will be laid Dec. 14 at the cemetery south of Mandan as part of Wreaths Across America, a Maine-based national organization that remembers fallen military veterans by laying wreaths on their graves during the holiday season.
The annual wreath laying and associated ceremony at the cemetery are organized by the Bismarck Composite Squadron of the Civil Air Patrol.
"It's a great group of volunteers, and they really love being involved in it," said squadron Lt. Col. Kevin Iverson, who has helped organize the event since 2009. For more than a decade, Wreaths Across America has laid wreaths at the cemetery's headstones.
The squadron asks for $15 wreath sponsorships to be submitted by Monday. The group in early December will place its final order for the wreaths that come from Maine. Many donations come in after Thanksgiving; they are typically carried over for the next year, Iverson said.
As of Wednesday, 85% of the cemetery's 6,900 graves had sponsored wreaths, Iverson said.
The program has grown in popularity in recent years, ranging from about 1,200 to 1,500 people a year before 2018, when Iverson estimates 3,300 people came to the ceremony. It's hard to say how many might come this year.
You have free articles remaining.
Good weather conditions likely bring out more people, he said. And there's a sense of patriotism in the air. 
"This is a very patriotic part of the country," Iverson said. "I will tell you, patriotism is really easy in this area. It's easy to show. I think it's an opportunity for a lot of people who miss loved ones who passed away. It's an opportunity to jointly honor those veterans all at the same time, and I think there's strength in the numbers, everybody out there at the same time, and it's very much a community event."
For five consecutive years, every grave has had a wreath placed on it -- an act completed within 20 minutes in 2018, said Pam Helbling-Schafer, the cemetery's director since 2012.
"Everyone wants to do something to show their support for our military, and this is just another outlet for them to turn to," she said.
The public is invited to the ceremony, which honors each branch of the U.S. military, as well as POW-MIA service members and the U.S. Merchant Marine, with wreaths placed by veterans selected from nominations.
"I tell you what, it's one of my favorite parts of the holiday season, outside of being with family, is the ceremony, but also to be able to work with those veterans that were selected to place those wreaths, because, I mean, you can tell that it is such an incredible honor to them to able to place that wreath on behalf of their brothers and sisters in arms," said Lt. Col. Sean Johnson with the Civil Air Patrol's North Dakota Wing.
The squadron plans to remove the wreaths on Jan. 18, Iverson said.
Jesse, who lives in Bismarck, said she plans to visit the cemetery, depending on weather.
Friends have offered her a ride there, and if she isn't able to lay her wreaths, she'll eventually go out to "spruce them up a little bit."
"I will get out there one way or another," she said.
The Wreaths Across America ceremony is at 11 a.m. Dec. 14 at the Veterans Cemetery south of Mandan. Carpooling is recommended. More information about sponsoring a wreath is at bismarckcap.com.