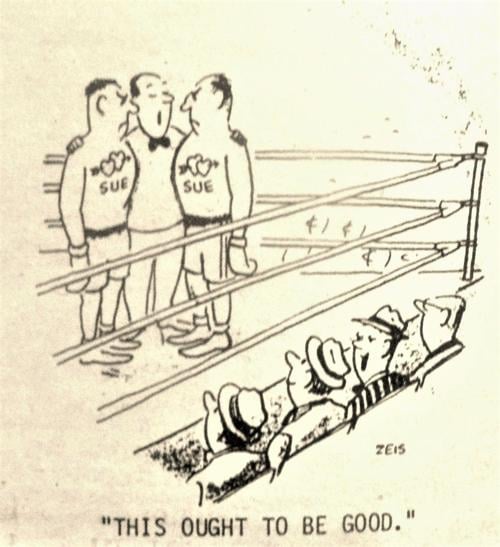 This column was originally printed in 2010. It's running again because historical archives remain closed at the state Capitol due to the COVID-19 virus preventing further research.
May - 2000
Mandan Senior High School's 98th annual commencement concluded with the presentation of diplomas to the 268 members of the class of 2000 on Sunday, May 21, at Faris Field before a crowd of more than 2,200. During the ceremony, speeches were given by honor graduates Tyler Bohl, Heather Hartwig and Abe Ulmer.
That evening a majority of the students attended the 16th Annual Ultimate Graduation Party held at Midway Bowling Lanes on the Strip. From 9 p.m. to 4 a.m., participants were entertained with karaoke, bowling and dance music provided by Royal Rick's Rock and Roll Show. Refreshments were also served throughout the evening with more than 100 door prizes, valued at $1,500, given away to the students. With a total budget of $14,000, the graduation party relies entirely on donations from businesses and parents. This year's party chairpersons were Carol Kremlacek and Lou Ann Debele.
Five staff members at St. Joseph School have received recognition for a total of 70 years of service. Receiving awards from the school's parent-teachers organization were Valerie Miller, five years; Sandy Dirk, 10 years; Valerie Vogel, 10 years; Lyvon Hellman, 20 years; Rita Overbeck, 25 years.
May - 1985
The Mandan Athletic and Recreation Club has selected Joanne Jensen in girls track and Monte Myers in boys track as their Athletes of the Month for April. Joanne has qualified for the State meet in both the shot put and discus. She also set a school record in the discus, 146-7, which broke her own previous record by 23 feet. Joanne is the daughter of Mr. and Mrs. John Jensen. During April, Monte set a new school record in the javelin with a 202-4, placed first in three meets and also qualified for the State Meet. Monte is the son of Mr. and Mrs. Paul Myers.
Kay Thornton, Mandan, has been elected the first President of North Dakota's New Women of Today, formerly the Jaycee Women. The name change and election of officers occurred during the State Convention of the North Dakota Jaycees and Jaycees Women in Fargo held May 10-12. Thornton was also named Outstanding Chapter President. Jaycees receiving awards were: Ken Bullinger, Outstanding District Director; and Dale Vincent, Outstanding Program Manager, for being the editor of the Roughrider, the N.D. Jaycees state paper.
Among those recognized at the Awards Day program at Mandan High School were the Outstanding Students of Year, selected by the Student Council. This year's selections are: senior - Cheryl Leingang; junior - Lynn Berge; sophomore - Shannon Gangl; and freshman - Mike Haney. Diplomas were also presented to 276 seniors during commencement ceremonies held May 26.
May - 1960
Thirteen MHS juniors have been chosen to attend the 18th annual North Dakota Boys State to be held on the campus of the North Dakota Agricultural College during the third week of June. Boys State is a citizenship training program where junior boys learn the functions of a democracy by operating a mythical state government.
Selected by Mandan service groups are: Ken Ciavarella by the Legion Club; Harry Entzel by the Moose Club; Frank Fish by the Police Department; James Green by the Elks Lodge; Pat Hammerel by John Kennelly; Charles Higgins by the Lions Club; Duane Hovland by the 40 et 8 Legion Post 40; Gene Hubbard by the Methodist Men's Club; Leroy Kary by the Eagles Club; Bruce Klein by the Kiwanis Club; Wayne Lanz by the Knights of Columbus; Burdette Larson, by the Rotary Club; and Douglas Olsen by the Masonic Lodge.
The Wednesday night Women's Woodchoppers Bowling League closed out its 1959-60 season with a banquet and meeting at Jerry's Supper Club on the InterCity highway. New officers elected for the coming year are: Kip Phillips, president; Dorothy Muth, vice president; Agnes Froelich, secretary - treasurer; and Dianne Smith, sergeant-at-arms. Final team standings are: 1. McQuade Distributing; 2. Tony's Standard; 3. Lockbeam Hardware; 4. S & K Dairy; 5. Fischer's Bar; 6. Houck Transport; 7. Vi's Cafe; 8. Barney's Standard; 9. Cermak & Wetsch; 10. J.C. Penney.
Two Mandan men appeared before Justice H. E. Fowler in court this week and pleaded guilty to a charge of drag racing on Highway 10, west of Mandan. Both were fined $50, $4 court costs and sentenced to ten days in the Morton County jail. Arresting officer State Patrolman Maurice Foley stated the two were racing side-by-side at speeds approaching 90 miles per hour for about a two-mile stretch.
May - 1935
Joe Schmidt Sr., of Mandan is believed to be the oldest North Dakota resident applying for a driver's license. He gave his age as 84 and stated that he had been driving for nearly 30 years. He's never had an accident. "People go too fast now," he said. "They eat too fast, live too fast and drive too fast... and they die too fast, too."
Fifty percent of Morton County's rural schools were closed by May 15. According to Charles Bugbee, deputy county superintendent of schools, many of the schools were opened for eight-month terms only, due to lack of funds.
J. T. McGillic has been elected Exalted Ruler of Mandan's B.P.O. Elks Lodge No. 1256. He succeeds B. M. Porter.
Death has claimed Peter Fristad, 76, pioneer Morton resident since 1889. His homestead was 17 miles northwest of Mandan where he had resided for 50 years. Born in Norway, he learned the carpentry trade there and at the age of 26 came to the United States, where he married Patrina Aubel. Fristad claimed Sitting Bull as a friend. Survivors include three sons and five daughters. Fristad is buried in the Harmon Cemetery.
May - 1910
"W. A. Lanterman received a handsome new automobile on Monday. The machine is a 40-horsepower Chalmers-Detroit, and is equipped with a closed coupe body. It is a fine addition to the automobile showings of this city.
"The census takers in this city have nearly finished making their rounds and the total is still short of 5,000. If there is anyone in the city who has not been seen, it is their duty to send in their names. It is not necessary to put a stamp on the envelope, just address it to "Census Enumerator, Mandan, N.D." and you will be placed on the rolls.
"A new brick yard which is being installed on the Riverside road, about a mile and three-quarters south of the city, will be ready for business by June 15. The yards will occupy 20 acres and will extend back to the new railroad line, where the switch tracks will give the yards good shipping facilities. With the investment of nearly $20,000 for machinery, the yards are expected to produce up to 4,000 bricks a day."
Catch the latest in Opinion
Get opinion pieces, letters and editorials sent directly to your inbox weekly!