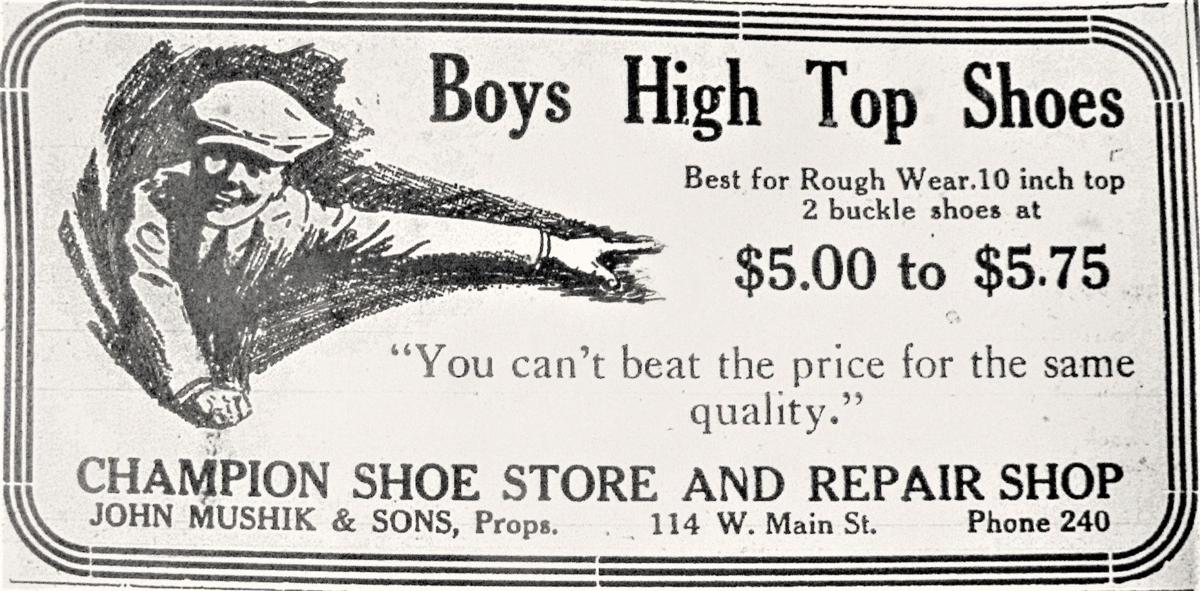 25 Years Ago – 1994
Mandan's Ryan Leingang, who plays tight end for the UND Fighting Sioux, caught a touchdown pass this past week to help University of North Dakota beat North Dakota State University for the second time this season and, more importantly, moved the Sioux into the NCAA Division II semifinals. Leingang also set up several key blocks to help Sioux runners eat up ground yardage. Two of Leingang's colleagues, K. J. Coghlan and Preston Fleck, are also Mandan High School alumni. These players, as well as several other small town North Dakota players, have built a winning college football team in Grand Forks.
Five Mandan football players have been picked for the North Dakota All-state team. Chosen on the first team are Braves quarterback Brad Wagner and defensive back Chris Giese. Delaney Berger was a second team pick at running back, as was Scott Tomanek as team kicker.
Temps recorded Tuesday, Dec. 6: a high of 6 degrees; 8 degrees below zero for the low.
50 Years Ago – 1969
Mrs. Minnie Ellison of Huff has retired, following more than 32 years of service with the United States Postal Department, having begun as postmistress at Huff in 1937. She served at that post for 22 years until the Northern Pacific Depot was moved in 1958 at which time Mrs. Ellison became the mail carrier for the Huff area and delivered mail to 29 families on a 34.6-mile route. Mrs. Ellison is married to Einar "Bush" Ellison who is currently employed with the Morton County road maintenance patrol in the Huff area.
Darlene Kautzman, daughter of Mr. and Mrs. Joe J. Kautzman of New Salem, has been named the state winner in the 4-H Citizenship program. As a winner from North Dakota, she received a certificate of honor and the right to compete for national awards.
The Mandan Park Board will operate five skating rinks this winter: at 8th Ave. and 7th St. SW; at Island Park Trailer Court; at 13th Ave. and 3rd St. NW; east of Lewis & Clark School; and at Division St. and 1st Ave. NE.
The $100,000 fire which recently destroyed the McDonald Hotel complex in Mandan has prompted the retirement of the building's office manager, C. T. Cody, after 28 years of service. He had also doubled as clerk for the Bismarck-Mandan Bus Line. Still looking for similar positions are I. M. Wurdeman and Fred Conrath, both were clerks at the 80-year-old hotel. A fatality of the blaze has also been reported. Glen Anderson, 51, of Detroit Lakes, one of five hospitalized in the blaze, died from injuries suffered in a two-story fall from the burning building. The 25 patrons routed in the blaze have found other accommodations.
The Interstate Commerce Commission at Washington, D.C., has ordered the Northern Pacific Railway to continue running the "Main Streeter" passenger train for one more year, according to an announcement made by the North Dakota Sen. Quentin Burdick Congressional delegation. The one-year period is as long as the ICC can order the NP to continue the service from Minneapolis- St. Paul through Bismarck-Mandan to the West Coast.
75 Years Ago – 1944
Funeral services were held this past week at St. Joseph Church for John C. Mushik, 56, president of the Madnan City Commission. He died at his Mandan home at midnight after suffering a heart attack earlier at the Mandan theater. He is survived by his widow and six children: Capt. Donald Mushik, Sgt. John A. Mushik and Sgt. C. W. Mushik, all stationed overseas; and Josephine, Dorothy and Marilyn Mushik, all at home.
Hundreds of wild horses, which roamed the Badlands ranges since they were foaled, have been rounded up in recent months and auctioned off in local sales rings for slaughter. Most of the meat is shipped abroad for consumption in countries of war-torn Europe where food is scarce, and unrationed meat is in great demand. North Dakota's wild horse herds have for years been the source of meat for the dog food industry, as far back as 1900.
News from the Armed Forces:
"Mrs. Jack Siegel recently received a letter from her son, 1st Lt. William Siegel, who is somewhere in Belgium. He writes: Dear Folks- Just a few lines to let you know I am OK. I am now a flight leader. I just got that position a few days ago. If I'm not sent home soon, I will be promoted to captain. I would really like that. I got into by first dogfight on my 66th mission. I didn't do exceptionally well, but I did shoot down one German fighter plane. We are now living in an old Belgium chateau. It is a pretty good deal after living in tents since the first of August. I hope everyone is well. Love, Bill.
"Staff Sgt. Jack McCormick returned to his home this week after serving overseas in the European theater of operations where he was a tail gunner on a B-17. He has 235 operational hours of combat flying and has completed 28 combat missions. He is the son of Mr. and Mrs. Wm. H. McCormick, 110 7th Ave. NW.
"Capt. Norman J. McKendry, 33, son of Mr. and Mrs. F. W. McKendry, Mandan, was killed in action in Germany on Nov. 16, according to a telegram sent from the War Department. He was with the American first army.
You have free articles remaining.
Capt. McKendry was born in Mandan and graduated from Mandan High School in 1929, and attended the North Dakota Agricultural College at Fargo, before receiving a diploma from Texas A & M as an electrical engineer. Besides his parents, survivors include his wife, Mary Lee, and 1-year old son, Tim Norman.
100 Years Ago – 1919
"Three hundred miners in the Washburn Lignite mines at Wilton have returned to work, and the state has surrendered control of all mines to their owners. According to most North Dakota newspapers, the recent governor's proclamation, seizing control of the state's lignite mines, was just an excuse to give Gov. Frazier and his fellow socialists an opportunity to socialize the mines. In the meantime, the crippling coal strikes continue on the East Coast and at Chicago and other points in the Midwest.
"The local coal situation has never been as acute as it is at the present time. Not a dealer in town had a ton of coal on hand today. The cold snap of the past two days has just simply put things to the bad, as no coal is coming from Wyoming. Mandan and Bismarck are dependent on lignite from mines whose capacity is far too small to take care of the demand of our cities.
"Born this past week to Mr. and Mrs. Joseph Barron, a son.
"Morris Rosen has purchased, for approximately $20,000, the Merchants National Bank building which is currently occupied by the Rosen Clothing store. The property is a fine brick block which was built 12 years ago as the home for the Farmers & Merchants Bank which has been moved to the Lewis & Clark building. Mr. Rosen came to Mandan about four years ago and opened up a store a half block east of Collins Avenue and Main Street where he has done a thriving business.
"A 'silk special' of 17 cars passed through Mandan this afternoon on its way to eastern cities from the West Coast where it was loaded with silk from steamships coming from the Orient. Most of these trains carry a load worth well over a million dollars.
"The U.S. Navy has purchased, for $2.5 million, the British airship R38, the largest in the world, now under construction in England. The R38 is 694 feet in length, 86 feet in diameter, and 92 feet high and can carry a load of 45 tons. The British has offered training for an American crew to fly the dirigible to the United States."
125 Years Ago– 1894
"On Thursday, Dec. 6, at 2:30 p.m., the thermometer recorded 48 degrees above zero.
"Mixed nuts, 15 cents a pound at Simpson's grocery.
"It is predicted that the Missouri River will be open at Christmas this year.
"Most people are beginning to feel as though some colder weather would feel mighty good just now.
"Supt. Lorin visited Fort Rice schools on Tuesday.
"Married: At the Peoples hotel yesterday by Judge Harper, Edmund Timm and Martha Barteit, both of Fort Rice.
"Several Indians, members of the Episcopal mission church at the Cannonball, were in the city on Tuesday for the purpose of getting an organ and stool that was purchased for their church.
"Merchants are filling their shelves with holiday goods, and the youngsters' faces are filled with anxiety as they eye the different store windows when going to and from school.
"Tomorrow Mr. O. H. Killand, who for the past six years has been connected with the clerical force in the Mandan railroad shops, will leave for a visit to his parents and relatives at his former home -- Tyresdal, Telemarken, Norway. Mr. Killand expects to be gone several months. While in Norway, he will devote considerable time in promoting emigration to the Northwest, particularly Morton county."
Diane Boit was raised and educated in the Red River Valley before coming to Mandan with her family in 1970. She has been involved with the Bismarck-Mandan newspapers for more than 30 years. She can be reached at dboit46@gmail.com.