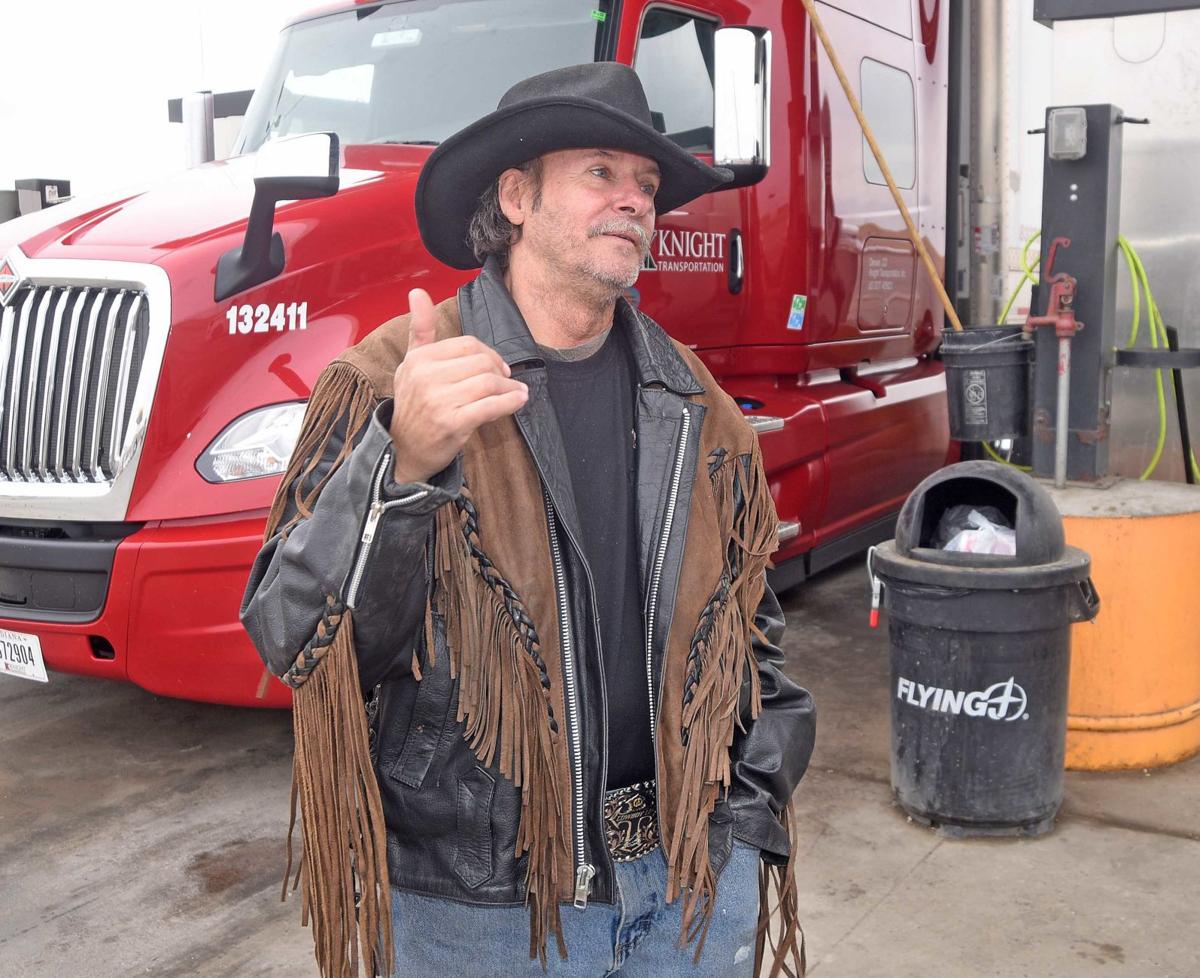 Bare grocery store shelves and a shortage of items such as toilet paper, hand sanitizer and eggs have become common during the coronavirus pandemic, but that isn't the fault of semitrailer drivers.
Those drivers are working around the clock to keep shelves as stocked as they are, Fargo/Moorhead Transportation Club President Mark Wolter said. And truckers are facing challenges, too.
"A lot of places are closed, so they are having a tough time getting supplies and getting their stuff done, too," Wolter said. "They are doing their jobs to help supply food and the grocery stores and all the supplies that America needs to move forward."
Some businesses and residents are finding ways to show their thanks.
Rolling Hills Restaurant, in the Flying J Travel Center truck stop just west of Mandan, is offering free desserts to semi drivers. 
"That's mainly who we serve, the locals and a lot of the truckers who come through," said Carol Ash, a supervisor at the restaurant. "Obviously, if it wasn't for them bringing stuff to us, we wouldn't have our stuff."
At the truck stop's entrance, a family had chalked "Thank You Truckers" surrounded by hearts on the pavement. A Bismarck woman and her two teenage children wrote the message after seeing a social media post showing a similar chalk message at the Sterling Cenex Top's Truck Stop in Sterling.
On Tuesday, Wyoming resident Michael Miskell, 61, parked to fuel his semi at the Flying J Travel Center. He wore a black cowboy hat, which he held down against the 20 mph wind.
Miskell had traveled from Loveland, Colo., carrying goods to Sam's Club in Bismarck. During the trip, he encountered about 30 incidents of people waving at him from their vehicles, he said. The friendliness from passing drivers "definitely has something to do" with the role truckers are playing in keeping the economy going during the coronavirus outbreak, he told the Tribune.
"Most people usually don't wave, but now you got people in cars waving," Miskell said, speaking softly with a smile. 
The Captain's Cabin, a restaurant in Washburn along U.S. Highway 83, reminded truckers in a widely distributed social media post that it has parking spaces large enough to accommodate semis. The restaurant also is offering all customers, along with truck drivers, overnight parking and a free cookie.
"It all kind of started because they can't come in and out of a lot of places, and my husband has a couple semis and it's complicated in certain parking lots to get in and out," Captain's Cabin owner Emmy Brent said. 
"I know that they are basically keeping our country afloat along with our energy providers. If they weren't restocking the grocery stores, and places that are staying open, that's where you get violence over toilet paper," Brent added.
Hardee's in Mandan has allowed semi drivers to walk through its drive-thru. McDonald's has plans in its establishments across America to offer curbside service for truck drivers who have vehicles too large to fit in a drive-thru.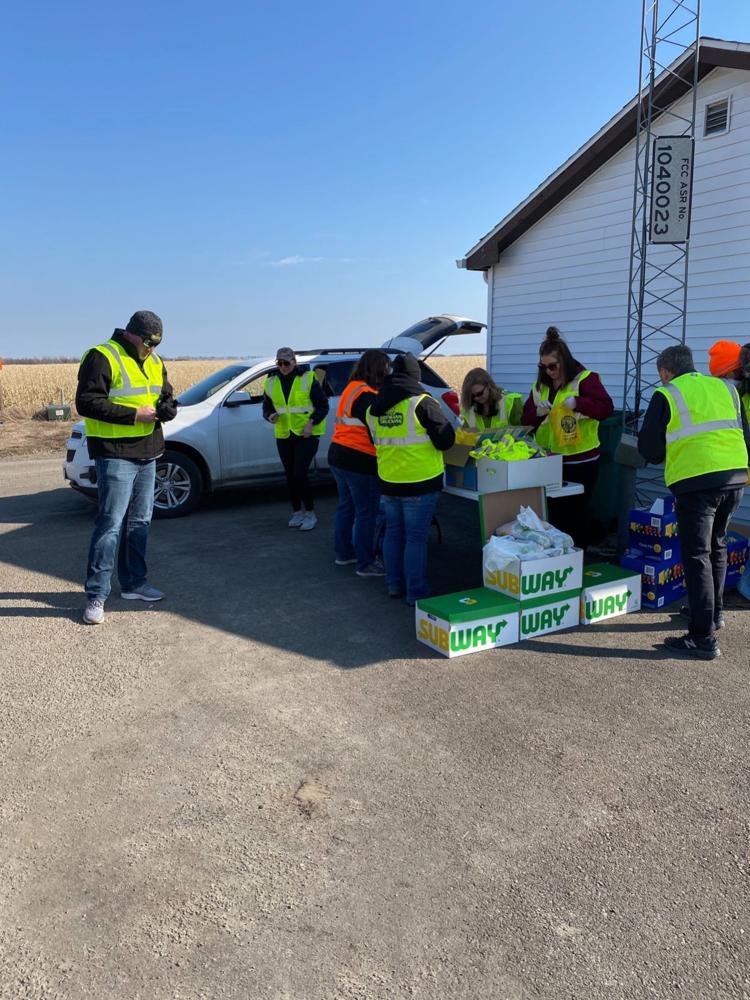 The North Dakota Motor Carriers Association, an advocacy organization for truck drivers, and the Fargo/Moorhead Transportation Club, partnered with agencies including the state Highway Patrol and the state Department of Transportation, to offer free boxed lunches, hand sanitizer, and thank you letters to truckers at a weigh station in West Fargo.
The event on Wednesday had an April Fools' Day twist. The Highway Patrol flashed a sign requiring truckers to stop by the weigh station -- where trucks normally undergo vehicle inspections or get weighed. But the event organizers didn't weigh the trucks -- they handed out the gifts instead.
Wolter, who helped organize the trucker appreciation event, said he plans to hold a similar event on Tuesday at the same site.
"We probably will do something out in Bismarck, too, just because our headquarters is out in Bismarck," Wolter said, adding that events in Grand Forks and Minot also are possibilities.
Wolter also wants to make sure rest areas for truck drivers remain open. He mentioned how Pennsylvania's transportation department had closed rest stops in response to COVID-19 but reopened them following outcry after truckers and shippers voiced their opposition.
North Dakota temporarily closed highway rest areas in March, but the state made the decision due to cleaning needs and repairs made necessary by vandals stealing toilet paper. The state reopened the rest areas last week.
"North Dakota is a pretty trucking-friendly community," Wolter said.
In turn, he said, the trucking industry is acting as an "important, critical and essential business."
"If the trucks quit, U.S. shelves will be bankrupt and be totally empty in three or four days," he said.
Miskell, the trucker, said he had yet to face any unique challenges in his job during the coronavirus pandemic.
"Hoarders are just the hoarders," he said, but he feels there are positives in how people have reacted to the crisis. 
"Even though people can't get close together, they are getting closer in spirit," Miskell said. "You can sense things when people are being more polite, more courteous, more helpful for the next person."
Be the first to know
Get local news delivered to your inbox!