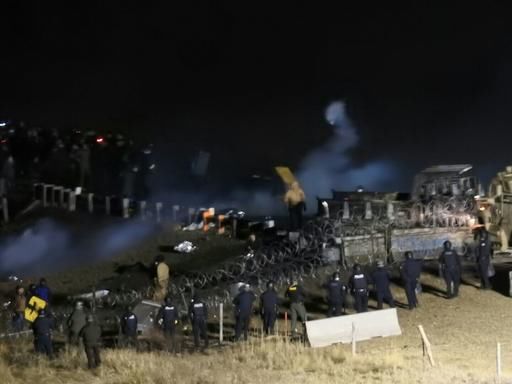 Federal officials are continuing to investigate a violent clash between law officers and Dakota Access Pipeline protesters more than four years after it occurred, according to attorneys for a protester who twice has refused to provide grand jury testimony and now sits in jail.
The November 2016 confrontation in south central North Dakota severely injured 21-year-old New York City resident Sophia Wilansky, but no one has been criminally charged. It sparked an ongoing federal civil rights lawsuit by Wilansky, a protester who alleges police intentionally targeted her with a concussion grenade. She seeks millions of dollars from law officers and Morton County, defendants who have denied wrongdoing.
Fellow protester Steve Martinez is now being held without bond in the Burleigh Morton Detention Center as a federal prisoner. His attorneys allege his Feb. 3 arrest for contempt of court is tied to the civil excessive force lawsuit and government attempts to shift the blame for Wilansky's injuries from law enforcement to protesters.
A grand jury is a group of citizens who meet and decide whether there's enough evidence for authorities to file criminal charges in a case. Proceedings are secret, and the government does not confirm or deny them, much less speak publicly about them. Assistant U.S. Attorney Gary Delorme, who is linked to the Wilansky case through several court documents, did not respond to a Tribune request for comment on the grand jury topic or on the allegations of unfairness being made by Martinez and his attorneys. 
The clash
American Indian tribes and environmental advocates in 2016 and 2017 tried but failed to prevent pipeline construction under the Missouri River, which they feared would be contaminated by an oil leak. Developer Energy Transfer and federal officials who permitted the $3.8 billion line that's been moving Bakken oil east since June 2017 maintain that it's safe. The protests in south central North Dakota stemming from the disagreement resulted in more than 750 arrests over six months. 
The confrontation that began late on Sunday, Nov. 20, 2016, and carried into the early morning hours of the next day became the emblematic skirmish of the prolonged protest.
Protesters tried to push past a blocked highway bridge near their main encampment but were turned back by authorities using tear gas, rubber bullets and water sprays. Police say protesters threw objects including rocks, asphalt and water bottles at officers.
Wilansky suffered a left arm injury in an explosion. Graphic images of her injury surfaced on social media shortly after. Her father, Wayne Wilansky, in a November 2016 statement said that "her left forearm was almost torn off," and that doctors "seriously considered amputation." A GoFundMe account set up for her medical fund has raised nearly $434,000 from 15,000 people, though it hasn't had a donation for more than a year.
Protesters allege the blast that injured Wilansky was caused by a concussion grenade thrown by officers, while police maintain it was caused by a propane canister that protesters had rigged to explode.
Local authorities turned over the investigation to the FBI, according to Morton County spokeswoman Maxine Herr.
Nearly 4 ½ years later, neither theory has been proven. 
The lawsuit
Wilansky sued in U.S. District Court in November 2018, alleging that an unknown law officer threw a flashbang device directly at her. Her attorneys maintain in her suit that she has limited use of her left arm despite numerous surgeries, "altering her life forever." She seeks unspecified millions of dollars from Morton County and law officers for alleged excessive force, assault, negligence, emotional distress and defamation.
Wilansky did not respond to a Tribune request for comment on her current condition made through social media. Her father, who has served in the past as a spokesman for his daughter, did not respond to a telephone request.
Authorities maintain that protesters' criminal activity was to blame for Wilansky's injury. Defendants in the lawsuit have asked a federal judge to dismiss the suit, saying there is no evidence that officers violated her rights.
Wilansky unsuccessfully sued the federal government in 2018, seeking the return of shrapnel and clothing taken from her while she was hospitalized in Minneapolis, or the opportunity to have the items analyzed by a forensic scientist of her choosing. She wanted the items to bolster her civil lawsuit.
Federal prosecutors argued in part that the seizures were legally done. They also said the items were evidence in a grand jury investigation into the altercation in which Wilansky was injured.
The scope of the grand jury investigation wasn't clear. But court documents unsealed in October 2017 indicated that the government had searched Wilansky's Facebook account for any evidence that might implicate her of federal crimes dealing with homemade explosives.
Grand juries
Martinez, 46, is originally from Pueblo, Colorado, according to a GoFundMe page set up in his benefit this week. He now lives in Bismarck. He was subpoenaed in December 2016 to go before a grand jury and provide witness testimony and items including photos, according to documents provided by his attorneys at the time. The government believes Martinez is the person who drove Wilansky to Prairie Knights Casino after she was injured, and called 911 on her behalf. Martinez's attorneys have not confirmed that.
Martinez refused to cooperate with the grand jury, saying he believed authorities were trying to suppress the anti-DAPL movement. He said he was willing to go to jail, and about 40 of his supporters rallied outside the federal courthouse in Bismarck in January 2017. U.S. District Judge Daniel Hovland refused to quash the subpoena, but prosecutors later withdrew it without giving a reason.
Last November -- four years later -- Martinez was subpoenaed again, and told "that the subject of the grand jury inquiry involved the injury to Ms. Wilansky," according to his attorneys. He appeared before the grand jury on Feb. 3 and refused to cooperate, invoking his constitutional right to free speech and assembly and his right to remain silent, according to his attorneys. He was deemed in contempt of court and arrested by the U.S. Marshals Service. He's been behind bars since and could stay there for up to 1 ½ years -- the maximum length of the grand jury proceeding.
"The state should not be intimidating people and trying to blame us for harm they caused," he said in a statement from jail provided by his attorneys. "I didn't want to lose my freedom, but they are not going to break me." 
Martinez's attorneys sought to quash the subpoena, but U.S. Magistrate Judge Alice Senechal rejected the request, noting in her order that prosecutors were prepared to offer him immunity for his testimony, and that "Martinez has not met the burden of showing the grand jury subpoena is unreasonable or oppressive."
The order was provided by Martinez's attorneys, who note that he was subpoenaed just days after U.S. District Judge Daniel Traynor dismissed defamation claims Wilansky made in her civil lawsuit but allowed some excessive force and assault claims to continue.
"To proceed with a grand jury investigation after a forty four month hiatus, in the context of developments in a civil litigation concerning the same subject matter, raises serious concerns," the attorneys wrote in their unsuccessful motion to quash the subpoena.
"It is unthinkable that if the government was conducting a bona fide criminal investigation into the cause of the injury to Ms. Wilansky, it would have permitted a lapse of more than forty four months before reissuing a grand jury subpoena to Mr. Martinez," they wrote.
They added the government told them the reason for the delay was an inability to locate Martinez, which they question because they say Martinez has lived at the same Bismarck address since November 2017.
The next step in Martinez's defense isn't clear. Attorney Moira Meltzer-Cohen told the Tribune only that "we intend to pursue all lawful means to challenge the finding," referring to Senechal's order. The GoFundMe page organized by Martinez's partner, Leta Killer, also indicates that he has no intention of giving in.
"Under COVID-19, imprisonment is even more dangerous, but Steve is committed to protecting our community and resisting this grand jury," it states.