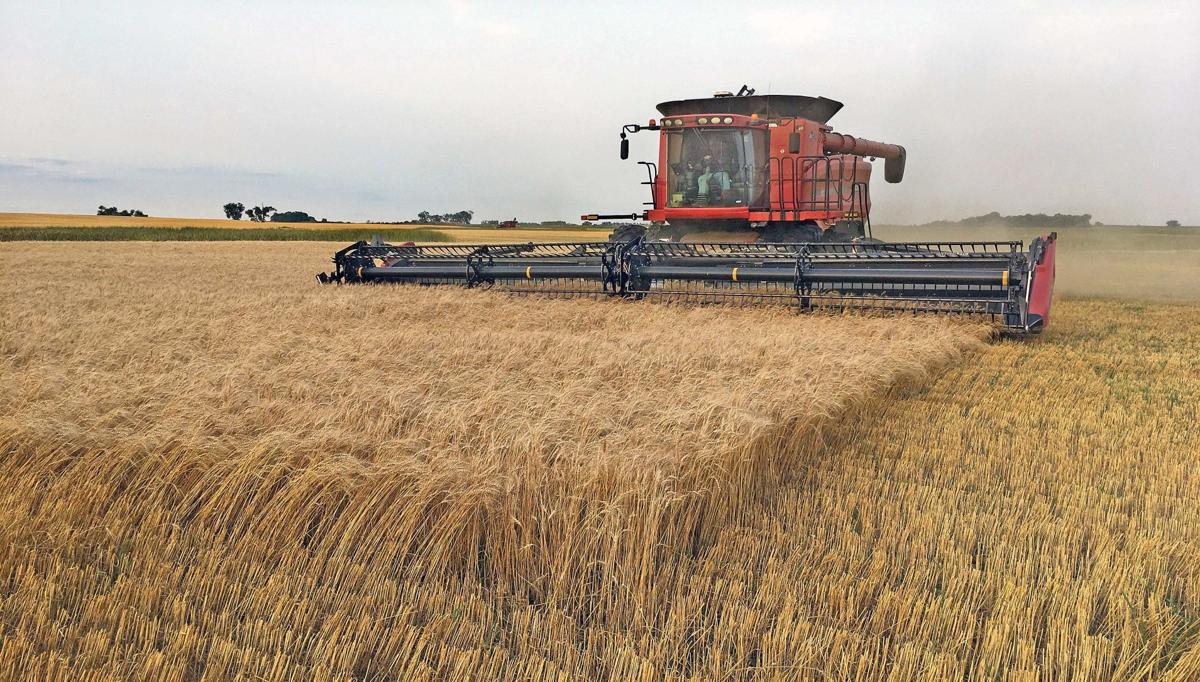 Drought conditions improved slightly in central and southeastern North Dakota throughout the last week, though most of the state remains extremely dry.
Rainfall helped downgrade exceptional and extreme drought, the worst categories, in some areas. But severe and extreme drought still cover 89% of the state, according to the latest U.S. Drought Monitor Map, released Sept. 2. A corner of Richland County in the southeast was classified abnormally dry, the mildest rating. 
In addition to North Dakota, Kansas, Nebraska and South Dakota also saw improvements in drought conditions, according to the U.S. Drought Monitor. 
"The improvements were made in response to heavy rainfall during the past week (ranging from 2 to 5 inches) and minor improvements to soil moisture levels in some areas. Conversely, western portions of the Dakotas have continued to experience rainfall and soil moisture deficits which have severely impacted crops as well as pasture and rangeland conditions," wrote David Simeral, of the Western Regional Climate Center, and Ahira Sanchez-Lugo, of National Oceanic and Atmospheric and Administration and the National Centers for Environmental Information.
The Bismarck area saw nearly a half-inch of rain from Aug. 26-Sept. 1, according to the National Weather Service.
Crops
The latest North Dakota crops report from the U.S. Agriculture Department showed pasture and range conditions rated 61% very poor and 24% poor.
Stock water supplies were listed 58% very short and 31% short. 
The update also showed more than 80% of alfalfa rated poor or very poor. Corn rated 53% fair or good and 47% poor or very poor. 
Sugarbeets rated 80% fair or good, and sunflowers were 58% fair or good. Potatoes were 62% fair. 
The report also listed 63% of topsoil moisture and 79% of subsoil moisture being short or very short.
The state and federal governments have implemented numerous programs to help drought-stricken producers. Details on available drought resources in North Dakota can be found at nd.gov/ndda/drought-resources. Producers can access the federal Agriculture Department's Disaster Assistance Discovery Tool or Disaster-at-a-Glance fact sheet at farmers.gov.
Hay hauling aid
The state Agriculture Department has released more details on a program that will reimburse a portion of hay-hauling expenses for drought-stricken ranchers.
The North Dakota Emergency Commission last week approved $2.5 million to reactivate the Emergency Feed Transportation Assistance Program.
Ranchers must have verifiable feed losses due to drought and must own at least 25 animal unit equivalents of dairy cattle, beef cattle, bison, sheep or goats. Transportation costs for feed incurred between April 8 and Nov. 30 will be eligible. Feed must be used for the producer's own livestock operation.
For complete details including what is considered "feed," go to www.nd.gov/ndda/eftap. Ranchers with questions can email haytransport@nd.gov or call 1-844-642-4752. Applications will be available on the department's website at www.nd.gov/ndda in mid-September and will close Dec. 15.
Decreasing dam releases
Decreasing releases from the Garrison Dam this month have made it necessary for Missouri River users to remove boats, recreational vehicles and docks in the water.
The U.S. Army Corps of Engineers will be dropping releases from the dam due to drought conditions.
The releases will decrease from 21,000 cubic feet per second to 18,000 cubic feet per second by Sept. 12, then to 16,000 cubic feet per second by Sept. 16, then to 13,000 cubic feet per second later in September.
The releases are likely to make boat ramps and river access unusable, according to Burleigh County Emergency Management.