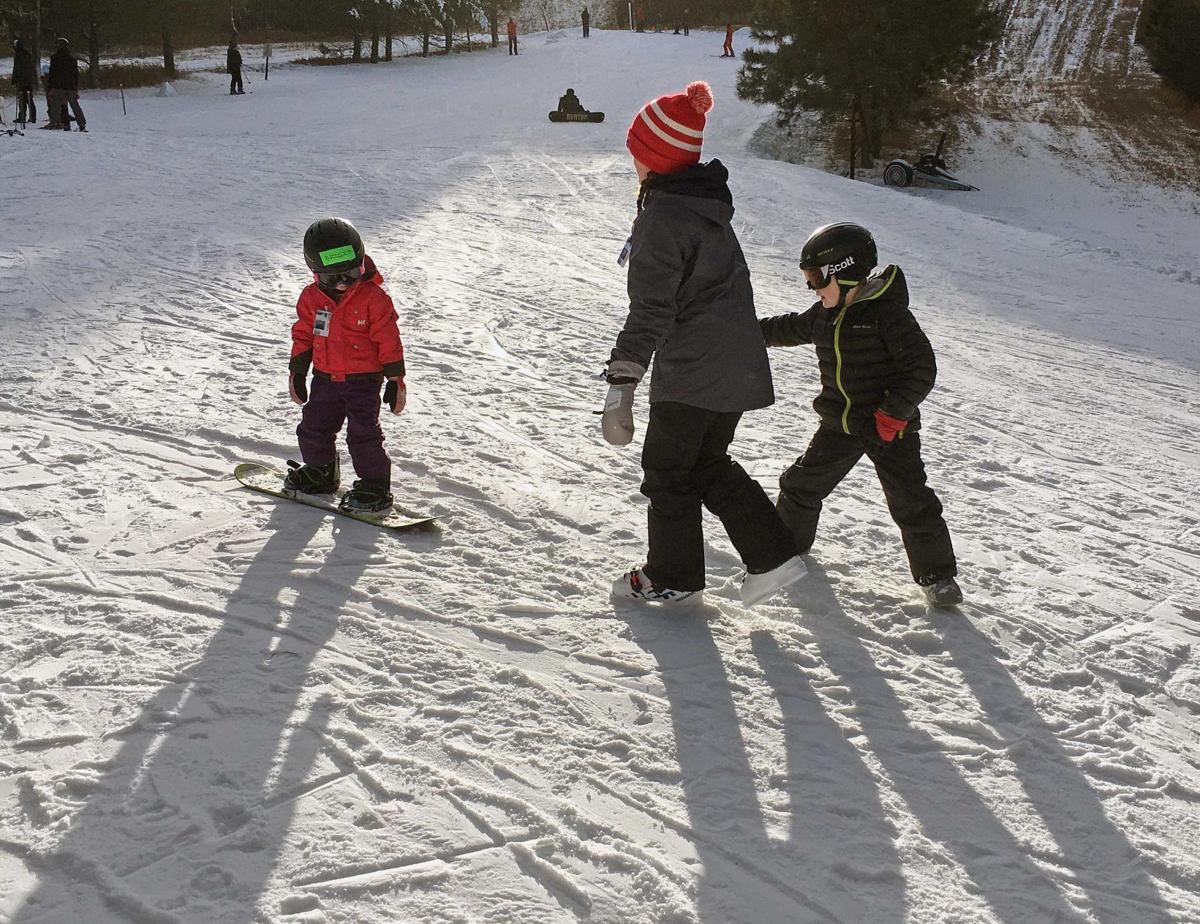 The ski and snowboard season is finally on at Huff Hills after warm weather caused the slopes to open about a month later than usual.
The ski area south of Mandan welcomed back many familiar faces and families with young children Dec. 26 after crews ramped up their snowmaking activity over the previous 10 days when the air turned bitterly cold at times.
"We always joke that it's almost a family of snowriders we get to hang out with for the winter," Mountain Operations Manager Andy Beck said. "You get to see all those people again. It's really cool. We had that experience over the weekend. We had good crowds, and people are excited."
Snowfall on Dec. 29 of 2 inches in the Bismarck region was a welcome boost to the ski area, which otherwise has had to rely on man-made snow this winter. Huff Hills pipes frigid water from the Missouri River 2 miles to the slopes, where crews use 16 machines to convert the liquid into snow.
Beck said the snow made at Huff Hills is the consistency of sand -- not quite the same as snowflakes, but similar to what one might observe in a snow drift.
"With the technology we have now, it's pretty difficult to tell the difference between man-made and natural snow," he said.
Very little snow has fallen in western and central North Dakota this winter. Bismarck had received just 5.6 inches of snow this season prior to the Dec. 29 snowfall, which is nearly 14 inches below average for this time of year, according to data from the National Weather Service.
The lack of snow this winter in part is a matter of luck. Some storm tracks across the Great Plains have skipped the Bismarck area or just brought light snow to the region.
Meteorologist Alex Edwards with the National Weather Service in Bismarck said the Dec. 29 storm, for example, brought more snow to areas further south, such as Omaha, Nebraska, and Milwaukee, Wisconsin.
Meteorologists expected that a La Niña weather pattern would make for a cold and wet winter in North Dakota this year, but that hasn't materialized as expected, he said.
The average high temperature for December was 26 degrees, but it's been much warmer so far this year at 39 degrees, he said.
"Just because we've had a warm December doesn't mean the second half of January can't turn things around," Edwards said. "I wouldn't say we're safe out of the water yet."
Beck has a similar attitude about the season at Huff Hills. Even after a late start, some years the ski area has stayed open until April because the snow continues to fall.
This warm weather so far this winter caused Huff Hills to open just one lift and its beginner area this past weekend where crews could get adequate snow on the ground. Beck hopes to have all lifts open within the next few days as snowmaking continues.
The coronavirus pandemic has led to some changes at the ski area. The staff put up a yurt -- something they had been considering for several years -- to allow for better social distancing while people dine.
Huff is requiring that people wear masks indoors when they aren't eating. North Dakota's statewide mask mandate is in effect until Jan. 18.
Outdoors, the ski area is allowing people to ride alone in chairlifts if they choose. Huff has enough staff for the season, though several older members of its Ski Patrol have opted to hold off volunteering amid the pandemic, Beck said.
So far, the skiers and snowboarders who have visited Huff have seemed "excited to do an activity that is naturally socially distant and outdoors," he said.
"That was really our focus," Beck said. "We just want to provide that sense of normalcy in the winter, and we want to provide that place to go to play. Everybody needs that right now."