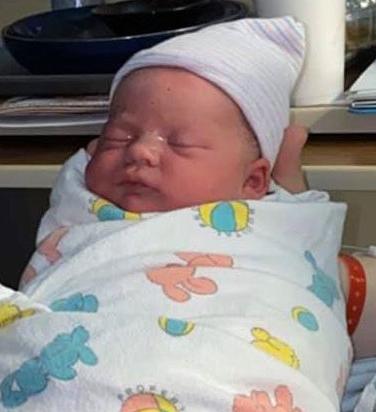 The mother of a baby born in a New Salem gas station parking lot the day before Mother's Day is giving high marks to the ambulance crew and deputy Morton County sheriff who delivered the girl in her parents' pickup truck.
Tillie Rose Enger was born at 4:40 a.m. Saturday in a pickup parked at Rud's Mobil, just a couple of hours after her mom, Hannah Enger, started having contractions. Hannah and husband Tanner Enger were traveling from their farm near Golden Valley and hoping to make it to Sanford Health Bismarck before Tillie was born.
Hannah's contractions were getting closer together as the couple neared New Salem. They called the hospital and were told to call 911, then pulled into New Salem. Deputy Jon Englestad, who marked his 20th year with the sheriff's office that same day, met them there.
"He was there the whole time," Hannah said. "He made sure we stayed calm and made sure we knew he was trained."
Tillie arrived just a few minutes later.
"The New Salem ambulance just pulled in and she was on her way out," Hannah said.
A crew member from Bismarck-based Metro Area Ambulance -- one who had experienced deliveries -- joined Hannah and the New Salem personnel for the ride to Bismarck after the two crews met on Interstate 94. No one on the New Salem crew had delivered a baby.
"They all did really well for not having done it before," Hannah said. "They were all pretty excited that they got to deliver a baby."
A person answering the phone for the New Salem ambulance service's nonemergency number said the names of the crew can't be released. Englestad declined to be interviewed, citing possible privacy concerns.
Tillie weighed 7 pounds, 10 ounces and was 20 inches long. Mom and baby went home on Sunday -- Mother's Day. Tillie's brother, 18-month-old Waylon, "is still not sure" about his little sister, Hannah said.
Be the first to know
Get local news delivered to your inbox!