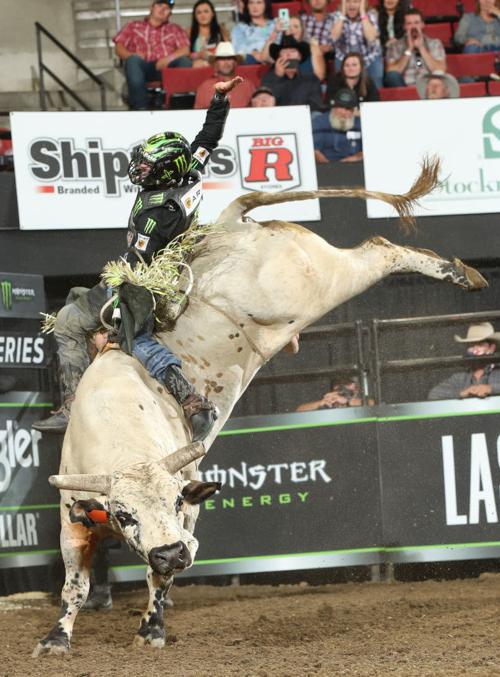 For a couple of old dudes, Chad Berger and Smooth Operator still pack quite a kick.
On Sunday afternoon in Arlington, Texas, on the field that the Dallas Cowboys call home, the best of the 17 bulls Berger sent to the Professional Bull Riders World Finals reigned supreme again.
After dispatching Dener Barbosa and Ryan Dirteater in a total of 6.22 seconds on two outs, 10-year-old Smooth Operator earned the title best PBR bucking bull in the world for the second straight year and became the oldest bull to earn the title. Berger was voted PBR Contractor of the Year for the seventh consecutive year and tenth overall.
It might have been enough to bring tears to Berger's eyes had he been there to experience it. Instead, the legendary Mandan contractor watched the event at home while recovering from a bout with COVID-19 and a six-day hospital stay.
"Really, I thought all year long that he was the best bull," Berger said. "It just couldn't get any better. The stars lined up. I had faith in him but anything could happen. I thought he could go to the finals and pull it out."
Smooth Operator erased Chiseled's slight lead in the first round. He ended the night tied with Berger's I'm Busted for the top bull in the PBR World Finals. Both finished with 92.25 points on two outs. It was the first time two bulls from a contractor tied for best bull of the World Finals.
Smooth Operator is one of five to win back-to-back titles, joining three-time champion Little Yellow Jacket (2002-2004) -- who was co-owned by Berger's dad, Joe -- SweetPro's Bruiser (2016-18), Bushwacker (2013-2014) and Dillinger (2000-2001).
Not bad for a bull's whose career appeared over five years ago.
"He had a couple of what I consider career-ending injuries and he came back," Berger said of Smooth Operator's back injury and broken kneecap that cost the bull three years. "He was so special we did everything we could; copper therapy, magnet treatments. By God, he healed up enough to win a couple world titles."
He came back as good as ever. Maybe better.
The same can be said about Berger, who has been through a difficult year physically. After two open-heart surgeries and installation of a pacemaker this summer, Berger faced another challenge in COVID. His recent medical history prompted his doctor to hospitalize him and put him on oxygen.
"I have asthma and heart troubles, so my doctor put me in the hospital right away and gave me five rounds of Remdesivir and plasma," Berger said. "They got things turned around."
Through bouts of coughs, Berger said he always used hand sanitizers and wore a mask, but the virus still found him. He retested all week and each COVID test came back positive, so he couldn't get to Arlington.
"It hurt me, but I have a real good man in Delbert Nuse and he's had a lot of practice. I laid in the hospital and was out all summer practically so he was prepared and did a phenomenal job."
Berger has known Nuse for 20 years and Nuse has worked with Berger for four years.
With the PBR season over, what happens now to Berger and Smooth Operator?
The bull will get a couple months off before his first PBR event of 2021 in Atlanta in January. Berger will let his bull buck in a couple events early in the season and if he still shows some kick, he'll keep going. If not, Berger will retire his star.
As for Berger, he's ready to put the physical strain of 2020 behind him, but he's not ready to stop collecting awards.
"Winning it 10 times, I don't think it's real," Berger said. "When I started this journey, my goal was to win stock contractor of the year. Never in my life did I imagine I'd win it (record) 10 times.
"Records are made to be broken, but I don't want to quit at 10. I want to get it out there far enough that it never is done."
Berger said one reason for his continued drive is to bring honor to his hometown and state.
"I'm born and raised in Mandan, North Dakota," he said, "It makes me proud to bring these home to North Dakota."
Be the first to know
Get local news delivered to your inbox!