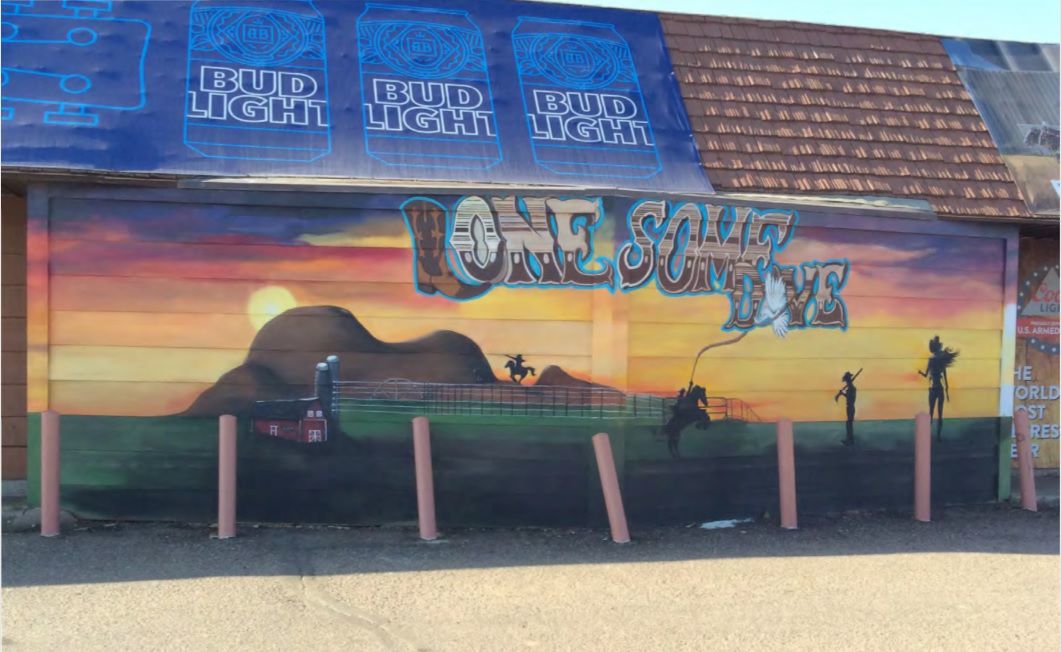 Mandan city commissioners on Tuesday unanimously approved an ordinance that allows the Lonesome Dove bar to keep its disputed mural but holds new murals in the city to different standards.
The decision comes months after the city ordered the Western-themed bar's mural removed because it violated city rules barring murals on the front of buildings and those with a commercial message. Bar owners Brian Berube and August Kersten filed a federal lawsuit in May, maintaining the city's enforcement stifles free speech.
The city in July decided not to enforce regulations or accept mural applications until the lawsuit was settled or the commission passed a new ordinance.
All existing murals are grandfathered, or exempted, from the ordinance approved Tuesday, but new murals will have to follow different standards. 
The ordinance repeals existing mural guidelines adopted by the City Commission in August 2018, including the ban on no commercial messages. It applies to "all commercial, industrial and downtown districts."
The ordinance allows owners to paint wall murals on buildings without approval from the Mandan Architecture Review Commission, though a city permit is still required. It also no longer prohibits painting on the front of a building.
You have free articles remaining.
Murals must be removed if significantly vandalized, though building owners have 60 days to bring a mural "back into conformity."
A mural permit can be revoked if the mural "contributes toward excessive driver and/or pedestrian distractions."
The new ordinance does not include earlier proposals that murals be limited to two per structure and no more than "25% of the total square footage of the street-fronting side."
The Lonesome Dove owners did not immediately respond to a message asking if they plan to drop their lawsuit now that the new ordinance has passed.
Mandan City Attorney Malcolm Brown said he does not think the owners will drop the lawsuit.
"We have the opportunity after this point to ask the court to dismiss the lawsuit because we have also grandfathered in the Lonesome Dove's mural, so they have no particular claim anymore," Brown said.