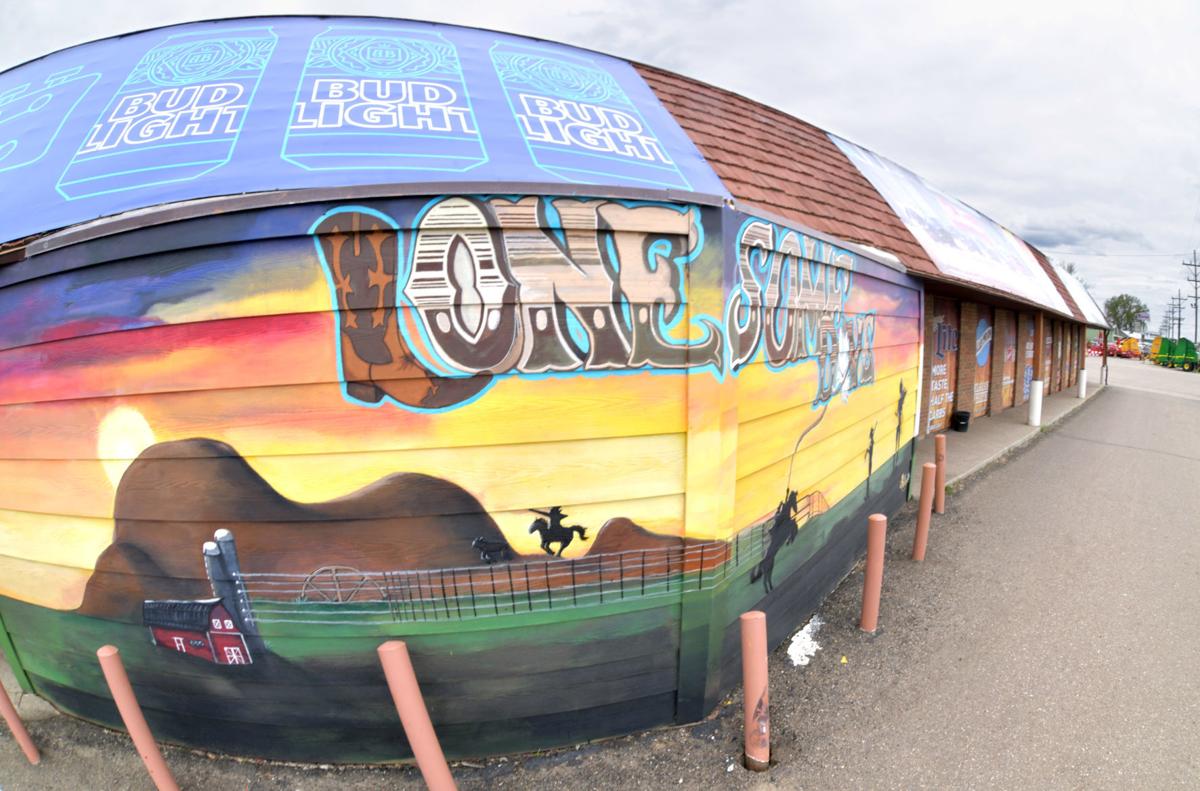 The Lonesome Dove bar and the city of Mandan are working to settle a federal lawsuit the Western-themed bar filed last year over an exterior mural that city officials ordered removed, court records show.
The lawsuit said the city's order to remove the establishment's mural last March stifled free speech. In response, the city decided in July not to accept mural applications until the federal lawsuit ended or the city passed a new ordinance.
The city approved an ordinance in December, allowing the Lonesome Dove to keep its mural but holding new murals in the city to different standards.
Both parties are working toward reaching an out-of-court agreement on the lawsuit, according to a Jan. 15 order by U.S. District Judge Dan Hovland.
"The Court has been advised that the parties have reached a settlement. Closing documents are due within 30 days of the date of this order," Hovland wrote.
The two sides are still negotiating final details, according to Robert Frommer, a senior attorney with the Institute of Justice, the law firm representing the Lonesome Dove.
"We're still trying to secure not only our client's rights but the rights of everyone else in the town," he said without elaborating.
City Planner John Van Dyke, who has been involved in the talks, also declined to comment on negotiations. Bar owners Brian Berube and August Kersten did not respond to a request for comment.
When city staff proposed a draft of the ordinance in September, Frommer said in an email that the "First Amendment doesn't let the city decide what speech is OK and what speech isn't."
The Virginia-based law firm, along with its client, said it would "keep working to vindicate the First Amendment rights in Mandan."
Frommer said last fall that he opposed three provisions in the proposed ordinance that would have prohibited wall murals that "sell a product or advertise an establishment," limited establishments to two murals and disallowed murals from covering more than 25% of a building's front wall.
The city's planning and zoning commission eliminated all three clauses between September and November, before city staff presented the final ordinance passed by city commissioners in December.
Frommer said the city has "done a good job" on the mural ordinance.
"Thankfully Mandan came around and saw that there was really no good reason to eliminate people's speech in such arbitrary fashion, and pulled those provisions from the ordinance, which we were obviously very happy about," he said.
The new ordinance allows owners to paint wall murals on buildings without approval from the Mandan Architecture Review Commission, though a city permit is still required. It also no longer prohibits painting on the front of a building or including a commercial message.
However, it restricts a mural that "contributes toward excessive driver and/or pedestrian distractions." Murals must be removed if significantly vandalized, though building owners have 60 days to bring a mural "back into conformity."
The city had ordered the Lonesome Dove's mural removed because it was not permitted and because it violated city rules barring murals on the front of buildings and those with a commercial message.
"The major problem with the old ordinance is what it did was it regulated based on content, it regulated based on what you wanted to say," Frommer said. "The new ordinance has gotten rid of that kind of content-based regulation of speech. That's what we are ultimately really worried about, because we don't like the idea of the government being able to pick and choose which messages get out there or not."
Be the first to know
Get local news delivered to your inbox!