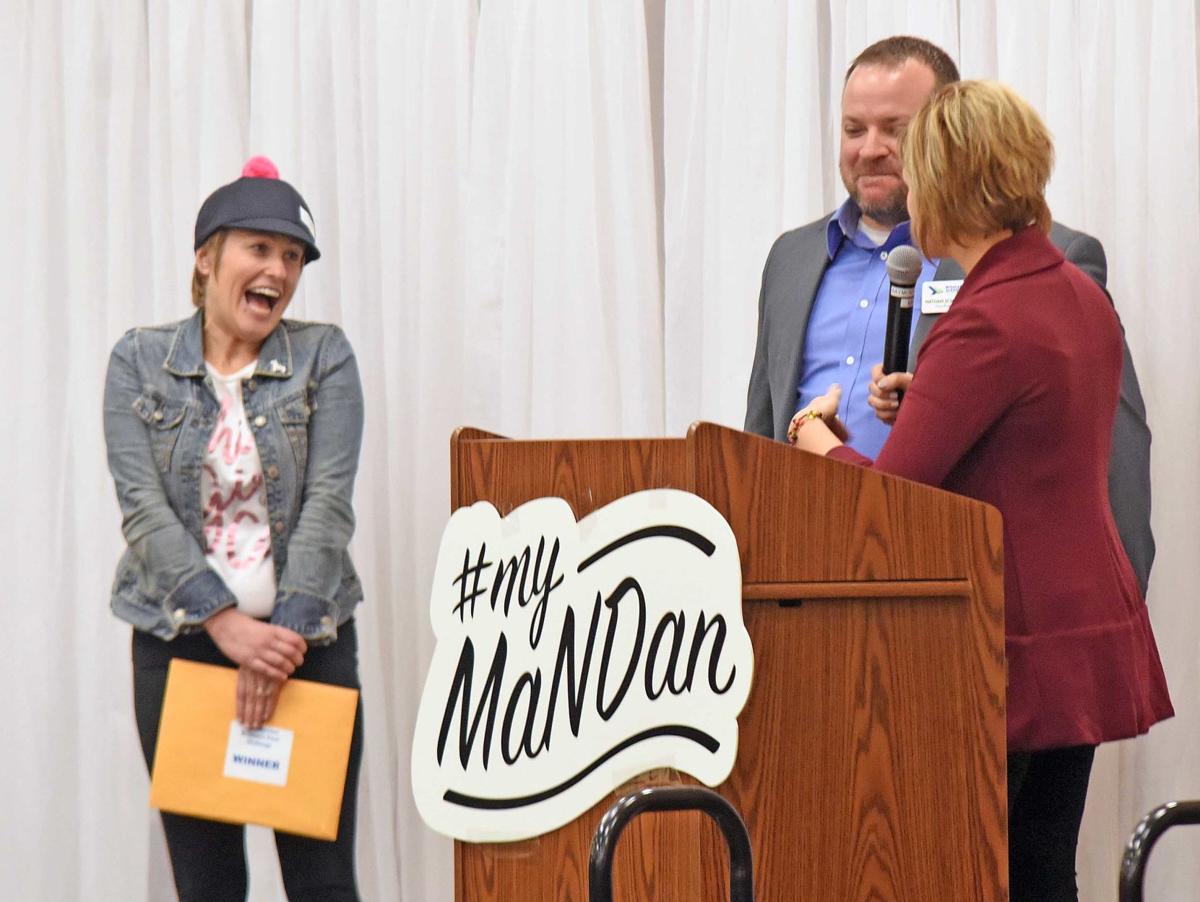 A woman who wants to combine ice cream with gift items -- doing it with a fun and quirky flair -- emerged from a field of four finalists to win Mandan's second Business Pitch Challenge.
Latidot Scoop and Gift Shop, owned by Dot Frank, aims to sell hand-scooped ice cream -- each cone carrying a signature "dot" -- in a gift shop specializing in unique items not found in franchise stores including stationery, greeting cards, toys and novelties plus limited furniture and decor.
"Putting the two together is the plan," Frank, 38, said Tuesday night after being named the winner of the contest designed to benefit Mandan companies looking for a boost in the startup process. Businesses must be less than two years old and have raised less than $250,000.
Frank won $750 cash, the chance to be eligible for a $10,000 forgivable loan from the Mandan Growth Fund, and a package of services and advertising worth more than $7,000.
Frank's research found that only 16% of the ice cream demand in Mandan is being met, and she wants to fill part of the gap while making it a more intimate experience with some local influences. For example, she plans to make her own waffle cones in the shop she hopes to set up in the former Hirsch Florist building at the corner of Collins Avenue and First Street.
"Waffle cones being made -- that aroma -- nothing beats that," she said.
Third Day Farm was chosen runner-up in the competition. Coal Country Coffee took third-place honors. The other finalist was Invited Rentals. Each finalist received a $75 cash prize from Security First Bank and a $3,000 advertising package from National Day Calendar.
Third Day Farm, owned by Theresa and Nathan Dessonville, presented a proposal to establish a cut-flower farm to supply long-stem flowers to florists, event coordinators and do-it-yourself wedding decorators, and to sell bouquets through local farmers markets.
Coal Country Coffee is owned by Travis and Lacy Helfrich, who roast and package five different blends of premium fresh coffee and sell it online and to regional stores for onsite brewing and resale.
You have free articles remaining.
Invited Rentals, owned by Kaylee Kriege, would provide special occasion decor and home furnishings for rent. Delivery, setup and teardown would be included in the rental price.
The finalists were chosen by committee members Christy Dodd, Center for Technology and Business; Brent Ekstrom, Lewis and Clark Development Group; John Goodhart, Economic Opportunity and Prosperity Committee, and Goodhart and Associates; Jeff Erickson, Mandan Growth Fund Committee and Security First Bank; and Brian Ritter, Bismarck-Mandan Chamber EDC.
The committee considered several factors including contestant applications, executive summaries of business plans, research and analysis, target customer identification, market fit and impact and more in advancing entrants to the final round.
A new set of judges took over in the live round Tuesday night to score those factors plus pitch delivery and question response, and to decide whether they consider the proposal to be bankable or investable. Score sheets filled out by the judges were tallied to determine a winner -- one the judges didn't even know until it was announced.
The judge panel for the live round included Marlo Anderson, National Day Calendar; Kodee Furst, Annie Capital; Tim Helbling, Mandan mayor and Corral Sales RV Superstore; Dave Lehman, Mandan Growth Fund Committee; Rhonda Mahlum, Haga Kommer.
Furst said she was impressed with the creativity of the proposals.
"That's what's really powerful about this competition, to see the diversity of ideas and how they work in this community," she said.
Anderson thought all of the proposals were viable businesses but that some of the contestants stood out because they were further along.
"It will be interesting to see how the next year plays out," he said.
Juan Carlos Dominguez and Jared Stober of Nordic Steel Systems won the first challenge last year. The company produces concrete-free foundations and exterior wall systems for the construction industry. Some of the company's products were on the market and starting to prove their worth when the two entered the contest, and winning the challenge was "a great opportunity for us," Stober said.
"The prize money allowed us to put gas on the fire, reach out with marketing and continue to grow the business," he said.