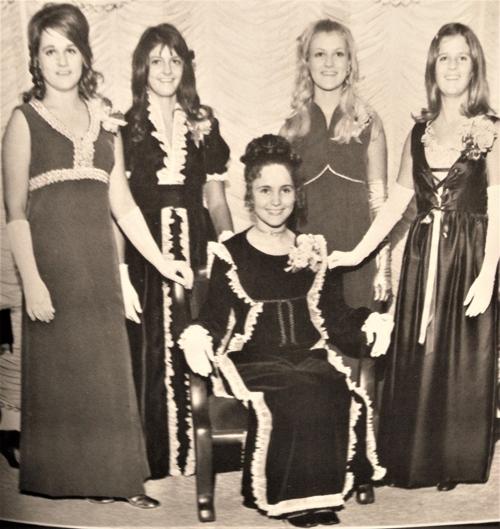 25 Years Ago – 1995
Tom Assel, a four-sport athlete during his high school days in Mandan, has been inducted into the North Dakota State Bison Athletic Hall of Fame. Assel played basketball and baseball at NDSU from 1969-73, three years as a guard on the basketball team and as a hard-hitting shortstop that earned him All North Central Conference honors three times. Assel was a sophomore on the MHS basketball team that won its second straight State Class A title in 1967 and was also a talented athlete in football, baseball and track and field during his high school years.
Video Max is Mandan's newest video rental store, located at 211 W. Main St., across the street from George's Midwest Bakery. The manager is Terri Mickelson, who recently moved from Jamestown. The store's inventory will have nearly 9,000 titles on hand by the end of the month, according to owners John and Keith Sayler of Wishek, who also own Video Max stores in Jamestown, Devils Lake and Dickinson.
Temperatures recorded Monday, Oct. 9: a high of 61 degrees; 34 degrees for the low.
50 Years Ago – 1970
It was a windy homecoming day in Mandan as hundreds of students, dismissed at 2 p.m. from classes, lined both sides of Main Street to cheer the entries of this year's homecoming parade. However, the strong, dirty winds didn't dampen anyone's enthusiasm, as hundreds of parents and shoppers also joined the teenagers to enjoy the parade, with the high school band leading three convertibles carrying the homecoming queen and her attendants, followed by colorful floats representing each class and other school clubs.
Seated on the back of the convertibles were this year's royalty: Queen Pam Gaab, daughter of Mr. and Mrs. Frank Gaab; and her attendants: Sue Ricker, daughter of Mr. and Mrs. Ed Ricker; Debbie Porsborg, daughter of Mr. and Mrs. Kenneth Porsborg; Shelly Stromme, daughter of Mr. and Mrs. Everett Stromme; and Sue Pratschner, daughter of Mr. and Mrs. Joe Pratschner.
Crowning Queen Pam, at halftime of the football game against St. Marty's, Bismarck, was Leo Stumpf, physical education teacher at the high school. Crown bearer was Kerry Hanson, daughter of coach and Mrs. Don Hanson. Escorting the queen was Bruce Gallagher, president of the junior class, while Dan Kary and Ross Rolshoven accompanied the queen's attendants.
Coach Dennis Johnson's Mandan Braves and their top-notch quarterback, Jim Gronowski, used a varied offense and a tough defense to complete a successful 1970 homecoming in a game played on a clear, cool night in Mandan. St. Mary's full back Glenn Schmaltz romped over the goal line for the first six points of the evening, but before halftime, the Brave's Jack Miller and Mike Stumpf had both scored touchdowns, with Jeff Zwarych kicking the extra point. Gronowski continued to lead the Braves during the second half with perfect throws to Chris Assel, and again to Mike Stumpf, before running in a six-pointer score himself. Final score: 32-13.
Following the game, more than 100 students attended the annual homecoming dance held in the fall-decorated Elks ballroom; music was provided by the Hilltop Minority.
75 Years Ago – 1945
Members of the Mandan Rodeo Association have given permission for the use of part of the rodeo grounds, just west of the corrals, for a permanent baseball diamond to be maintained by the Mandan Park Board which has already begun leveling the field and laying out the baselines. Johnny Mach, Mandan High School coach, is supervising the work and will have a high school baseball team in the field next spring. It is also expected that the local Legion post will sponsor a junior Legion team next year. According to Rodeo Association officials, the field will be available at all times, except during the rodeo days when it will be used, as in the past, for parking space. In past years, the only baseball games have been played at the State Training School field.
George Psomas, proprietor of the New Palace Café, has purchased the interests of Peter Jumas in the business. Jumas, who was born in Greece, came to the United States in 1907, arriving in Mandan in 1926. He has served as a chef at the restaurant since that time. Mr. and Mrs. Jumas will be making their home in Minneapolis.
T-Sgt. Robert H. Feickert, son of Mr. and Mrs. Otto Feickert of Mandan, has received his honorable discharge from the army at Camp Grant, Ill. He was with the 38th Bomb Squadron and was an air crew chief of a B-24 Liberator bomber. He served for 38 months, 29 of which were spent in the Pacific. Two other brothers are still in the service: Coxswain Donald Feickert is at Okinawa; and Seaman 2-C Otto Feicket is currently station at Guam.
100 Years Ago – 1920
"Funeral services were held this past week for William G. McDonald, 52, at St. Joseph Catholic Church. He came with his parents in 1879 from Faribault, Minn., and began work with the Northern Pacific railway in 1889, retiring as an engineer this year due to declining health. For the past six years, the deceased had been a member of the city commission, having been reelected for a third term last March. Survivors include his wife and three sons, four brothers, two sisters and his mother, Mrs. John McDonald. Burial was in the Union Cemetery.
"A seven and a half ton truck arrived in Mandan on Sunday afternoon from Fargo. It was one of the McCormick transfer line trucks with the household furnishings belonging to Fred Voight, who has accepted a position as chef at the Lewis & Clark Hotel. The trip was made in 16 hours and was much cheaper than going by train.
"Town Criers clubs were installed for both Mandan and Bismarck on Tuesday evening, Sept. 28, with Minot businessmen conducting installation ceremonies. A caravan of Minot businessmen, 40 strong in 10 automobiles, arrived for the ceremony held at the Bismarck Elks hall. After speeches were given explaining the club's purpose as a "booster" of good advertising for their home cities, Minot's Town Crier secretary conducted the installation of both clubs. Eighteen businessmen signed the charter for the Town Criers club of Mandan, including officers: A. B. Welch, president; E. J. Conrad, vice president; Herbert F. Hoeff, secretary; and E. W. Peterson, treasurer.
According to the Census Bureau at Washington, D.C., North Dakota's 1920 population is now at 645,730 -- an increase of 68,674 or 11.9% over that of 1910. However, the rate of growth has slowed by nearly 70% compared with previous decades. The record growth of North Dakota occurred in the decade ending in 1910 with an increase of 257,910 from 1900. This is North Dakota's fourth census since becoming a state in 1889.
125 Years Ago – 1895
"On Wednesday, Oct. 9, at 2:30 p.m., the thermometer recorded 61 degrees above zero.
"Brown October brings the breeze, shakes the beechnuts from the trees.
"Grocer McGillic will receive tomorrow a carload of choice winter apples which will be sold at $3.50 per barrel. Call quick.
"A number of Indian teamsters were at the Northern Pacific railway sheds this morning, loading up their wagons with stoves for the Standing Rock agency.
"The exhibition of grain at the depot, taken from last week's display at the fairgrounds, is very well arranged and a large number of passengers can be seen admiring the products of this county.
"It can hardly be possible to see prettier sunsets that are to be seen in this part of North Dakota in the autumn time, but yesterday's sunset was unusually colorful, displaying shades of purple, orange and red that prompted many residents to stop and admire. Only the sight of heaven's colors could have diminished the scene.
"The Mandan band has been reorganized with 25 new members under the leadership of Prof. Charles Peters. All the instruments owned by the city, that are worth repairing, have been shipped to Chicago for repairs. In the meantime, a ball will be given at the opera house on Oct. 18 by the band members for the purpose of raising funds to pay for the repairs of the instruments and purchase badly needed new ones. Everyone is invited to attend. Look for a Street Parade on Friday, the 18th."
Be the first to know
Get local news delivered to your inbox!