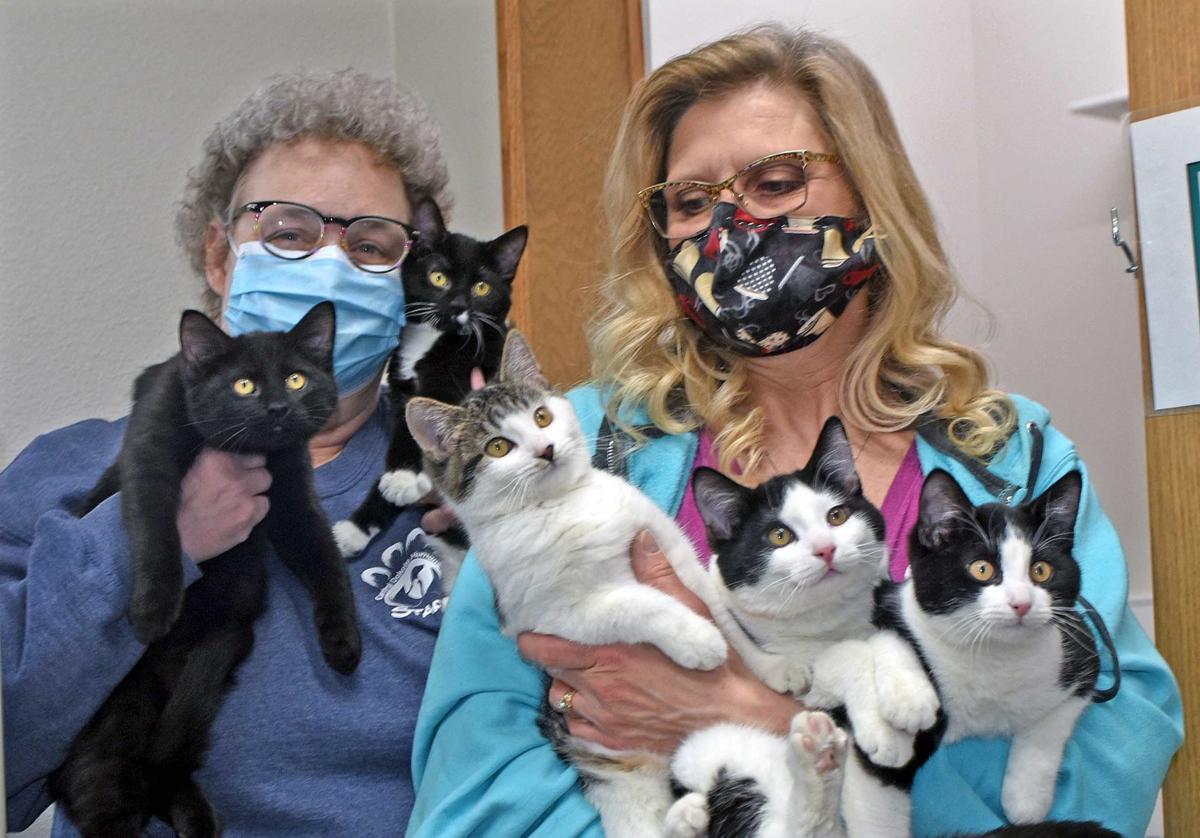 Local animal agencies weathered an unusual year, with adoptions strong at the Central Dakota Humane Society despite the facility's closure for six weeks as a precaution early on in the coronavirus pandemic.
The humane society had 304 adoptions in 2020, including 186 cats and 118 dogs. That was up from 2019, when the shelter saw 272 adoptions.
Families wishing to adopt an animal used to be able to show up whenever during business hours at the facility north of Mandan, but they must now call to schedule an appointment so it doesn't get too crowded inside.
"We're constantly busy. The appointment schedule is full all the time," Communications and Development Director Cameo Skager said. "It's nice because it allows our staff to spend more one-on-one time with those people interested in adopting and helping to advise them on what animal fits their lifestyle."
The shelter took in some animals this year because people could not afford to care for them after losing work during the pandemic, she said. One animal was surrendered to the humane society when its owner became seriously ill with COVID-19, but it was reunited when the person recovered and got out of the hospital.
Like many nonprofits, the humane society took a financial hit in 2020, Skager said. The shelter had to cancel its annual gala in March, for example, and it's shifted to online and virtual fundraisers. It managed to keep all its employees on staff though some hours were cut earlier in the year.
Volunteering at the shelter has dropped some, Skager said, and the humane society has begun scheduling which hours volunteers show up so as not to have too many people inside the facility at once.
Like thousands of small businesses and organizations across North Dakota, the humane society applied for and received money through the state commerce department's economic resiliency grant program to install an air filtration system. It's also purchased a supply of masks, set up hand sanitizer and done extra cleaning all year long.
Families that want to adopt animals from the humane society in 2021 will notice that the shelter's adoption fees have changed to incorporate all vet expenses, including microchipping and spaying or neutering, as well as certain vaccinations. Puppies under 1 year will cost $300, dogs $250, kittens under 1 year $150 and cats $80.
The Bismarck-Mandan Animal Impound Facility, meanwhile, experienced a drop in the number of animals it took in this year. It saw 838 animals, including 363 dogs and 475 cats, down from 988 animals total in 2019.
Animal Control Officer Missy Hilsendeger said the decline is due, at least in part, to the pandemic.
"That could be attributed to the fact that more people were staying home, so dogs weren't out running as much," she said. "People were keeping track of them better."
Officers also set out fewer traps to catch stray cats this year.
Like the humane society, the pound switched to appointments for animal adoptions amid the pandemic. 2020 was an "average" year for adoptions, Hilsendeger said, with 69 dogs and 175 cats adopted.
Hundreds more lost pets were reclaimed by their owners, and 184 animals went to local animal rescues.
The pound euthanized 31 cats. Euthanasia is done as a last resort, typically for aggressive cats or for animals with significant health problems that would make adoption difficult, Hilsendeger said.