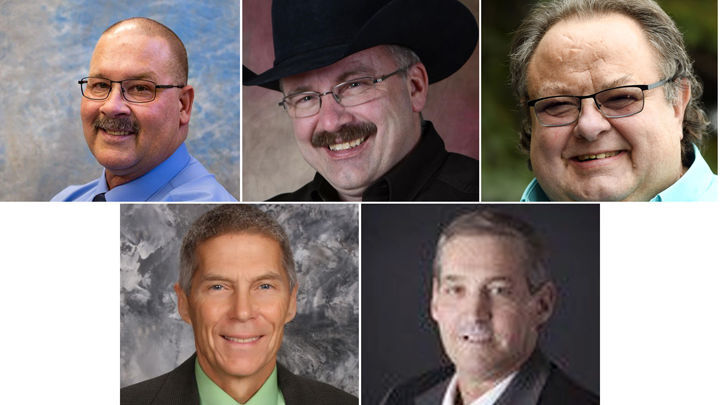 Five candidates are running for three seats on the Morton County Commission. Nathan Boehm, Ron Leingang, Raymond Morrell, Wayne Papke and Thomas Peters are all seeking a four-year term. Only one incumbent, Leingang, is running for reelection. Commission Chairman Cody Schulz and Commissioner Bruce Strinden's terms end this year, but they are not seeking new ones.
Most candidates praised the county's 2021 budget, saying the commission did a good job balancing county needs with economic hardships due to the COVID-19 pandemic. Candidates also listed county road maintenance as a concern to address, and some said they want to balance economic growth with the county's agricultural industry.
Nathan Boehm
Boehm has served on several local boards, including 22 years on the Morton County Farm Board, though he has not held public office before. Boehm said he has also worked with and testified before the Legislature. His father was in politics, and Boehm believes it is now his time to serve the community.
"Somebody needs to step up, and I intend to do that," he said.
Boehm praised the commission's work on the 2021 budget as "judicious" and said the balancing act should continue in the future, though he cautioned that cuts made by the commission this year may come back as other expenses in the future, especially since state aid to the county has dropped during the pandemic.
He said he understands the farming aspects of the county well. He grew up in Crown Butte and began milking cows when he was 6 years old. He farmed for 40 years until he moved to Mandan.
If elected, Boehm said he wants to look to the future and promote economic growth in the county while still considering its agrarian background. He also said the current economic situation due to the pandemic might lead the county to find a new way of doing things.
One of Boehm's biggest concerns he wants to address is agricultural land tax valuations. He said the formula for those valuations needs work in part because valuations have increased, which the current commission has pushed off.
Raymond Morrell
Morrell touts a history of public service, including six years in the U.S. Marine Corps. He started organizing community events at 15 years old with local parades. At 24 he took over Mandan Rodeo Days. He was vice president of the Morton County Park Board, has lobbied the state Legislature on behalf of veterans and helped found the North Dakota Cowboy Hall of Fame.
If elected, Morrell wants to balance growth and development with the county's agricultural economy. He said he's heard concerns from voters who ask how they can maintain their farms if developments take up their land. Morrell said he wants to go out and visit with county residents once per quarter to keep them informed of any developments and get feedback from them on any issues they might have.
Morrell said he wants to encourage growth in the county in a way that's smart and that follows the master plan for development along with using existing resources in the county. As commissioner, he said he wants to ensure applications to the county's planning and zoning board follow those growth plans. He would address any impediments to growth on a case-by-case basis.
Residents have expressed concerns to him about road maintenance "Roads require maintenance and maintenance requires funding," Morrell said. He wants to continue to implement the county's maintenance plan for roads and work to maintain roads in a way that makes sense.
Wayne Papke
Papke, a self-described underdog and taxpayer advocate, has worked with local governments since 1995. Since his retirement from financial advising three years ago, Papke said he can now give "100%" of himself to the commission, if elected.
He has lobbied the Legislature for property tax reform and said Morton County should consider a cap on how much it can increase property taxes each year.
The county did a "wonderful" job on the budget this year, Papke said, and if elected, he would like to see the county give back any extra revenue to the community in the form of lower property taxes.
"Government should never collect more than it needs," Papke said. He added that there should be more justification for major expenses in the budget process and a return to needs-based budgeting.
County roads and infrastructure also need more funding, Papke said. He has heard concerns from voters about roads in the county.
Papke also said the county needs to be more economically diverse and that the county needs more of a labor base to encourage growth.
"A diversified industry of any kind would be welcome in Morton County," Papke said.
Thomas Peters
Peters, a former assistant principal at Mandan Middle School, said he is running for the Morton County Commission to keep the county a great place to work, live and raise a family.
If elected, Peters wants to help local businesses get through the COVID-19 pandemic. He said he wants to hear from individual businesses to see what help they need.
"I'm concerned about small businesses that were doing well before COVID-19 and now they're struggling," Peters said.
He also said he would talk with existing businesses to see what the need to grow in order to promote economic growth in the county.
Peters wants to maintain a sustainable county budget if elected and said he wants to maintain the budget without increasing taxes. He would also ask county employees for some input on budget decisions.
County residents have told Peters they would like to see roads better maintained, though he added the county highway department is doing a good job taking care of roads with the resources it has.
As a commissioner, Peters said he would make decisions with all county residents in mind and base his decisions on what's best for the county.
"It's not me, it's we," he said.
Ron Leingang
Leingang is the sole incumbent running for Morton County Commissioner. He said he decided to run for one more term because he enjoys being on the commission.
Leingang said during his time on the commission, sales tax revenue has increased, mill levies have stayed flat and the county helped build the Burleigh-Morton Detention Center.
The commission has hired extra hauling services to maintain more gravel roads in the county and has "stepped up" bridge replacement, including some bridges that were built in the 1940s, he said. 
COVID-19 is one of the biggest issues facing the commission, Leingang said. Many Morton County employees are working from home and state aid to local governments has declined, though he said sales tax revenue is "coming around." The commission passed a 2021 budget that included lower property taxes, largely due to the economic hardship caused by the pandemic.
"We really did a lot of cutting to keep taxes down," Leingang said.
Leingang was first elected to the Morton County Commission in 2012. He previously served on the Little Heart School Board for 13 years and as a school representative for the Missouri River Education Corp.
Be the first to know
Get local news delivered to your inbox!