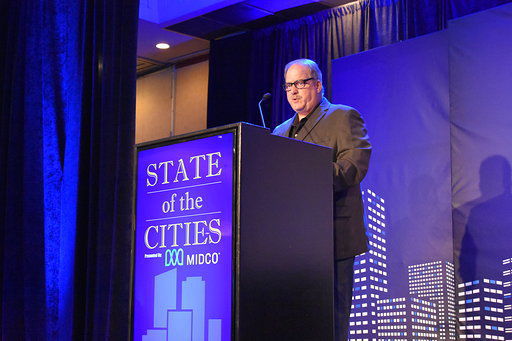 Bismarck Mayor Steve Bakken and Mandan Mayor Tim Helbling discussed issues and changes facing their cities during the annual State of the Cities Address on Wednesday. 
About 100 people attended the event organized by the Bismarck Mandan Chamber EDC. Audience members included city employees, along with people working education and private-sector jobs.
Bismarck
Bakken highlighted how five airlines are providing service to seven destinations from the Bismarck airport. The number of people boarding planes increased about 9% from 2015 to 2018. 
"We just completed an expansion project for the runways and some improvements to the airport," he said. "We see those numbers increasing in the future." 
Bakken also mentioned how Bismarck residents voted last year for a half-cent sales tax to fund roadway improvements. The tax is to expire, or sunset, after 10 years.
"These improvements and these projects are vital for the growth and infrastructure for the city of Bismarck," Bakken said.
He also mentioned how Bismarck's water was named the tastiest during the North Dakota Rural Water Systems Association's 33rd annual conference in February.
Bismarck is nationally recognized as a "city on the rise," Bakken said, citing how Livibility.com placed Bismarck 15th in its "2019 Top 100 Best Places to Live" rankings. He also mentioned how Bismarck was ranked by WalletHub this year as one of the Top 10 "Best State Capitals to Live in."
Mandan
Helbling opened his presentation by playing a video of Mandan residents being interviewed at their favorite local businesses.
You have free articles remaining.
The city's population increased 1% from 2017 and 23% from 2010, he said. The city this year has issued building permits for 192 new residential units. In 2018, the city issued building permits for 114 single-family homes, compared to 71 so far this year. 
"Multifamily home building permits are turning higher this year, compared to this time last year," Helbling said. "We have two new 54-unit apartment complexes going up right now." 
Sales tax collections through October were up 11% from the same period last year. The city plans for 59% of local sales tax revenue to fund property tax reduction next year, with the remaining funds going toward infrastructure and economic development, according to Helbling.
"So it's very important that you buy locally," he said.
A difficult harvest season caused by a record wet summer and an early fall snowstorm could cause the city's sales tax revenues to plummet, Helbling said. 
In September, Mandan increased property taxes by roughly $20 a year for the owner of a $275,000 home, excluding any special assessments on the property.
Helbling said Mandan's rates "rank about the middle of the 12 largest communities" in the state. 
"If you look back 10 years or so, we were right at the top," he said. "So we are very proud we have been able to grow and be able to do all the improvements and changes in the community." 
Helbling also touted the city's $65.79 utility bill, which he said ranks sixth-lowest among 13 large North Dakota cities, according to a study conducted by an engineering company. 
"I think Bismarck is in the middle again too, right with us," he said.
Both cities are preparing for potential Missouri River flooding come spring.
"We know there's a lot of water in the (Garrison) Dam bed, and the (U.S. Army Corps of Engineers) is trying to release all the water," Helbling said. "We would just like for everybody to know we are working with Morton County and we are preparing for potential spring flooding."