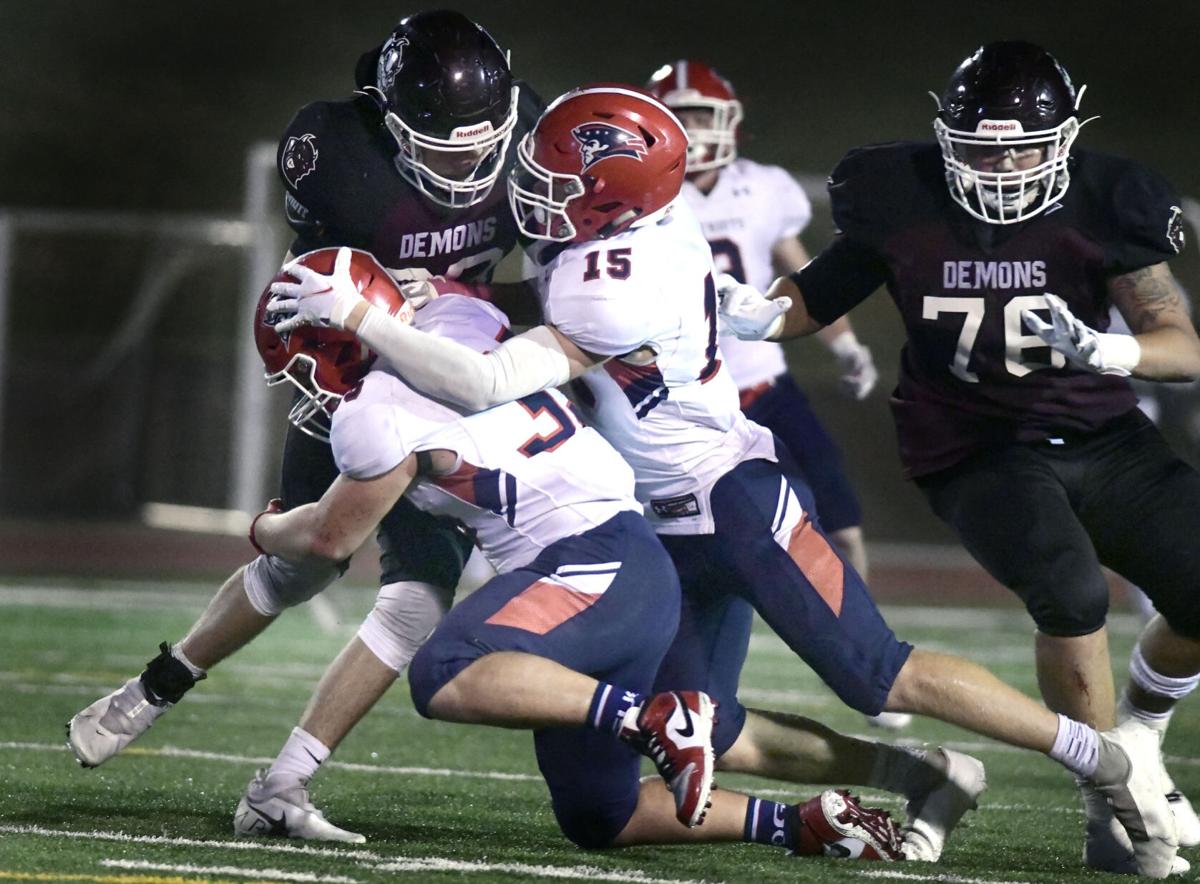 Whatever ailed the Century Patriots earlier this season has been cured.
Quarterback Brady Dahl ran for two touchdowns and threw for another and flanker Jacob Renz scored on two long runs as the top-ranked Patriots beat rival Bismarck High 38-0 Friday night at the MDU Resources Community Bowl.
It was Century's first shutout of the Demons since a 7-0 victory during the 1999 season.
Dahl ran for 87 yards and scored on runs of 1 and 3 yards and threw for 71 yards and score to lead Century to its 29th straight win. The Patriots rolled up 329 yards on the ground, while the defense that kept the Patriots' winning streak alive during a two-game lull from the offense held the Demons to just 57 yards on the ground and 87 total yards.
"It all starts up front on both sides of the line," Century coach Ron Wingenbach said. "Those men have done an outstanding job. We're going to ride our defense but we're certainly pleased to put some points on the board."
Century actually got back in the groove offensively last week when it scored on six straight possessions and put 49 points on the board in the second half. They so dominated the lines of scrimmage on Friday that they scored with ease on their first three possessions and the Demons ran just six plays from Century territory all night. The first three were set up by an onside kick to open the second half and the last three by virtue of a facemask penalty that moved the ball across midfield.
Renz didn't catch a pass but scored on runs of 56 yards and 28 yards on sweeps. They were his only carries of the game and first rushing touchdowns of the season. The team's leading receiver, Renz entered the game with 37 yards rushing on five attempts.
"I had some great blocks," Renz said. "We've been working on those all year but we haven't got the explosion plays out of it, but tonight everything worked."
Century dominated the game from the start. It led 28-0 at halftime after scoring the first three times it had the ball and once more with just 25 seconds left in the half. After two quarters, the Patriots had a 260-39 edge in total offense.
Five offensive plays was all it took for the Patriots to go up 14-0.
After forcing BHS to punt on its first possession – which the Demons picked up 20 of their 39 first-half yards – the Patriots took over at their own 23. Dahl broke off a 25-yard run before hitting Jacob Bosley for 46 yards and a score with 5:46 left in the first quarter.
After another three-and-out, Renz took a sweep on first down and went untouched 56 yards for a score. Paul Osmond's PAT made it 14-0.
The Demons went three-and-out again and Century followed with a nine-play 55-yard drive capped by Dahl's 1-yard run with 9:38 to play in the half.
The Patriots' beat the clock to go up 28-0 on Dahl's 3-yard run with 25 seconds to play. The 67-yard drive started with 4:55 on the clock, and only once did Century have to convert a third-down play.
The only score in the second half was Osmond's 49-yard field goal in the third quarter and Renz's 28-yard run in the fourth. Osmond's kick set up the running clock.
"I tell you what, he's been pretty consistent at practice, maybe not at that range," Wingenbach said. "We figured we'd give him a shot."
Osmond had a perfect game kicking. His 37 points trails only Dahl and Century running back Peyton Arndt in West Region scoring. Arndt ran nine times for 60 yards against BHS, all of that in the first half.
Isaiah Pajimula ran for 59 yards and Trevor Ragan 32.
Bismarck's offense consisted of Hudson Schroeder left, right and up the middle. The junior gained 43 yards on 17 carries.
Caden Fischer completed 7 of 9 passes, but they went for just 20 yards and Quin Hafner completed 1 of 4 attempts for 10 yards.
Wingenbach said the Patriots have put the Dickinson and Mandan games well in the rearview mirror.
"If you look back at those games, we hit a turnover bug. It seemed like we were always in poor field position because of something and we didn't get the job done," he noted. "Look at tonight again, zero turnovers and field position, those are the keys for our offensive game."