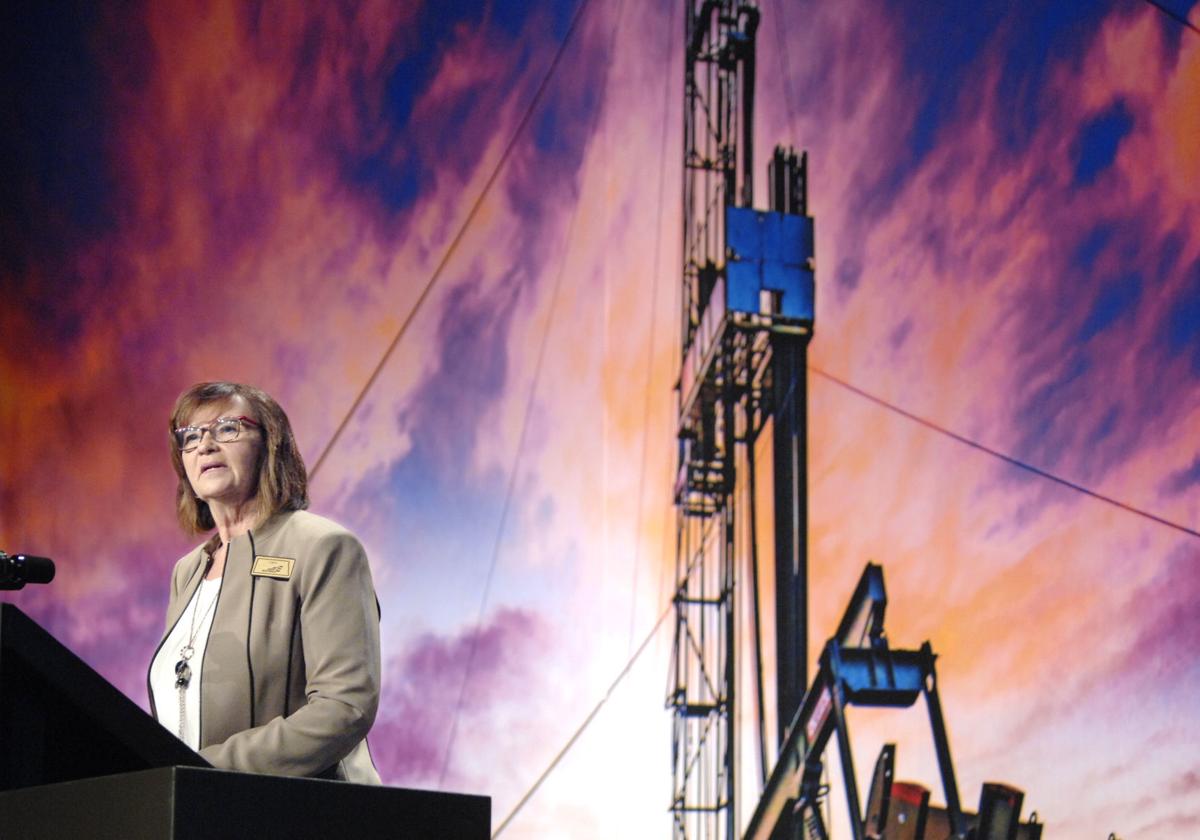 Workforce recruiting has moved to the forefront in western portions of the state, North Dakota Petroleum Council President Ron Ness said in his opening remarks for the 26th Williston Basin Petroleum Conference in Bismarck on Tuesday.
Job Service North Dakota is on the ground as it participated in four job fairs last week, said Cindy Sanford of the agency's Williston office. During one session, company employees hired 22 of 40 people who approached them.
Sanford identified a need for 99 nurses at one health care company in western North Dakota. At the same time, a construction business is trying to get 500 workers in the next couple of weeks, she said.
"Pipeline is huge this year — similar to drilling in 2011," Sanford said.
Demand for CDL drivers and heavy equipment operators are contributing to an expected 9,382 job openings in the mining, driving, oil and hospitality industries statewide by 2019.
"There's truly not a job that doesn't have an opening," Sanford said.
"They're not just taking warm bodies like they were," said Daniel Sternberg, coordinator of McKenzie County Economic Development, of the oil business.
Companies want people with experience and training, and Stenberg's organization is working to meet those industry needs.
For example, the former 7-acre site of a local electric cooperative is being evaluated for a facility similar to Bismarck's Career Academy, where participants could use a CDL simulator, get a welding certification or take certified nursing assistant classes. Evenings at the Rough Rider Center host English Language Learner and GED courses.
Watford City has a $76 million hospital preparing to open in June.
"We're going to need nurses for it," Stenberg said.
Like many in the oil industry, Liberty Oilfield Services relies primarily on referrals to fill job openings and Carl Hirsch, district sales manager, said the company's been "faring extremely well" in the Bakken, though it is always looking for a few more hands.
Liberty kept its crews working through the downturn, and the company has low turnover by industry standards, with employees staying five or more years on average, according to Hirsch.
Liberty operates four to five fracking fleets in the Bakken, with the majority of its workers commuting in and out from outside the state every two weeks, staying in a man camp during their two weeks working here.
One group that is trying to expand into the Bakken is the Laborers' International Union of North America. LIUNA spokeswoman Pamela Link said the union's premier work is in transmission pipelines, but its members have experience with compressors and pumps, too, and would like to get more involved in gathering pipeline work.
"There's a lot we could be used for," she said. "We have a local workforce."
Neset Consulting has found some success attracting employees from a group people don't always associate with the oil industry — women. Kathy Neset announced Tuesday that her company has been certified as a woman-owned business.
And of the company's roughly 100 field workers, 20 percent of those working on the rigs are women. Neset said she's proud to be able to offer a "safe, friendly working environment in this industry" to women who enjoy the technical work her firm does in oil and gas.
Neset has expanded its offerings. Once specializing in geology, the company has added engineering, project management, on-site gas inspections, well site consulting, production and completion consulting as well as salt water disposal facility engineering.
The company has had a lot of luck recruiting students as they come out of school, particularly from the regional colleges, starting them as interns  then hiring them full time upon graduation, according to Neset.