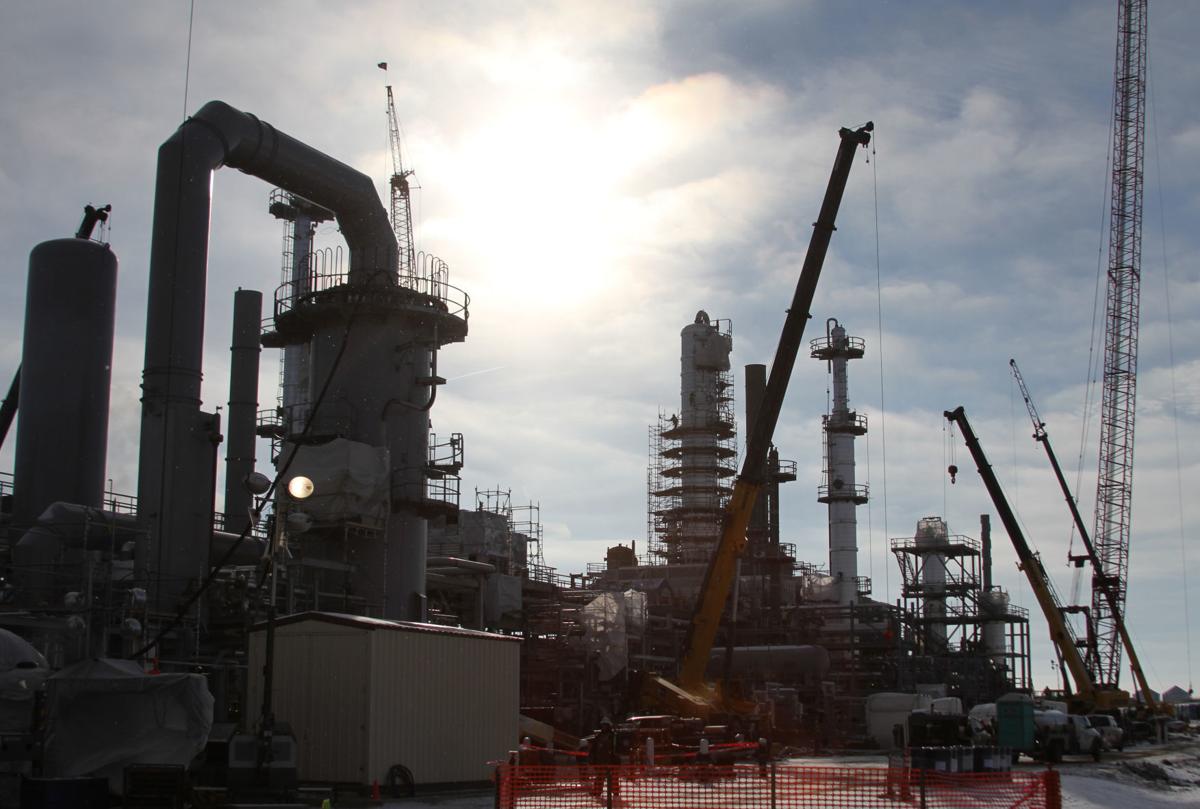 Tesoro is studying the possibility of turning vegetable oil into diesel fuel at its Dickinson refinery, which it purchased from MDU Resources Group Inc. in July 2016.
The crude oil refiner is making plans to retrofit an 8,000-barrel-per-day diesel hydrotreater to process soy or distillers corn oil into renewable diesel alongside its Bakken crude oil processing.
This $3.5 million project would use 16,800 gallons per day of vegetable oils to create a 5 percent renewable diesel mix to be marketed in North Dakota by the end of 2017. The North Dakota Industrial Commission granted the company a $500,000 grant to help cover the project's cost.
Consumers can purchase biodiesel at gas station blender pumps, but Ron Day, Tesoro's North Dakota government and public affairs director, said renewable diesel is different in that it has the same molecular makeup as diesel fuel.
"Compared to biodiesel that is blended into petroleum diesel at truck racks, renewable diesel is a superior quality product because, unlike biodiesel, renewable diesel is a pure hydrocarbon stream containing no oxygen," the company said in its grant application to the NDIC.
This results in a superior quality fuel that maintains vehicle performance.
Day called the project "unique and exciting."
Haldor Topsoe, a company with commercial level experience in hydrotreating vegetable oils into renewable diesel, and Jacobs Engineering Group Inc., which has experience converting other diesel hydrotreater units for co-processing, have been hired to help with the project and keep it cost-effective.
This project also will provide an additional market for regional oil seed processing facilities. While Tesoro has not established supply agreements at this time, a key consideration will be transportation costs, which makes North Dakota processing plants prime candidates.
North Dakota has at least 16 processing plants — three in West Fargo and Velva; two in Enderlin, Minot and Drayton; and one in Fargo, Durbin, Northwood and Mayville.
The Dickinson Renewable Diesel project could be the seed for a renewable diesel industry in North Dakota, as it could lead the way for larger renewable diesel projects in the state. Those could, in turn, lead to construction of new or expanded oil seed processing plants.
Detailed engineering for the project is expect to be completed this month, with construction starting in October and production starting in December or early next year.
"Once Tesoro purchased the facility, the company has looked for opportunities to optimize the refinery and create a reliable, long-term operation. The implementation of the renewable diesel project is one such opportunity," the company said in a statement.
By not having to build a new refinery, the renewable diesel production becomes more economically viable.
The Dickinson Refinery employs about 80 people, including operators, maintenance personnel, engineers and laboratory staff.