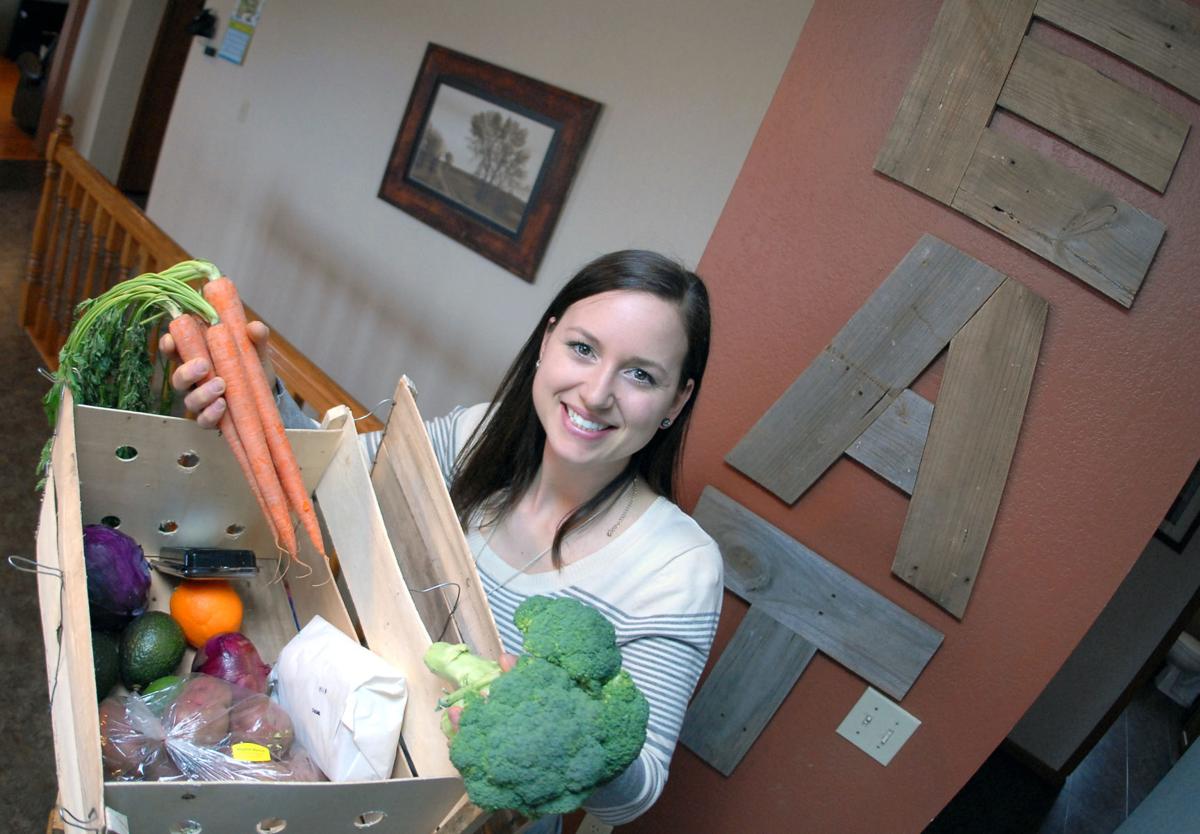 From HelloFresh to Blue Apron, companies offering complete meal boxes delivered to consumers' front door have been on the rise. In Bismarck-Mandan, a mother-daughter duo is giving that trend a local foods twist.
Kara Winkler and her mother, Wanda Burrer, are starting Farm in a Box meal boxes, stocked with locally grown produce, meat, dairy and more.
For Winkler, a farm kid from Wing, the love for local produce started with Fran the goat. Winkler was only about 8 or 9 years old and participating in 4-H. Her sister had been showing sheep, so getting her father to say yes to goats wasn't too hard.
Fast forward to 2010, Winkler was in college but the Burrer family had gotten attached and the sheep and goats remained.
With a little help from another producer, Burrer decided to use milk produced by the family goats to make soaps, thinking it would be a hobby. But it became a passion — and then, with the help of her daughter, a business.
Winkler and Burrer formed a company, Glimpse of the Prairie, and started selling flavored popcorn, goat milk products and vegetables at the farmers market. They also started a Community Supported Agriculture operation, supplying customers with the food they were producing from their gardens.
Interacting with customers and having people come back for more has kept the business fun for the pair.
"When you're excited about what you get to do, it makes it easy to get up for the day," Burrer said.
Winkler got the idea for Farm in a Box while on a trip in Nashville. She saw a similar service advertised in the newspaper, and, like many of the duo's other ventures, the idea grew into a new arm of their business.
"She loves food and cooking and people, so it fits," Burrer said of her daughter's idea. In addition, seeing the enthusiasm of other farmers wanting to join makes it that much more exciting, she added.
Farm in a Box subscribers place their meal box orders online on a Sunday or Monday. Each box comes with supplies for two meals — locally baked breads, locally grown vegetables, locally raised meats and dairy, canned goods and other homemade products. For the few items not produced locally, such as mushrooms, Winkler will source from the Bisman Community Food Co-Op.
Customers can then pick up the box from the Glimpse of the Prairie booth at BisMarket or have it delivered if they live in Bismarck-Mandan. They can expect items such as pastas made by Posh Nosh from North Dakota grains and grass-fed meats from Morning Joy Farm.
There will be specialty boxes: Easter Basket, Cinco de Mayo Box and Mothers Day Brunch. There also will be boxes offered every week — a grilling box with steak and potatoes or a homemade pizza box with homemade pizza crusts from Rugby and an assortment of locally grown produce to top it with.
"What I really want to promote with this is quality time spent at the dinner table," said Winkler,, adding that families will have more time to spend cooking together if they don't have to go to the grocery store.
The boxes will come with recipes and a "farmer spotlight" introducing customers to the farmers who raised the foods they're about to eat.
While the price point might be a little higher, Winkler said: "It's cheaper than going out to eat."
And it comes with the added benefit of supporting local agriculture, an investment known to improve the local economy because the money spent stays in the community longer.
"I think there's a need for (Farm in a Box) because the local foods movement is expanding in North Dakota and the U.S.," said Eden McLeod, executive director of FARRMS, an organization that supports local small farmers.