When Homer and Gladys Royse started selling watermelons at their roadside stand in 1948, they never dreamed their mom-and-pop store with a dirt floor would become a staple in the community, according to their daughter.
Now, after 70 years, Royse's Produce is closing shop on Oct. 15.
"It's hard because many of our customers have been with us for many years … It wasn't just selling produce; it's my parents' legacy," said Delores Royse Castle, who took over the produce stand operations from her parents 25 years ago. "You just know in life when it's time to close a chapter."
Some customers have started crying when Royse Castle tells them of the closure.
"We can't believe you're closing," one woman said as she checked out Monday.
Others have told her they've been coming to the produce stand since they were children and now they bring their own little ones.
"Royse's Twin City Produce is one of the pioneering businesses in our community and a destination for fresh fruit and vegetables for people from miles around," said Mandan Business Development Director Ellen Huber.
Huber said city officials would love to see a succession plan to keep the business operating but join in wishing Royse Castle "many years of relaxation and joy in retirement."
"I think it has been a great place because it's been supported by community," Royse Castle said.
And she thanks her customers with a goodbye message on the Royse Produce Facebook page: "We know that you've had other options but you've truly shown us what small town communities are made of and it's been our honor to be in this one all these years."
A frosty opportunity
Homer Royse had been a custom combiner when he met the young school teacher from Selfridge he would make his wife. Homer and Gladys would go on to start their own own small custom combining business.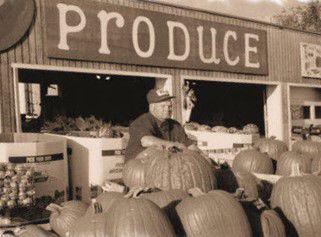 "After one such season of combining, Homer and Gladys were south bound for the fall and happened to stop in central South Dakota for gas and lunch," Royse Produce writes of its history. "Adjacent to the gas station was a field full of South Dakota watermelons. Homer inquired, 'How much for a melon?' To which the gas station owner said, 'Oh, you don't want a melon from that field. It froze last night and those are no good. You can have the whole field for $200.' "
Recognizing the melons would still be good to eat, Homer Royse loaded up his farm truck and trailer, "so much so that Gladys recalls that both vehicles were 'dragging on the ground' and turned around back to North Dakota," according to the business' written history.
So began Royse's Watermelon Kingdom.
A first of its kind
"He knew people in this community needed to get good watermelons," Royse Castle said of her father.
To her knowledge, Homer Royse would be the first to bring in watermelons by truck. Before they came by train, making it hard to get fresh fruit of any kind to the area.
By the mid '70s, the business expanded to other produce and Homer Royse grew his truck fleet, running all over the country to bring in fresh fruits and vegetables. The building was also expanded from east to west.
Royse Castle's brother, Byron Royse, would take over the trucking fleet around the same time she took over the produce stand.
"And together we have continued to buy from the same farmers and growers that our parents did. Many of these wonderful suppliers are also children of their parents' orchards and farms," she said.
Royse Castle said her father's philosophy was "the best produce at the best price."
A family affair
Royse Castle and her siblings grew up working at the stand and many of their children did as well. The roughly 30 seasonal employees, many of them local high school students in need of a summer job, also became like family.
Royse Castle can recall, in the early years, when the watermelons came in hand stacked rather than in crates. Lines and lines of young men formed an assembly line unloading melons one at a time. 
The stand has sold thousands of melons each year with a new load arriving every week.
"It was an honor to be able to work side by side with my parents in the business they loved and built," Royse Castle said. "I can't think of anything better."
Royse's Produce will celebrate its 70 years with customer appreciation days Friday and Saturday.