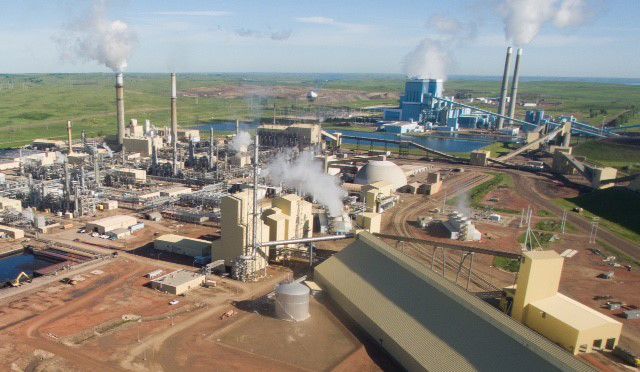 Basin Electric Power Cooperative leadership announced last week that buyouts offered to employees a few months earlier covered the necessary reductions and no more involuntary layoffs will need to take place at this time.
More than 300 Basin Electric Power Cooperative employees took the buyouts over the past month, bringing the cooperative to less than 2,000 employees as the utility aims to cut costs amid continued losses at its subsidiary, Dakota Gasification Co.
Net loss for DGC, operator of the Great Plains Synfuels Plant near Beulah, for the first six months of 2018 was $57.3 million, compared to a $30.3 million loss experienced in the first six months of 2017.
Revenue from synthetic natural gas was $68.2 million, compared to $81.2 million from the first six months of 2017. The average sales price for the gas was $2.62 per dekatherm for the first six months of 2018, compared to an average of $3.29 during the same period in 2017.
DGC's COO Dave Sauer, according to the plant's employee newsletter, The Bulletin, told employees the latest financial forecast showed significant reductions in commodity pricing compared to previous forecasts, but there is potential for improvements, particularly in the fertilizers. He said that the new fertilizer marketing company Basin is partnering with, N-7, is helping with a new approach for marketing products that should bring more income to DGC.
Revenue from anhydrous ammonia was lower by $12.3 million, compared to 2017. And the $740 million urea facility, which began producing product in January, brought in revenues of $32.3 million, which Basin spokeswoman Joan Dietz said was on par with forecasts. Dietz declined to share the cost associated with operating the new urea plant.
Sauer said forecasts show DGC is a net benefit to Basin Electric, despite its operating losses, and management is not actively pursuing the sale of the plant.
Sauer and Synfuels Plant Manager Dale Johnson met with employees on a new vision for the future of the Synfuels Plant, stating employee transfers between maintenance and process operations will need to be completed to balance crews.
Johnson told employees plant operations and business will be different going forward, according to The Bulletin.
"Our new reality is we will have to be thinking differently and work with less resources," Johnson said, as all departments had reductions.
According to The Bulletin, he said future operations will involve reduced plant capacity with a focus on running the fertilizer sections at full capacity. Dietz said DGC is working with consultants to "optimize" the urea plant operations.
"It will take teamwork and dedication," Johnson said. "We will challenge traditional roles and ask employees to step up and lend a hand where needed."
Johnson said the facility has done a good job controlling costs but more will need to be done.
Meanwhile, profits in the utility cooperative's power sector are offsetting losses at DGC.
Total electric sales for the first six months of 2018 were 15.6 million megawatt hours, generating $853 million in revenue, with $47.5 million of that coming from increased sales compared to the same period last year.
This brought Basin Electric to a net margin and earnings of $31.2 million, compared to $49.1 million in the first six months of 2017.
In annual meetings with financial ratings agencies, all three of the major rating agencies affirmed their previous ratings of the cooperative: Moody's rates Basin Electric A3 with a stable outlook, while Standard & Poor's and Fitch's ratings remain at A with a negative outlook.
Follow-up meetings with the agencies will be held in early December to discuss year-to-date financials and the benefits DGC provides to Basin Electric, Johnson said in a post on the DGC website.
"Basin Electric's story is a good one," Johnson said. "We do have a few blemishes, but as a whole, we have a very positive story to tell."
The business news you need
With a weekly newsletter looking back at local history.