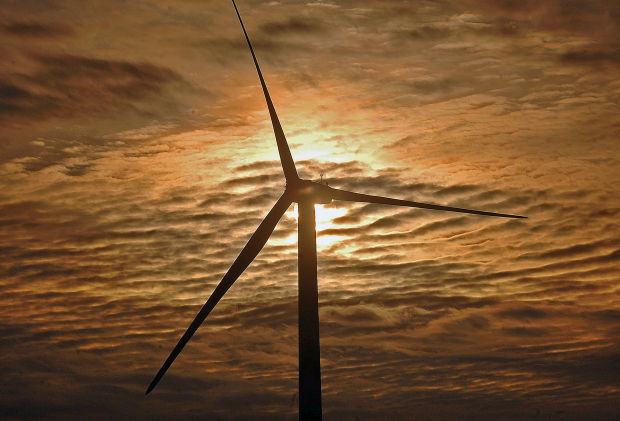 BISMARCK, N.D. - New wind farms, natural gas power plants and a transmission line are broadening the energy mix in North Dakota.
Five new wind farms are seeking permits from the North Dakota Public Service Commission. Basin Electric Power Cooperative and MDU Resources, Inc., are building gas-fired turbines and transmission lines to deliver power to the northwestern part of the state.
Public Service Commissioner Brian Kalk said 80 percent of North Dakota's electricity is coal-generated. Most of the energy portfolios of power companies in the state contain 3 percent to 5 percent renewable energy sources.
The current wind farm development is spurred by the renewal of the production tax credit in January, said Jerry Lein, a staff engineer for the PSC. Developers have to start construction by the end of this year to qualify.
Rolette Power Development, LLC filed a letter of intent with the PSC for a 50-megawatt Rolette Wind Project in Rolette County. One megawatt is enough to power 800 homes.
A letter of intent and application were filed for Courtenay Wind Farm, a 200.5-megawatt project in Stutsman County. And Allete Inc. filed a letter of intent to build a 210-megawatt Bison 4 Wind Project in Oliver, Morton and Mercer counties.
The Grand Forks Herald reported on two more projects: M-Power One, southwest of Finley in Steele County, with an initial phase of about 50 turbines with a total capacity of 75.2 megawatts; and the Thunder Spirit Project in Adams County near Hettinger, with up to 75 turbines with a total capacity of 150 megawatts.
Several letters of intent have been filed and permits have been awarded in recent years, but the companies haven't started construction.
"They file to get the clock started," Kalk said. Still, he sees the current proposals as significant.
Before the tax credit renewal, development was mostly at a standstill in late 2012. The uncertainty over the credit's future causes a sort of boom and bust in the development cycle.
"Without those tax credits, it might be a real challenge to put up (a wind farm)," said Daryl Hill, a spokesman for Basin Electric, which owns or buys electricity from six wind farms in North Dakota and South Dakota.
One wind turbine costs $2 million or more, Hill said. The payoff period is 20 years.
Many wind farms are trying to find a buyer for their power, but power use in other states has shrunk along with the economy. Two-thirds of the power produced in North Dakota is exported.
As the economy rebounds, demand will return elsewhere, Kalk said.
From the time construction starts, a wind farm can be completed in a matter of months, and North Dakota is one of the more effective places to build one, Lein said.
North Dakota ranks third in the nation in the amount of electric power generated by wind. Based on U.S. Energy Information Administration data, wind energy accounted for 15 percent of North Dakota's electricity in 2011.
PSC data shows 991 wind turbines in service in the state, with a capacity of 1,672 megawatts. Most of the wind farms in the state run at 40 percent to 50 percent of their capacity, Lein said.
"Wind can be valuable when available because it displaces fuel costs," Hill said.
Renewable sources, mostly wind, make up 14 percent of Basin Electric's energy portfolio, Hill said. Coal is Basin's main power source
Basin Electric filed an application March 15 for a transmission line from its Antelope Valley Station to Williston and Watford City. Hill said the line will provide "backbone support to our transmission system in that area."
"We're anticipating an operational date for this line in 2015-16," he said.
In the meantime, two natural gas-fired turbines, producing 45 megawatts each, will be operational by this summer: Pioneer Station near Williston and Lonesome Creek Station near Watford City.
The turbines will be fueled by the Williston Basin Pipeline and Northern Border Pipeline. They will run as needed during peak electricity use hours.
On Tuesday, the North Dakota Health Department will hold a public hearing for an air quality permit to add two turbines to each site, for a total of six.
"The whole oil industry arrives pretty fast," Hill said. "It takes time for this stuff to catch up."
Mark Hanson, a spokesman for Montana-Dakota Utilities Co. said his company found itself 120 to 130 megawatts short of its power demand.
The company has seen 1 percent growth of its entire service area but 9 percent growth in the oil patch. To keep up with demand, MDU is building an $85 million natural gas-fired power plant near its coal-fired Heskett Plant in Mandan to serve about 86,000 customers.
MDU has 395 megawatts of coal-fired power. The company has 103 megawatts of power from gas turbines and 55 megawatts of renewable power, including 49.5 megawatts from wind generation.
The business news you need
With a weekly newsletter looking back at local history.