A local developer has plans for a mixed-use development, to include surgery center and medical office plaza, in north Bismarck.
Ron Knutson is developing the 30,000-square-foot surgery center for Bismarck Surgical Associates, an independent practice of which he is a partner.
"So many more of our surgeries are being done as outpatient," Knutson said, including total hip and and knee replacements. "We've found we're needing more space than what we have."
The new center will have five operating rooms — two more than what Bismarck Surgical Associates has at its Ninth Street location — with room to expand to seven, if needed, Knutson said.
Bismarck Surgical Associates is operated by 11 physicians: Duncan Ackerman, Tim Bopp, Chad Carlson, Joe Carlson, Brian Dahl, Tim Juelson, Troy Pierce, Monte Leidenix, Ron Knutson, Attas Boutrous, and Hugh Carlson. The group plans to break ground on the new center this spring.
In addition to the surgery center, Knutson has plans for a 60,000-square-foot mixed-use building to house medical offices on the first floor and apartments above, perhaps as many as 51 units.
City planner Kim Lee said the plat for the medical park was recorded with the Community Development office last week.
The medical park will be located on 30 acres at the northeast corner of 57th Avenue and Washington Street, just west of the new St. Mary's High School, and is part of a larger development Knutson is working on called Section 9.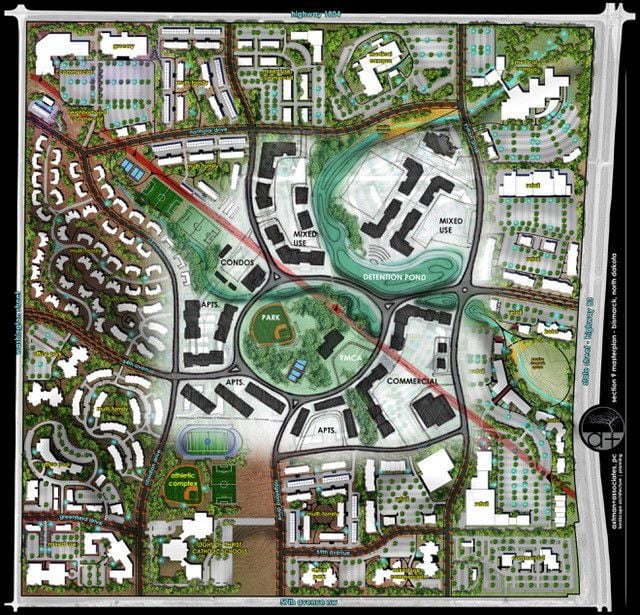 Section 9 will be bordered by Washington Street to the west Highway 1804 to the north, State Street to the east and 57th Avenue to the south. Bismarck Motor Company stands in the southeast corner and property owned by Sanford Health stands to the northeast.
Craig Lambrecht, executive vice president of Sanford Health Bismarck, said the hospital system is working closely with the city and Knutson on infrastructure for the property. The hospital is still developing plans for how it may one day use the land purchased.
As far as a medical plaza and surgery center locating nearby, Lambrecht said Sanford is "excited to see new and expanded health care services in Bismarck-Mandan. Our community is growing, especially in north Bismarck, and it's great to see health care grow with the needs of the community."
Knutson said the development of a tribal treatment center being built by the MHA Tribal Nation across State Street from Section 9 is just another example of health care coming to that area.
Mixing uses
In addition to medical buildings, the development also is to include a mix of medium density — four-plex and eight-plex — housing, commercial buildings, the Catholic high school, a possible community wellness center and a central park with a trail system leading in from all directions.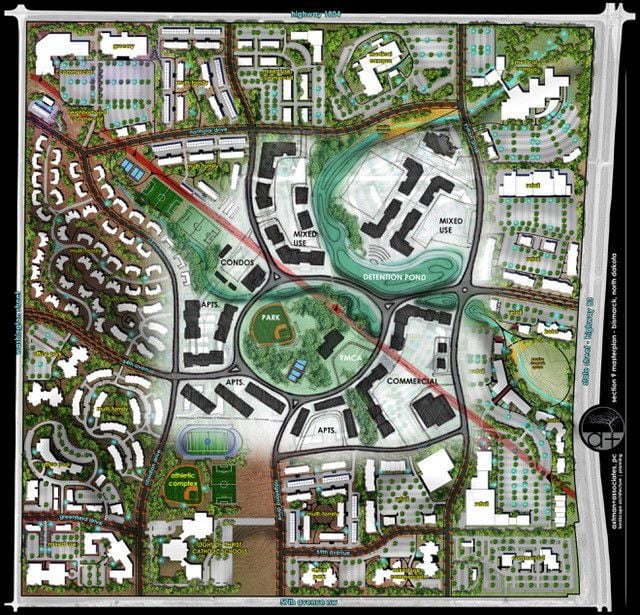 "The goal when we're done is to have something unique," Knutson said. "It will be more dense and designed with city departments and parks."
For those who prefer more traditional lot sizes, Knutson is starting, in 2019, a 640-acre housing development nearby between Promontory Point and and Eagle Crest developments in northwest Bismarck.
The upfront cost of roads, sewer, water, sidewalks, streetlights, parks and park equipment in Section 9 will be paid by Knutson, with those costs being rolled into lot prices and passed on to the eventual property owner. He expects the area to be fully developed within 15 to 20 years.
"There will be over a billion dollars of new growth that will generate at least $20 million a year in property tax," Knutson said, highlighting that the development will take no local tax incentives.
Knutson said he's in talks with Bismarck Parks and Recreation and Bismarck Public Schools on the layout of his development and how to make it best fit into the area. He expects, with the number of new homes being built to the north and 49 percent of BPS students already living north of Interstate 94, another school will be necessary and his development could play a part.
"We need to make Bismarck a better place to live and a destination for things like shopping, medical care and fun," Knutson said. "One thing I have noticed and can say I am happy about is the city administration and mayor are working together with developers to keep costs down and make Bismarck a better place. I think together we will be successful in leaving our kids and grandkids a better Bismarck."