Crews are expected to break ground on a new riverside restaurant and event center in Bismarck this spring.
The Heritage River Landing, which will replace the void left by demolition of the old Wilton Train Depot that housed Captain Meriwether's Landing after the 2011 Missouri River flood, has been in the works since 2016. It's being developed by The Missouri Valley Heritage Alliance, formerly known as the Fort Abraham Lincoln Foundation.
When complete, the 4,400-square-foot community event space will house a locally owned seasonal bar and restaurant and a gift shop with ticket sales for the Lewis and Clark Riverboat, as well as interactive kiosks about the area's history. The 175- to 200-person capacity event space will be available for rent for public and private events and a 4,200-square-foot patio will allow for outdoor dining in the summer.
Fundraising for the building had nearly reached the $750,000 goal at the beginning of 2017. The project was then expanded to a price tag of $1.5 million. Over the past year, the alliance has made it to the $750,000 mark, halfway to the final goal.
"We're really excited about this," said former Bismarck Mayor John Warford, who is co-chairing the fundraising committee.
Warford and his co-chair, retired North Dakota National Guard Adj. Gen. David Sprynczynatyk, called the Missouri River one of Bismarck's greatest assets and said the event center will be a way to draw more people to the river to enjoy it.
Sprynczynatyk said the river parks and trails and Native American-inspired sculptures are already assets but the new center would raise access to the area one level higher. Warford said it could also spur more riverside development in other locations downriver in the future.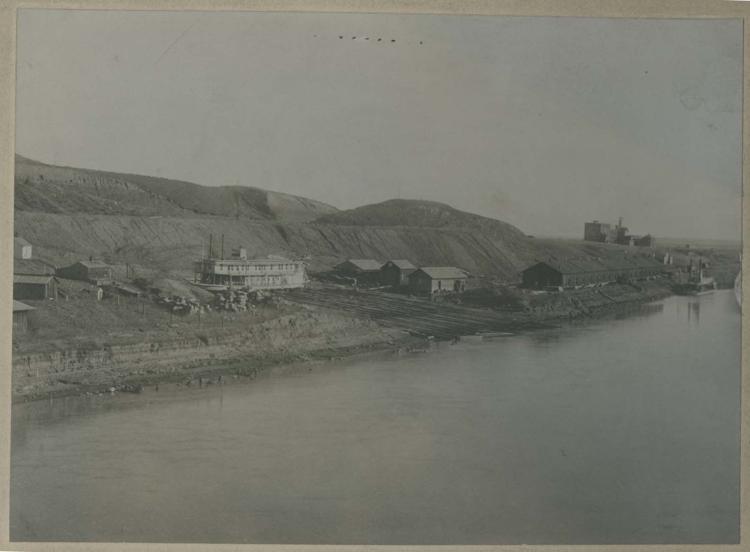 The design of the building and loft is inspired by a railway river warehouse that used to sit near the current site during the 19th century. It will be built on a concrete pier that will raise it 2 feet above the flood stage in order to protect it from the same fate of its predecessor.
The building will serve as the interpretive headquarters for the Northern Plains National Heritage Area, one of 49 National Heritage Areas overseen by the National Park Service, and will highlight other historic locations on the Missouri River in central North Dakota, such as Fort Rice State Historic Site, Huff Indian Village State Historic Site and Chief Looking's Village.
The alliance aims to complete construction by the end of the year and hold a grand opening in early to mid-2019.