With nearly 25 percent of the state in a moderate drought, cattle ranchers are selling more livestock.
As a result, Kist Livestock Auction is seeing from 1,000 to 1,300 more heads going to sale than usual for this time of year, according to Matt Lachenmeier, a fieldman at the Mandan business.
The drought conditions, coupled with a depleted hay supply from the tough winter, have left ranchers without feed and with little hope for a good hay crop this summer.
"The conditions are pretty severe in much of the state," said Julie Ellingson, executive vice president of the North Dakota Stockmen's Association. "Hay crops look to be poor, or, in some cases, no crop."
Cattle being auctioned are from a widespread area and other sales barns in the state are seeing similar increases, according to Lachenmeier.
According to the U.S. Drought Monitor, the state has had less-than-average precipitation during the past three months, with portions of central and south-central North Dakota receiving only 25 percent and 50 percent of normal precipitation during this period. Spring so far has been the seventh driest on record in Bismarck.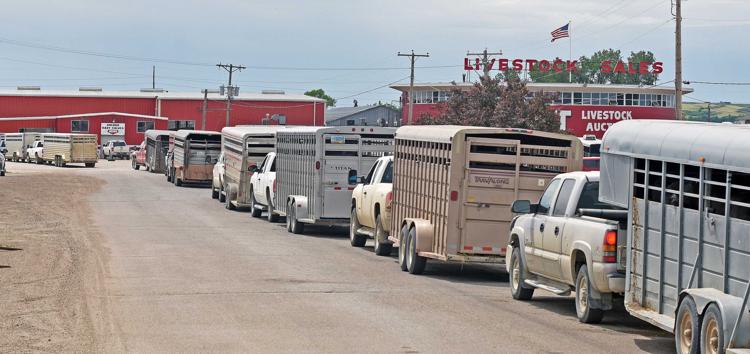 "If we do not get some rain soon, the conditions will deteriorate fast," said Bruce Schmidt, North Dakota State University Extension Agent in Burleigh County.
Adnan Akyuz, a state climatologist, predicts the dry conditions will persist throughout the summer.
Lachenmeier said many of the cattle coming to market are older cows, cows who did not get pregnant with a calf, as well as heifers which ranchers had planned to keep and breed. 
"They're trying to save grass for their best cow-calf pairs," said Lachenmeier, who said smaller operators have been bringing in 10 to 15 animals. The larger ones have been selling off about 50 head or even as many as 100 head.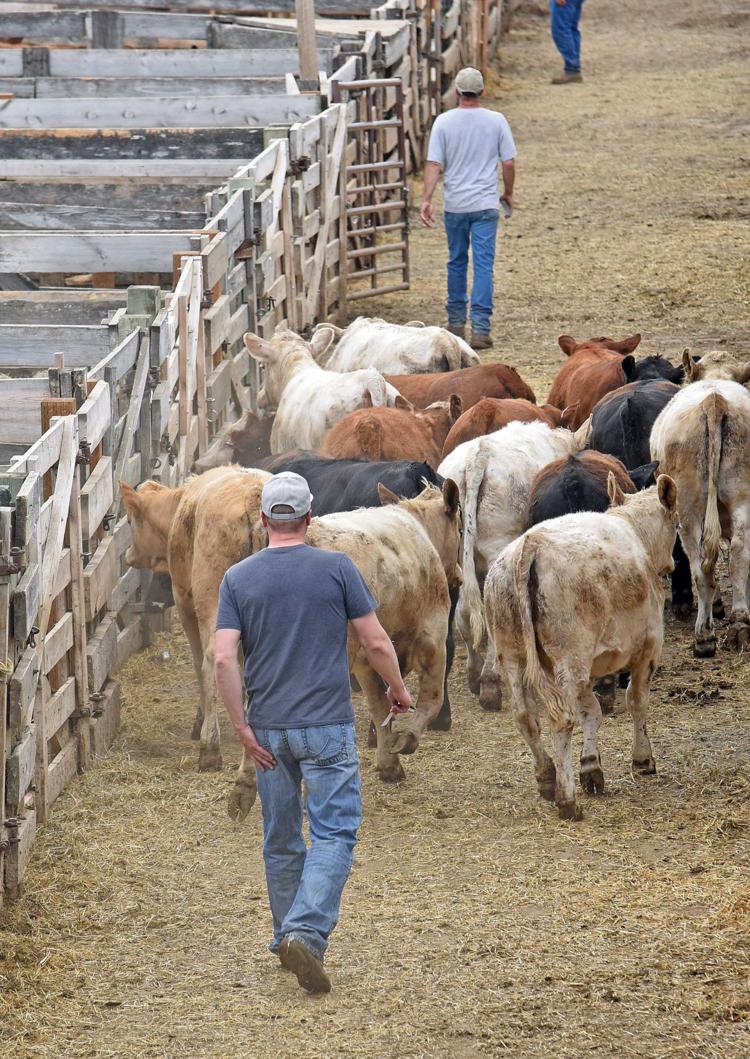 Wet conditions in the past few years have allowed ranchers to build their herds, running more cattle on less acres. Now, that's really taking a toll, Lachenmeier said. 
You have free articles remaining.
"It's hard to find extra grass," he said.
Ranchers may need to drive 200 to 300 miles to get hay, which is cost prohibitive. Others may choose to haul their cattle to pastures in another state, if they can find land to rent. Ellingson said some are getting creative and feeding their animals on a dry lot rather than turning them out to pasture.
"It's pretty much down to where they have to sell," Lachenmeier said.
Fortunately, except for those choosing to sell off cows and their calves as a pair, ranchers can still get good prices for their stock.
"The weigh-up cow market has been really good," Lachenmeier said. "The same is true for the the feeder cattle market."
An 800- to 900-pound heifer at Kist has been bringing $1,200.
Cow-calf pairs on the other hand are going for $300 to $600 less than they were several months ago. They started selling for about $2,600 in the spring and have gradually crept down to the $1,700 to $1,900 range, Lachenmeier said.
"If we had been at all-time (price) lows on top of the drought, that would've been disastrous," he said. "All that's suffering now are the good young pairs."
Lachenmeier said Kist had about 300 sellers at its last sale. With the temperature rising through June and July, he expects the sales continue through the summer, possibly all the way until calf sale season in the fall. In fact, Kist, as well as the sale barn in Aberdeen, S.D., have added a second weekly sale to keep up with the above normal demand.
"We could get an inch of rain today, but it would just put a Band-Aid on it," he said. "It would take quite a bit of rain to get out of this … It's a sad deal, but it is what it is."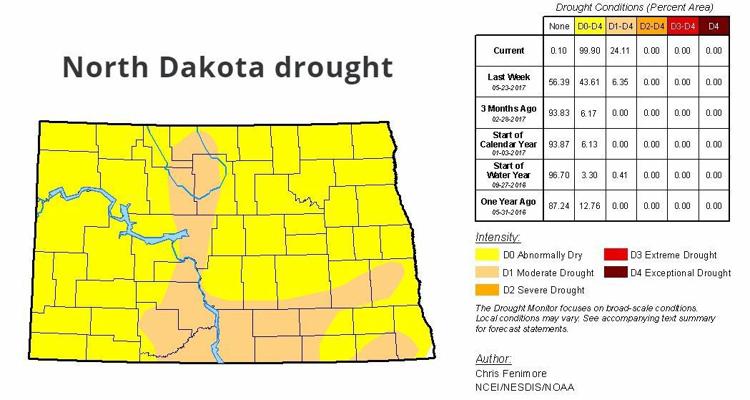 Towns such as Medina, Gackle and Selfridge received some rain over the weekend and a couple towns to the west saw storms Monday but moisture has been spotty.
"Hopefully, there's more where that came from," Ellingson said.