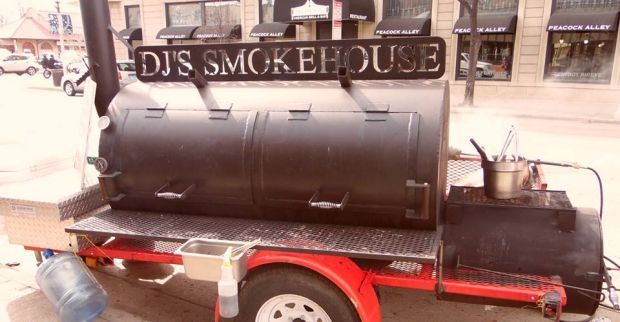 Mobile food and retail trucks have been making an appearance around Bismarck for several years, and city employees are drafting an ordinance to regulate them.
Darrell Matthews, owner of DJ's Smokehouse BBQ, got his start at Urban Harvest two years ago with his mobile barbecue pit. He made enough to open a restaurant at 1101 S. 12th St. and continues to operate his mobile pit. He said he thought there was a need for more mobile food options in Bismarck.
"We knew there were not a lot of food trucks, and we wanted to set a trend," he said.
Matthews is operating at the same downtown location in front of Laughing Sun Brewery at the brewers' request, but now he is facing opposition. He has had the police called on him twice.
"I still don't know what I did wrong," Matthews said. "Kroll's has one. I don't know the difference."
Gloria David, a public information officer for Bismarck, said the city has a policy in place for mobile food outlets that park in a public place for a limited time. She does not know the details of the ordinance being drafted or the reason for it being introduced. It will be presented to the Bismarck City Commission at its April 14 meeting.
Matthews said city employees have approached him with the policy. He has his mobile food license, and he follows the traffic ordinances as required. He said he has been told he has broken the law, but when he asks about the violations, no laws have been cited.
"We understand the laws," he said. "We haven't broken any laws."
Bismarck Police Department Sgt. Mark Buschena said the department has not received any traffic complaints and said the issue is a city commission matter.
David said the proposed ordinance will go through the standard public hearing process and will require approval by the commission to become law.