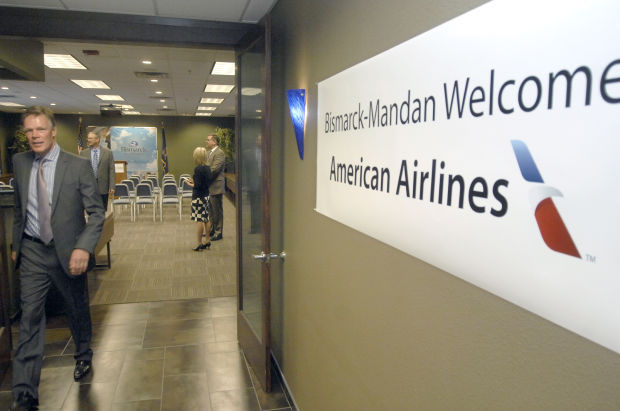 Another airline will fly out of the Bismarck Airport.
American Airlines will add direct flights to Dallas-Fort Worth and Chicago's O'Hare International Airport starting Oct. 1.
"This takes our air transport to the next level," Bismarck Mayor John Warford said.
Flights will depart from Bismarck daily, leaving for Chicago at 12:45 p.m. and leaving for Dallas-Fort Worth at 7:20 a.m. Return flights will leave Chicago for Bismarck at 9:50 a.m. and leave Dallas-Fort Worth for Bismarck at 3:45 p.m. The planes will have the capacity for 50 passengers. Advance tickets are now available.
American Airlines will receive a two-year, $1 million minimum revenue guarantee for the added flights in and out of Bismarck. The guarantee is being funded by private and public funds. The guarantee is meant to prevent financial losses as the airline starts up service.
The city of Bismarck received a $500,000 U.S. Department of Transportation Small Community Air Service Development Grant earlier this year. That grant will be used for half of the guaranteed funding. The other half was matched by members of the Bismarck-Mandan Chamber of Commerce. No city money will be used to fund the guarantee, Warford said.
You have free articles remaining.
The arrangement was negotiated by the Bismarck-Mandan Chamber of Commerce. The chamber helped negotiate a similar deal to bring Frontier Airlines to Bismarck in 2012. That deal involved a revenue guarantee funded with city money and a revenue match from the private sector.
Chamber President Kelvin Hullet said the new flights will position Bismarck as a business destination, particularly for the energy industry.
"Going south is very important to the energy industry," Hullet said. "You're going to see in the coming weeks we're positioning ourself as the energy capital in the Upper Midwest."
Hullet said North American Coal, BNSF Railway and Petro-Hunt are several companies based out of Dallas-Fort Worth with North Dakota operations. Area businesses requested service to Chicago for conferences. The two new destinations also add more connections to cities across the U.S. and around the world.
Hullet said the chamber is not finished trying to attract new airline destinations for Bismarck. It is part of the group's strategic plan to attract and retain employees in North Dakota by adding amenities.
"Air service is one of those (amenities) we hear a lot," he said.
American Airlines already offers flights out of Fargo.