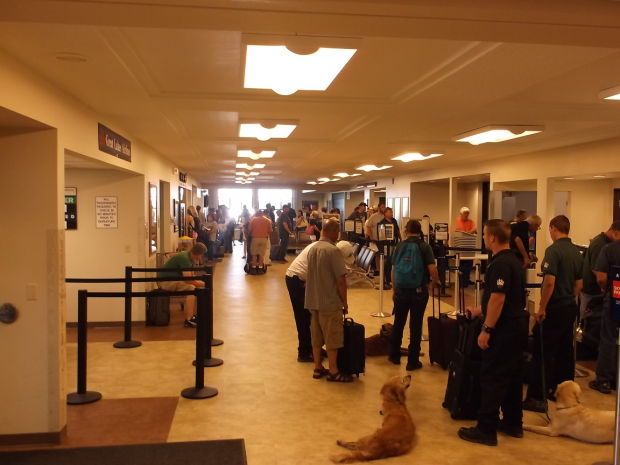 The airport in Dickinson can have more than 100 people at a time in a terminal originally designed for 50.
New regional jet service has several North Dakota airports operating over capacity, placing the newly added passengers in modular buildings as they wait for their flights.
"We now have three airports which have terminals that are operating at three times their designed capacity," state Aeronautics Commission Director Larry Taborsky said in a release. "This sustained growth began prior to 2010, and is projected to continue. We're asking the FAA to consider the North Dakota airport projects as a high priority for their discretionary funding."
Minot's airport terminal has been operating above capacity since 2012, Williston has been above since last November and most recently Dickinson has grown above capacity this summer.
"This is the first year they (Dickinson and Williston) have had jet service and they were not expected to have it for quite a while," said Kyle Wanner, airport planner for the aeronautics commission. "We haven't built to handle the need we're all of a sudden seeing."
Since adding service to these areas, 50-seat regional jets bring and leave with full flights, Wanner said.
United Airlines started service at Dickinson Theodore Roosevelt Regional Airport June 6 and Delta Airlines started June 10 with two daily round trip flights each. Both airlines' flights land within 15 minutes of each other. Great Lakes Airlines, which usually has about 10 passengers per flight, also has four daily flights, Airport Manager Matthew Remynse said.
In Dickinson and Williston, modular buildings are being used as temporary holding rooms after passengers have passed through security. There is only one security screening line.
Steven Kjergaard, airport manager of Williston's Sloulin Field International Airport, was the first to suggest the use of the modular buildings. The building in Williston is 24 feet by 60 feet and holds 95 people. With the previous space in the terminal, the airport can now seat 120 people.
In Dickinson, a second modular unit holds luggage as it waits to be loaded on the plane. Another employee also was hired.
"With three times the people coming through the building there's more upkeep," Remynse said.
The total cost for all improvements to Dickinson's terminal came to $152,000. The Energy Infrastructure and Impact Office covered 80 percent of the cost with grant money from state taxes collected for oil production. The remaining cost came from the Dickinson airport authority, which gets money from user fees and a tax levy, Remynse said.
Williston pays about $2,200 a month for it's modular building, which it is able to pay for with increased revenue it receives due to higher passenger counts, Kjergaard said.
"It's worked out as well as it can be," he said. This way it doesn't force me to have to gate control."
Delta, United and Great Lakes all fly out of the Williston airport, with Delta and United starting last November. Both those airlines have three flights each with talks of adding a fourth come the holiday season, Kjergaard said.
Kjergaard said the terminal in Williston was designed to handle 30 people per hour. It now handles 120 to 150 people per hour or about 9,000 per month, which is more than it was designed to handle per year.
Kjergaard said Williston plans to apply for state and federal grants next year to start purchasing land as well as design work on either a new or expanded airport.
If all goes according to plan the improved airport would be operational by November 2016. The estimated cost for an expansion would be $350 million and the cost for relocation would be about $200 million. What couldn't be covered by grants would be covered by a city bond, Kjergaard said.
The first round of state Energy Infrastructure and Impact Office funding was awarded, for the most part, to the airport in Minot. The city, whose terminal has been equally as taxed, will break ground on its new terminal Sept. 30 and complete it in fall 2015, Wanner said.
Wanner said a total of $21.2 million was given by the state to Minot for the new terminal and other projects. The airport also received $8 million in federal funds. The terminal alone is budgeted to cost $41 million.
"This will get the relief valve flowing for airports in western North Dakota," Wanner said. "There are a lot of challenges at these airports right now."
Wanner said Minot had been unable to allow additional flights but now Williston and Dickinson are able to take some of those passengers.
The state appropriated $60 million of oil tax money for the bienium to airports in oil impacted counties. Of that, $28 million has been awarded.
Dickinson plans to apply for $4 million next year to pay for a larger general aviation ramp, environmental assessments for expanding airport facilities and lengthening and strengthening the runway, Remynse said.
Wanner said the addition of regional jet service has been a "great benefit" to western towns.
"If you live in Williston and all of a sudden you have jet service you didn't have before you have a connection to the world you didn't have before," he said.
Wanner said the airlines also have added flight times, destinations and competition. In Bismarck, Northland Travel Agency's Cheryl Fenster said travelers may still pay more than $1,000 for a short term business trip. However, those that book in advance to fly out and return after a Saturday can get flights to Denver as low as $200 when they used to pay $750 to $900.
"They have gone down where we have competition," she said.
For August 2013, airline boardings were 18,896 people in Bismarck, 4,246 in Dickinson and 8,640 in Williston, according to aeronautics commission numbers.