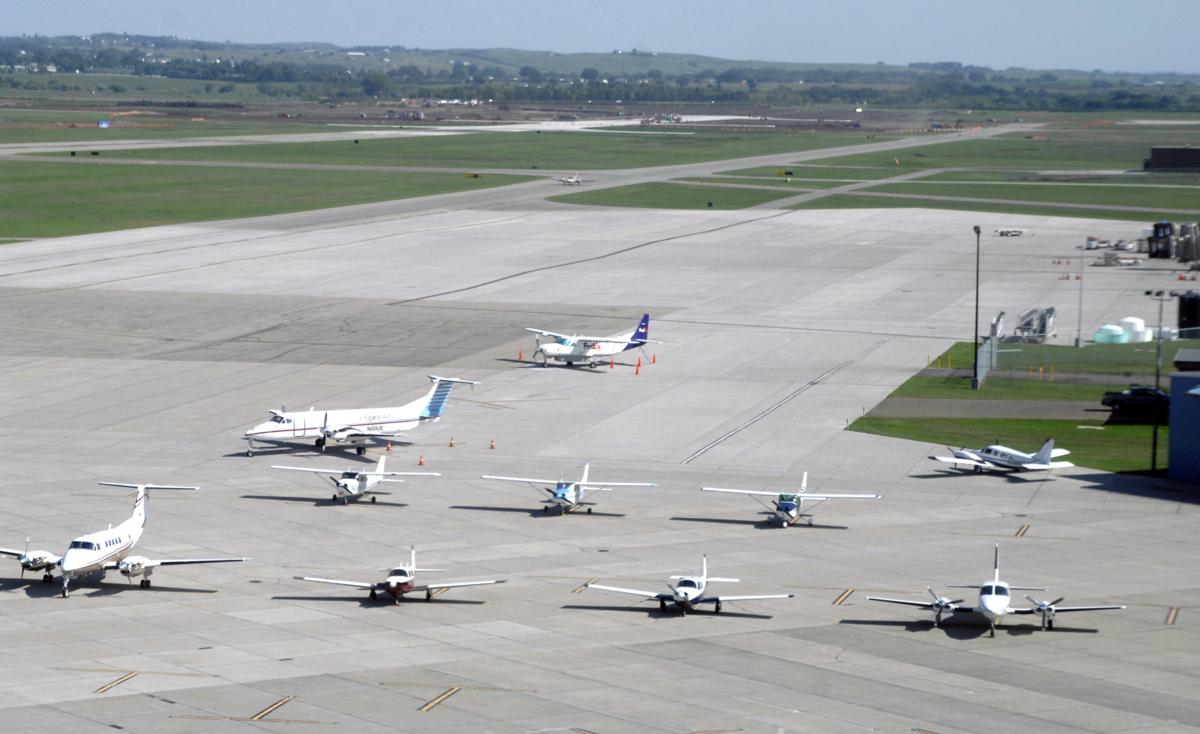 After nearly a decade of gains, airplane boardings in Bismarck are likely to flatten for the year.
While local air travel numbers were up for the summer, the past three months marked declines in boardings.
"We kind of knew the last few months were going to be in the red for us," Airport Director Greg Haug said.
June, July and August saw large gains. June numbers rose 10 percent, or 2,253 more passengers compared to the same time last year. July and August saw 13 percent and 7.7 percent rises respectively, equivalent to 3,160 more passengers in July and 1,750 in August.
But September had a minor decline of 3 percent over last year, or about 661 fewer passengers. October declined more than 11 percent, or 2,820 passengers, and November was down 2,135 passengers or 8.79 percent.
Haug said he expects more of the same in December, which would bring boardings close to the 271,000 passengers that had boarded in Bismarck by the end of 2016.
"We'll be just about where we were last year," Haug said, but the airport has had eight years of significant gains.
Should the airport eek out a gain for this year, it will be the ninth year for increases in boardings.
Haug said the biggest factor in the decline was likely caused by the early ending of service for the season by Frontier Airlines. The airline company upped its number of flights during the summer months but stopped offering flights out of Bismarck for the season three months earlier than it did last year.
Last year, the company flew out three days a week from April through December. This year it flew out seven days a week from June through mid-August, dropped back to three days a week from mid-August through mid-October then stopped service until April.
"They had a lot of seats to Denver in the summer," Haug said. "People really took advantage of that ultra low cost airline."
Other more minor factors in the decline was the airport's runway reconstruction project and a decline in tourism from out-of-state pheasant hunters as a result of the lower bird population in the state.
With the construction, Delta reduced the size of the planes it flew for six weeks in October and November. Haug said it took the Federal Aviation Administration longer than expected to restore the radar equipment that works with the larger planes, so there were 50 less seats available each day during that time period.
Non-resident small game licenses sold by North Dakota Game and Fish, a majority of which go to pheasant hunters, were down 33 percent compared to last year as of Nov. 26. The numbers went from 26,906 down to 17,972 spokesman Craig Bihrle said.
Bihrle said a lot of non-resident licenses are sold to Minnesota and Wisconsin residents who often drive to the state rather than flying — 6,679 from Minnesota and 2,287 from Wisconsin. But this year there were also 8,785 licenses sold to people from 56 other non-adjacent states and Canadian provinces.
Despite the end of year declines, Haug said he is confident the airport will continue to show a moderate level of growth in the years to come matching growth in the community.