Cameron Red Bird was two months into his job as a grill cook at Bismarck's Olive Garden when he was told by his manager that he was getting laid off, along with most other hourly staff.
Gov. Doug Burgum had ordered the shutdown of eating and drinking establishments to on-site service, to help stop the spread of the coronavirus.
"It's very tough," said Red Bird, 32. "Since I was a new guy over there, I wasn't earning many hours, maybe 25 to 30 hours a week, and that's just enough to pay my bills and buy food."
The same week, he picked up an application at Sam's Club after a cashier there told him they needed a night stocker. He applied but was told all positions were filled.
Red Bird filed an unemployment claim with Job Service North Dakota on Friday.
"I'm new to all of this stuff," he said.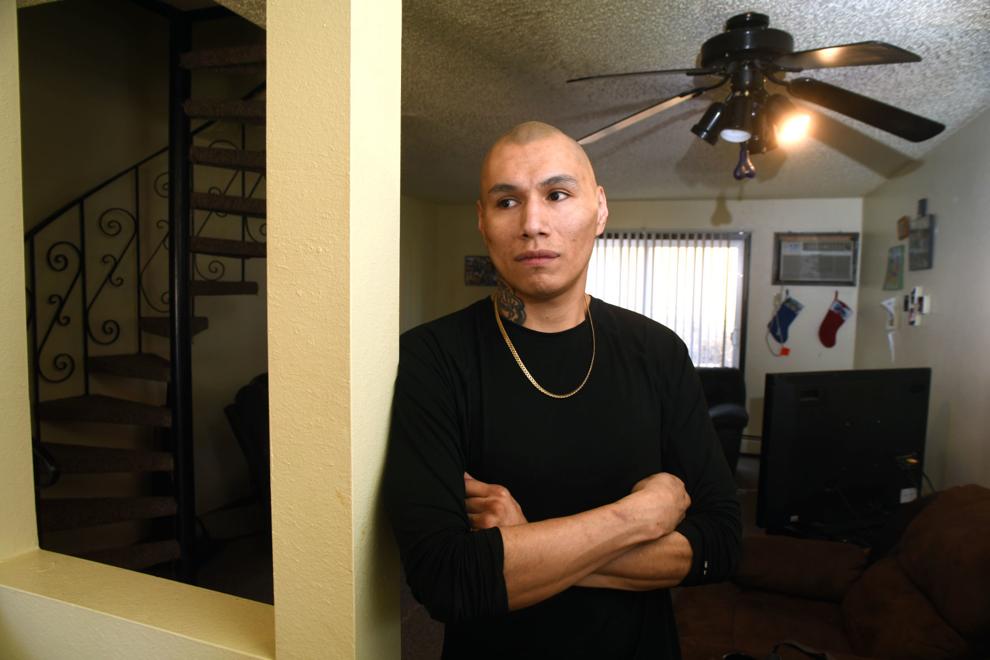 Disturbing data
Some laid off workers are hoping Burgum's order will be lifted on April 6, allowing them to return to their workplaces. Meanwhile, many are seeking job opportunities offered by local and national companies offering flexible hours. Many more are filing for unemployment on the Job Service website, at https://www.jobsnd.com/. 
Burgum on Tuesday said 24,667 people had filed unemployment claims since March 16.
"Comparing to all of 2019 was 20,500, so we've surpassed since the middle of March what we did in a whole year," Burgum said.
The state is "ramping up" to boost personnel to help alleviate the pressure at Job Service, the governor said Monday.
"We've got a team of people (there) that in 12 days have had more than a year's worth of work come at them," Burgum said.
Residents who file unemployment claims no longer need to meet weekly work search requirements due to another executive order Burgum signed a week before he directed eating and drinking establishments, as well as recreation and entertainment businesses, to close to on-site services until the week of April 6. Last week, Burgum also ordered the closure of "personal service" businesses such as beauty salons, massage parlors, and tattoo and body art businesses. Violations can carry a fine up to $1,000.
Oil industry woes
Energy is another industry sector that has been hit hard.
Many North Dakotans employed in fracking and drilling roles in western North Dakota have been laid off, said Paula Hickel, workforce center manager at the Job Service office in Williston. MBI Energy Services also closed its trucking division, resulting in more than 200 people being laid off, she said.
"It has spread into the construction side; well-servicing positions, we've seen those cut as well," Hickel said. "It also affects oil field construction excavation companies because if they are not doing as much drilling, they aren't building as many well pads. So it's that ripple effect that we are starting to see." 
Laid off workers in the region might find opportunities working in the roughly three dozen gas processing plants in North Dakota," Hickel said. 
In addition, Hellervik Oilfield Technologies is hiring eight workers for a new "fractionation" plant in Ray, which separates components of natural gas liquids, Hickel said.
National and local opportunities
Phil Davis, customer service area manager for the Bismarck Job Service office, said he wants North Dakota residents to know there are job openings listed on the Job Service North Dakota website.
"The grocery stores are needing help. There's still transportation type of work, health care work, all those sorts of things our key employers are hiring for right now," Davis said.
Some unique job opportunities from international companies have sprung up in the wake of the pandemic. For instance, Walmart plans to hire more than 500 employees to work in its North Dakota facilities. The hiring initiative is part of a larger effort by the retail giant to hire 150,000 new workers in the U.S. through the end of May. 
The company plans to provide more than $365 million in cash bonuses to hourly workers in the country, including the 500 new North Dakota positions, according to an announcement. 
TTEC Holdings Inc., a Colorado-based global customer service company, is hiring 20,000 Americans to work as telephone customer service representatives. 
Meanwhile, some local businesses are letting community members know they are hiring. Pride Inc., a Bismarck-based social services organization, announced on March 19 that it has part-time and full-time caregiver positions open to serve people with intellectual disabilities. Pride CEO Tony Baker said the nonprofit received 10 to 15 applications soon after announcing the openings, "which is good for us," he said.
"Even before the pandemic, we were usually anywhere between 1,300 to 1,600 open hours a month that we were trying to fill. We have a lot of turnover in our industry," Baker said. 
As a precaution, Pride is asking applicants whether they have had symptoms, traveled out of state or been in contact with anyone who has been infected with COVID-19, the disease that results from the coronavirus, Baker said.
Area grocery stores also have job openings available. Dan's Supermarket had 10 openings and Cash Wise Foods had 12 openings in Bismarck listed on the North Dakota Job Service page on Tuesday.
Business leaders remain hopeful
Bismarck Mandan Development Association President Brian Ritter said he doesn't know any examples of local businesses offering an increase in open jobs to accommodate people laid off due to the coronavirus pandemic.
Still, he remains hopeful. Job openings in the Bismarck-Mandan area had grown steadily in the past two years, according to Job Service data. In February, there were 3,044 job openings in Burleigh and Morton counties -- a 35% increase from the previous year. Most openings in Burleigh County were healthcare practitioner and technical occupations. 
"Because Bismarck-Mandan is an incredibly diverse economy, because we've seen growth in the economy for the previous 12 months, and because we had more jobs than we had people before the pandemic, that's why I'm optimistic that once the pandemic subsides, and we get back to a 'normal economy,' I have every reason to believe it will still be a strong economy," Ritter said.
But Ritter expects recovery from the economic impacts of the coronavirus in North Dakota won't be instant.
"There will be a period where businesses will have to readjust; there will be a recovery period for them to get back to a 'normal' mode of operation," he said. "It probably will not be immediate, it will not be overnight, but I'm optimistic and I'm confident that we will recover."
After Burgum's order on March 19 for bars and restaurants to close to on-site patrons, LongHorn Steakhouse Manager Timothy Pietrowsky said managers had to lay off the Bismarck restaurant's nearly 60-person hourly staff. 
He said the decision, which followed orders from the restaurant's parent company, Darden Restaurants Inc., was difficult.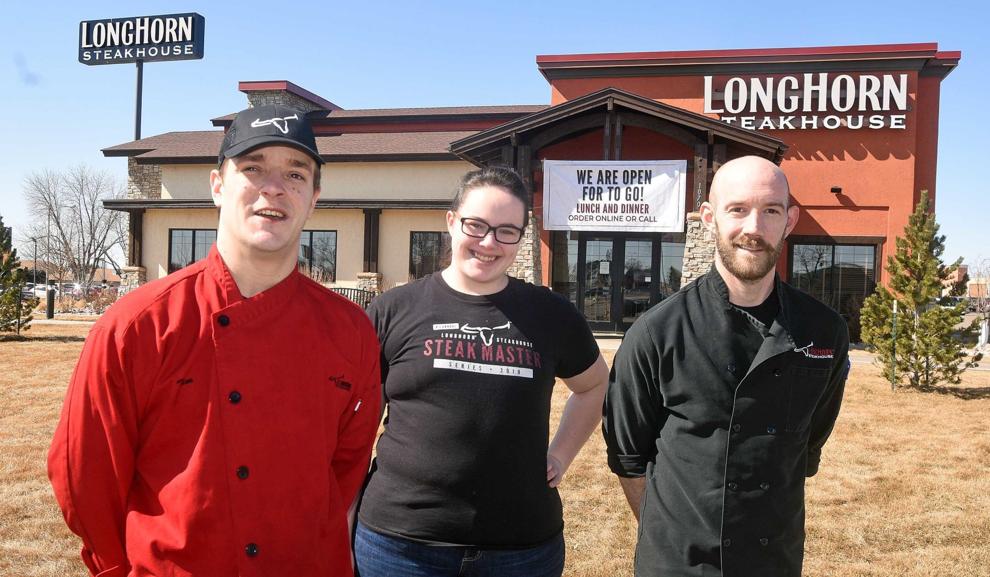 "These are team members that I am interacting with 40 to 50, 60 hours a week and, you know, we've become a family here in the restaurant," Pietrowsky said. "I genuinely care about what my team members are doing in their downtime. For the ones who have been struggling in life, I worry about them, where they are at right now."
Darden Restaurants also owns Olive Garden, where Red Bird most recently worked. He said he planned to look into the company's "Emergency Pay Program," to support laid off employees at half pay for three weeks.
"I never would have expected this to have this type of impact, especially on the whole entire country and everybody's daily lives," Red Bird said. "You get so used to everything being a certain way, and when something interrupts that, it's a little weird."