The city of Bismarck is giving a Humanitarian Award to a doctor who sued a major health care provider in the community and won more than $2.1 million -- an honor that comes as a surprise to Mid Dakota Clinic.
Family practice physician Robert Roswick filed a federal lawsuit against the clinic in March 2017, claiming he was unjustly fired the year before for speaking out against alleged racial discrimination against an Indian-American physician at the clinic.
A U.S. District Court jury in Bismarck after a five-day trial last August ruled in Roswick's favor, awarding him lost wages and benefits. He was not awarded punitive damages because the judge ruled there wasn't enough evidence that the clinic "acted with malice or reckless indifference" to his civil rights.
Roswick patient Mary Miller recommended him for a Humanitarian Award, saying in her November nomination letter to the city's Human Relations Committee that Roswick "put his career and reputation on the line to speak out, stand up and defend a fellow colleague facing racial discrimination and undue termination."
Miller referred to Roswick's legal victory as a "David and Goliath" moment.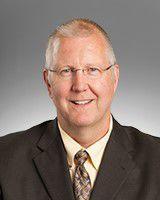 The city commission on Tuesday voted unanimously to accept the recommendation of the Human Relations Committee to bestow the Humanitarian Award on Roswick. The recommendation was part of the commission's consent agenda and there was no discussion.
You have free articles remaining.
Mayor Steve Bakken told the Tribune on Wednesday that he doesn't think Roswick's lawsuit is a "testament to the fabric of the individual." The lawsuit has "nothing to do with his humanitarian ventures," he said.
Bakken added that he "agreed to abide by" the Human Relations Committee's decision to recommend Roswick.
Mid Dakota Clinic has been operating in the Bismarck-Mandan area for more than 40 years, employing a staff of more than 90 medical professionals at numerous clinics, according to its website.
"We are surprised the City would take this action without doing its homework," the clinic said in a statement to the Tribune. "If it had done so, it would have discovered that the allegations related to the other physician were not supported by the evidence, as determined by the court when it granted summary judgment in favor of the Clinic in that case.
"We have always been and remain committed to diversity and the fair and equal treatment of all employees. For over 40 years, we have been serving this community and working every day to earn our reputation as the doctors you know and trust."
Roswick, who is now a family medicine doctor at Sanford Health in Bismarck, issued a statement to the Tribune through his attorney, J. Ashwin Madia.
"I appreciate all the local and statewide support for my action. It has been overwhelming," he said. "I would also like to acknowledge the foresight of the Bismarck City Commission to have a Human Relations Committee charged with acknowledging and celebrating businesses, organizations or individuals exhibiting leadership in human rights. Thank you."
The court case appears to have concluded the same day of the city commission vote. A document that Madia filed on Tuesday states that "Mid Dakota Clinic has paid in full."