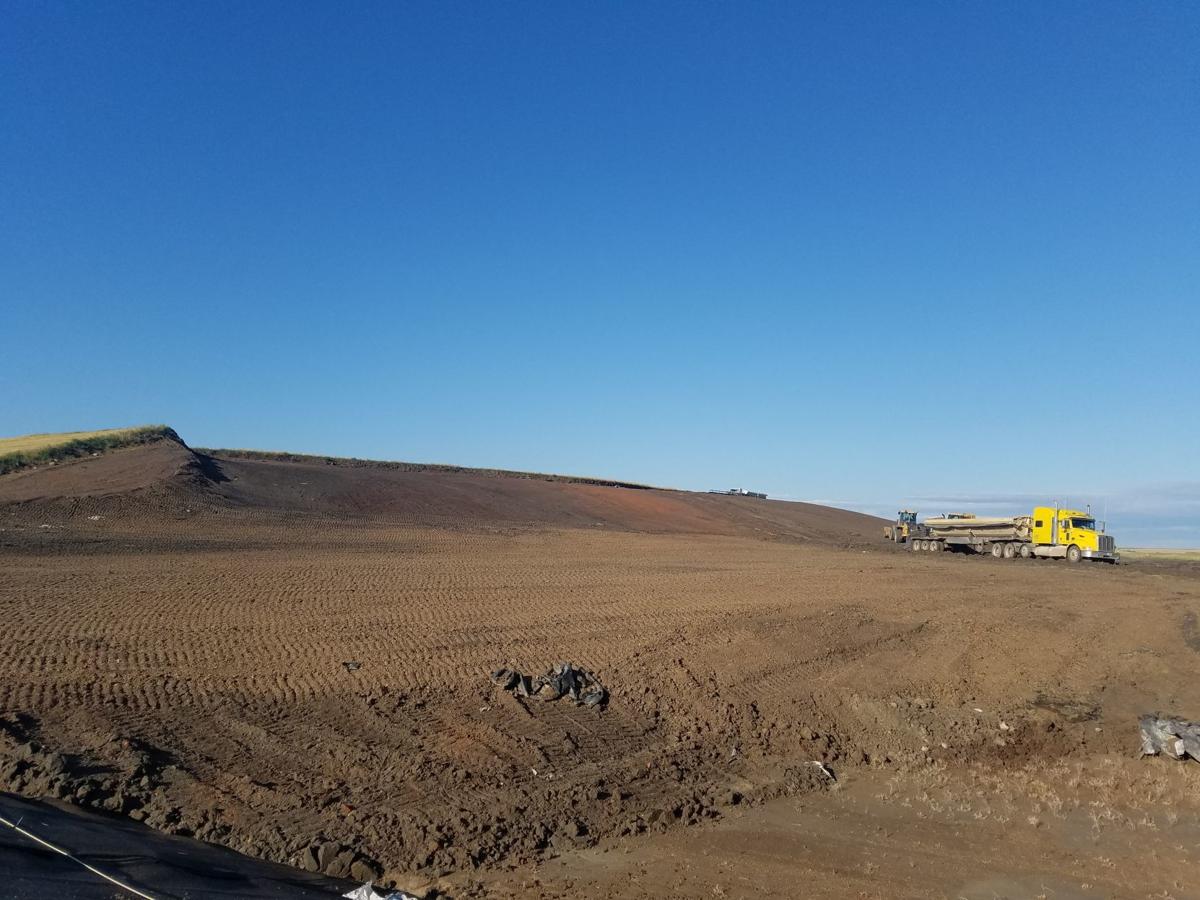 Williams County Commissioners have tabled a decision on an updated permit that would allow a landfill to accept radioactive oilfield waste, pending review of recommendations submitted by an attorney who represents landowners near the facility.
Secure Energy Services needs both county and state permits to begin disposing of the waste at the 13-Mile Landfill north of Williston. Step one is an amendment to a conditional use permit from Williams County.
Commissioners heard nearly two hours of testimony Tuesday in a packed meeting room.
Attorney Carey Goetz, representing the Borrud family and unspecified other families living near Secure Energy's 13 Mile Landfill, said recent news reports about a facility in Montana where elevated chlorides have been detected in the water raises questions about such facilities.
Chlorides are not radioactive waste, but they do come with oilfield waste, she said. Their presence means that the safeguards that were in place aren't working.
Because of that, Goetz said, her clients feel there is not enough information to approve facilities that accept Technologically Enhanced Naturally Occurring Radioactive Material. Better known as TENORM, the waste forms when materials like soil, water and rocks -- with low levels of radiation that occur naturally -- are brought to the earth's surface during oil production and concentrated in items such as filter socks or scale that forms in well pipes.
But, Goetz said, if the commission is going to approve the landfill to accept TENORM anyway, the family has additional conditions they'd like to see in the updated permit. Those conditions include measures such as groundwater and air monitoring and waste sampling, according to a letter sent to the county in October.
The conditions are based on two independent assessments of the Indian Hills Disposal Solids Management Facility in McKenzie County. McKenzie County and Tri Township each hired consultants to review the IHD proposal, which the Braaten lawfirm said are applicable to the 13 Mile facility.
Among the recommendations is for a liner to be placed in landfill cells and analyzed by engineers, who forward their review to the county.
Dorothy Kuester, who lives near the facility, said in her experience, oilfield companies don't always do what they say they will.
Among those experiences was a pipeline that went into the wrong location.
"It was my lawyer and my fees to get that remediated," she said.
You have free articles remaining.
There also was a saltwater spill at 13 Mile corner, she added.
"We have pipeline breaks throughout the Bakken, and we also know that people make mistakes and in the cold, equipment fails," she said. "It becomes an issue of when will the next disaster occur?"
Commissioners, meanwhile, talked about the economic viability of TENORM facilities, as well as the responsibilities of landowners who have accepted royalty checks.
"I think it is pretty bold of us to create this waste and then dump it on our Montana neighbors," Commissioner Barry Ramberg said. "We need to come up with a way to handle the problems we create ourselves."
Commissioner Beau Anderson agreed with that on the one hand. But he is also a farmer, with a landfill in his own backyard, albeit a different company's. He wants to be sure all conditions are there that should be.
He made a motion to deny the request as written, and to consider recommendations from the Braaten law firm where Goetz works.
That was defeated 3 to 2, with Ramberg and Anderson voting in favor and Chairman David Montgomery and Commissioners Cory Hanson and Steven Kemp voting against.
Montgomery suggested there should be a cap on the number of such facilities.
Ramberg agreed, adding the last thing the state needs is dozens of TENORM facilities "all running at going broke."
Kemp asked why the lifespan of the pit's liner doesn't match with the planned monitoring period of 30 years following closure of the landfill. Diana Trussell, solid waste program manager for the Department of Environmental Quality, said the state can extend the length of the period if the site is still generating leachate.
Hanson suggested overall safety will be improved if TENORM isn't trucked long distances. He made a second motion to table the permit until the Dec. 3 Commission meeting, pending a review of the Braaten firm's recommendations for additional requirements. That passed unanimously.
Kurt Rhea, representing Secure Energy, offered to meet with the Braaten firm, to work out areas of agreement.
"In many cases, the company is already exceeding what they are asking for," Rhea told the Williston Herald after the meeting.
Bismarck Tribune reporter Amy Sisk contributed to this story.