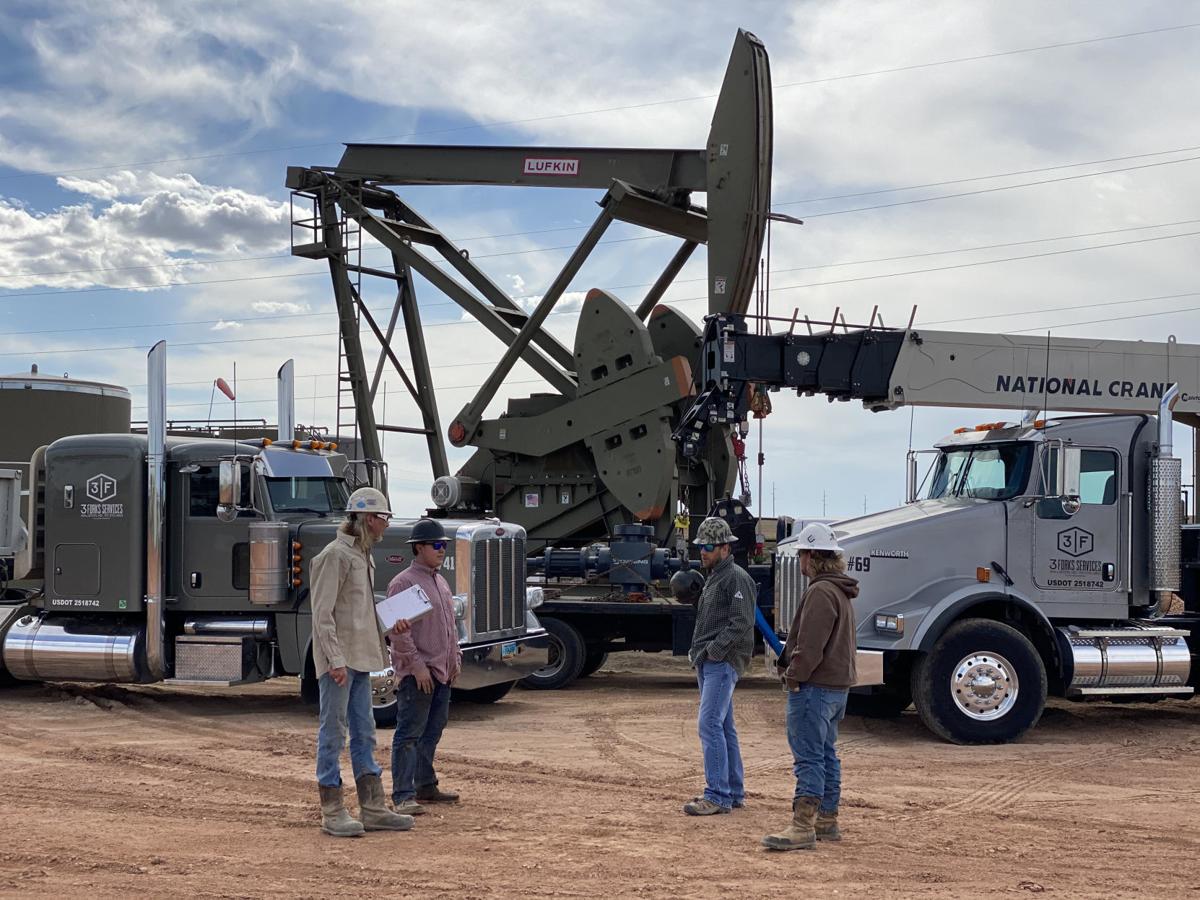 Kyle Ostrand hasn't slept much lately.
The owner of 3 Forks Services in Williston employs 30 people who provide transportation, logistics and crane services in the Bakken. The company is one of hundreds in the region trying to stay afloat amid the oil price collapse during the coronavirus pandemic.
"It's awful," he said. "There are a lot of nights I lay there until 2, 3, 4, 5 o'clock in the morning just trying to be creative about what we can do to try to sustain and keep people on."
When major producers such as Continental Resources and Hess Corp. cut back on drilling or decide to idle wells, it has a ripple effect. It hurts many oil patch contractors who do the welding, electrical work, trucking and other services necessary to pump oil out of the ground.
Many of Ostrand's workers have spouses and children who rely on his company's paychecks.
"That's not just 30 guys that I'm helping provide a livelihood for, but that's close to 100 people whose groceries depend on the sustainability of us being in operation," he said.
Already, some business owners have had to cut workers' hours or let them go. Others such as Ostrand worry that they might have to take those steps soon if the price of oil doesn't take a turn for the better.
West Texas Intermediate crude, the U.S. oil benchmark, started the year selling for over $60 per barrel. As the pandemic spread and curtailed travel around the world, the demand for oil fell and the price crashed. Oil was trading for about $24 per barrel Wednesday, but it's been so volatile that it even went negative one day in April as space to store the crude filled up.
Low prices make drilling and producing oil less profitable, and operators have made dramatic cuts as a result. The number of rigs drilling for oil in North Dakota has fallen from 56 in mid-March to 21 on Wednesday, according to data from the state Oil and Gas Division. Officials estimate that companies have shut in 6,800 of the 16,000 wells active in the Bakken before the pandemic.
While that happens, work slows for companies such as 3 Forks.
"Each week that goes past, it's been a little bit less, a little bit less, a little bit less," Ostrand said.
Changes in the workplace
3 Forks was coming off a record first quarter when oil prices took a dive in March and producers started taking down rigs.
"It creates a lot of work initially because all that equipment has to be returned or put into a boneyard somewhere," Ostrand said.
His company helped haul away smaller parts such as drill pipe from well pads while much of the rest of their work slowed.
One day last week, just three of his 30 workers were called out into the field on jobs while the rest tried to stay productive doing housekeeping work and cleaning trucks in the Williston shop. Normally, every worker is out, working a 10- to 15-hour shift.
Lately, what little work they have consists of using cranes to help producers idle wells.
Each well has a valve that must be shut off if it's to stop producing oil until prices improve. The equipment usually is rented, but producers want to change it out to install their own so they no longer have to pay the bill each month, Ostrand said.
"A lot of the work we're doing is the measures these companies are taking to put everything in an extended dormant status, to reduce any kind of overhead they have going forward," he said.
Work has slowed for others in the Bakken, including at Watford City-based Sentry, a company of 100 that does design, engineering, manufacturing and installation work for the oil and gas industry, as well as for industrial plants and commercial building projects.
"About half of our work was surrounding new construction on oil well sites," General Manager Nick Hendrickson said. "That is pretty much all gone. That was a big hit for us, and for our people."
The company has laid off 30 workers and has shifted some of its workforce elsewhere, like to construction projects for biofuel facilities, and food processing and production plants in South Dakota.
Almquist Welding and Fabrication of Watford City has laid off one employee. Another quit, leaving 12 still working, albeit shorter days, performing inspections on tanker trucks that haul oil and doing field work such as welding on rigs, piping and gas plants.
"I've got my guys at 32 hours a week," owner Greg Almquist said.
Some of the drilling rigs that continue to operate have limited the number of workers that come on-site to prevent the new virus from spreading, he said. They're bringing on other personnel -- such as his workers -- only in emergencies.
When his employees go out, they wear masks and gloves. All invoices are now handled via email.
As wells stop producing oil, a few of the companies whose trucks his business inspects have parked their vehicles, sold them or moved them to other states.
"It's looking pretty bleak," Almquist said. "We're busy with it right now, but the more trucks the Bakken loses, the worse off we're going to be."
Anticipating bankruptcies
Many contractors fear a repeat of a problem they encountered when the oil industry slowed down in 2015 and 2016 as prices fell: bankruptcies.
"We got hit real hard with a lot of money that was owed to us but didn't get paid," Almquist said.
Ostrand recalls that bankruptcies "nearly broke me then" and is concerned that he could find himself in that position again. Already, one producer 3 Forks has done work for, Whiting Petroleum, has filed for bankruptcy.
In normal times, it can take several months for his company to get paid for the work they do.
"In 2015 and 2016, it was kind of a 50/50 shot when you'd go to the mailbox, whether you'd get a check from a company or a bankruptcy notice," he said.
When businesses go bankrupt, getting paid for work already performed is hit and miss, Ostrand said. Past experience has shown him that sometimes he'll be paid in full, but half a year late. Other times he'll only get 50 cents for every dollar owed. And sometimes, he never sees a dime.
Looking to the future
Many oil patch companies learned from the last slowdown how to better position themselves for the next one.
"We are ready to weather it," said Hendrickson, with Sentry. "We didn't know it was going to come this soon or this fast, but being in the industry that we're in, we know that cycles are part of it."
His company has worked to reduce overhead costs, and it treats debt differently now.
"A lot of our equipment, if we can't afford it, we lease it instead of borrowing money to get it," he said. "In times like this it's nice because we can just send it back."
Federal stimulus programs are helping some small oil patch companies this time around.
Almquist secured a loan through the Paycheck Protection Program, a part of the federal government's coronavirus economic rescue package. He paid his workers right before lunch last Friday, just as he always does.
"If we didn't have it in the bank, we wouldn't have made payroll," he said.
The money has ensured that he can pay both his workers and the business's own bills.
"We were really hurting because a lot of companies quit paying us, and we didn't want to be one of those companies that didn't pay," he said.
Ostrand also received a PPP loan for 3 Forks, enabling him to keep paying his workers through mid-June. He's looking for "a glimpse of hope" by then so that he won't be forced to let workers go.
In the meantime, he's searching for other types of work -- such as installing fencing -- to keep his employees busy. 
"We're just hoping there's light at the end of the tunnel," he said.