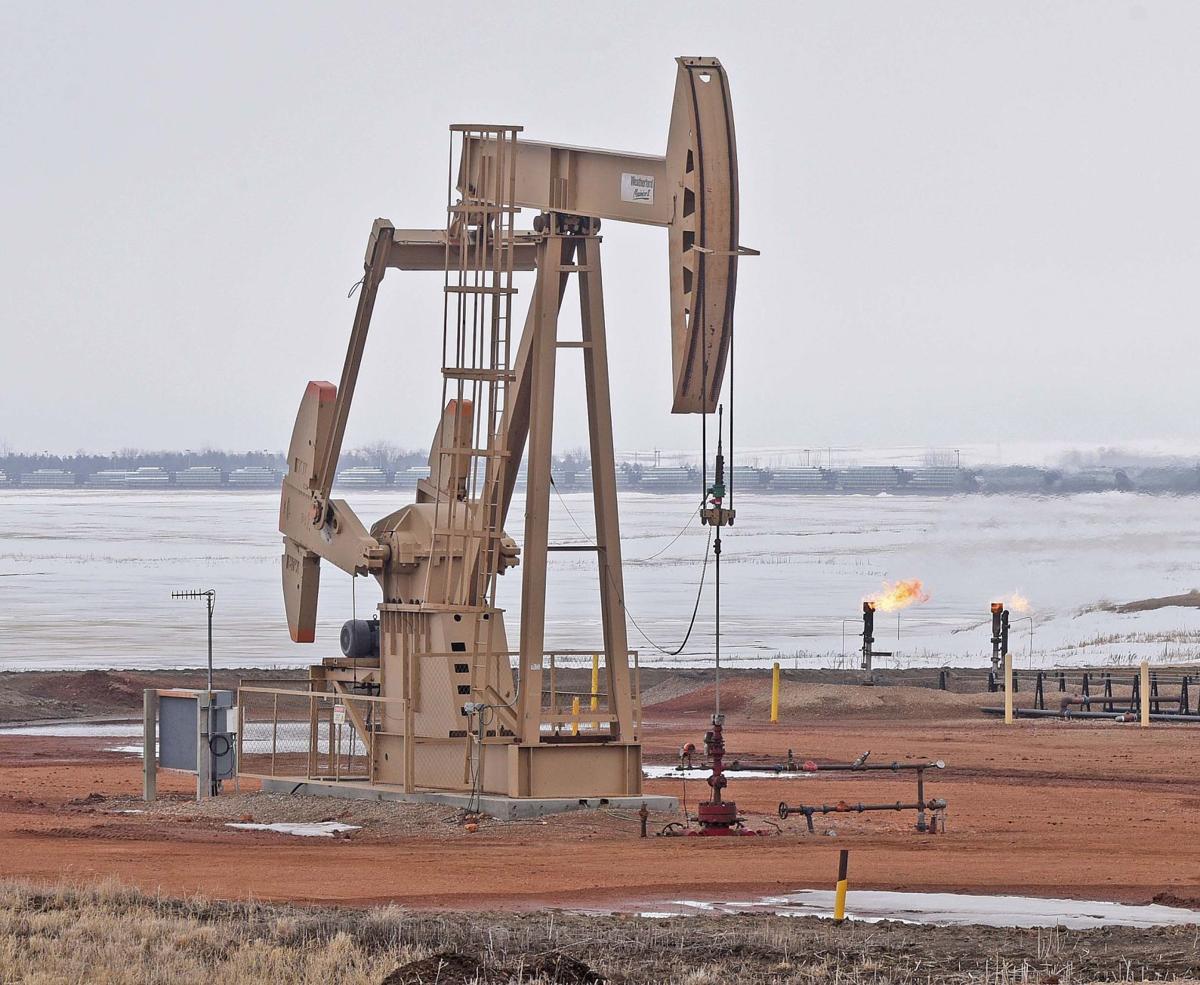 North Dakota's daily oil production in May broke the previous all-time high set in 2014, but that wasn't the only new record set.
As oil production hit 1,244,629 bbl/day in May, natural gas production hit almost 2.32 billion cubic feet per day, with producing wells at 14,755 for the month — all new state records.
Lynn Helms, director of the state Department of Mineral Resources, said Friday that May's numbers "really shattered the old record" set in December 2014, by about 17,000 daily barrels, or about a 1.4 percent increase.
North Dakota's gas production in May also surpassed 70 billion cubic feet — a first in state history for a month, according to Helms.
In a statement, Gov. Doug Burgum lauded the new oil record: "This milestone is a testament to the tremendous private-sector innovation and investment made by oil and gas operators committed to finding better and more efficient ways of drilling."
But for the first time since October 2017, state gas production missed its flaring goal of 85 percent gas capture, notching 83 percent, which Helms said was largely due to the Robinson Lake gas plant in Mountrail County being down in May for maintenance and upgrades.
"We're seeing natural gas increase at twice the pace of oil production, in terms of a percentage increase, and back in 2014, that wasn't the case," Helms said. "Today when you see a 1.6 percent increase in oil, you're seeing twice that in gas production increases, and so it's really straining the infrastructure."
Justin Kringstad, director of the North Dakota Pipeline Authority, also noted natural gas capacity and processing were strained by production growth.
"It has narrowed from what it was in the previous months, but again, just challenges out there keeping up with this increasing drilling activity, new wells coming online, has been proving challenging for the industry as well, as once you get them connected, the network today just simply doesn't have enough capacity to handle all that gas," he said.
Some production restrictions may come out of the May gas numbers, Helms added. Three top oil producers didn't meet the flaring target in various counties, including Hess Corporation in McKenzie, Marathon Oil in Dunn, McLean or McKenzie and WPX Energy in Dunn.
Oil prices hung at $62.50/bbl on Friday, while Helms noted a growing rig count: 67 actively drilling on Friday, with an expectation of another five rigs coming online before year's end. 
State oil production in May totaled about 38.6 million barrels, including about 14.9 million barrels from McKenzie County alone — about twice as more than Dunn County, North Dakota's second leading oil producing county.
"We've never had a county produce 15 million barrels of oil yet in a month, but McKenzie County is right on the cusp ... which is absolutely amazing," Helms said. "That's an incredible amount of oil coming out of there."
Helms also highlighted efficiency of today's drilling rigs, setting the new production record with about a third of the 190 rigs that set the previous record in 2014.
Non-completed and inactive wells are both up: "Again, not as many completions as what we saw back in the 2014 era, but the completions are just so much better that even with fewer completions than what we saw three and a half years ago, industry is breaking the record production," Helms said.
There's still a shortage of hydraulic fracturing crews, Helms said. Frack jobs take about 10 to 14 days to complete — more efficient than 2014, but needing more manpower.
"We are short of frack crews, industry is hiring and training as fast as they can, but we're probably still short five to be able to keep up with the rigs," he said. 
June production numbers, yet to be released, also may have increases, as Helms noted great weather, an additional rig and maybe an extra frack crew or two than in May. But production restrictions may have their effects, as well, he said. The Robinson Lake gas plant also was back up in June, too.
"We're expecting good numbers in June," Helms said.
Be the first to know
Get local news delivered to your inbox!