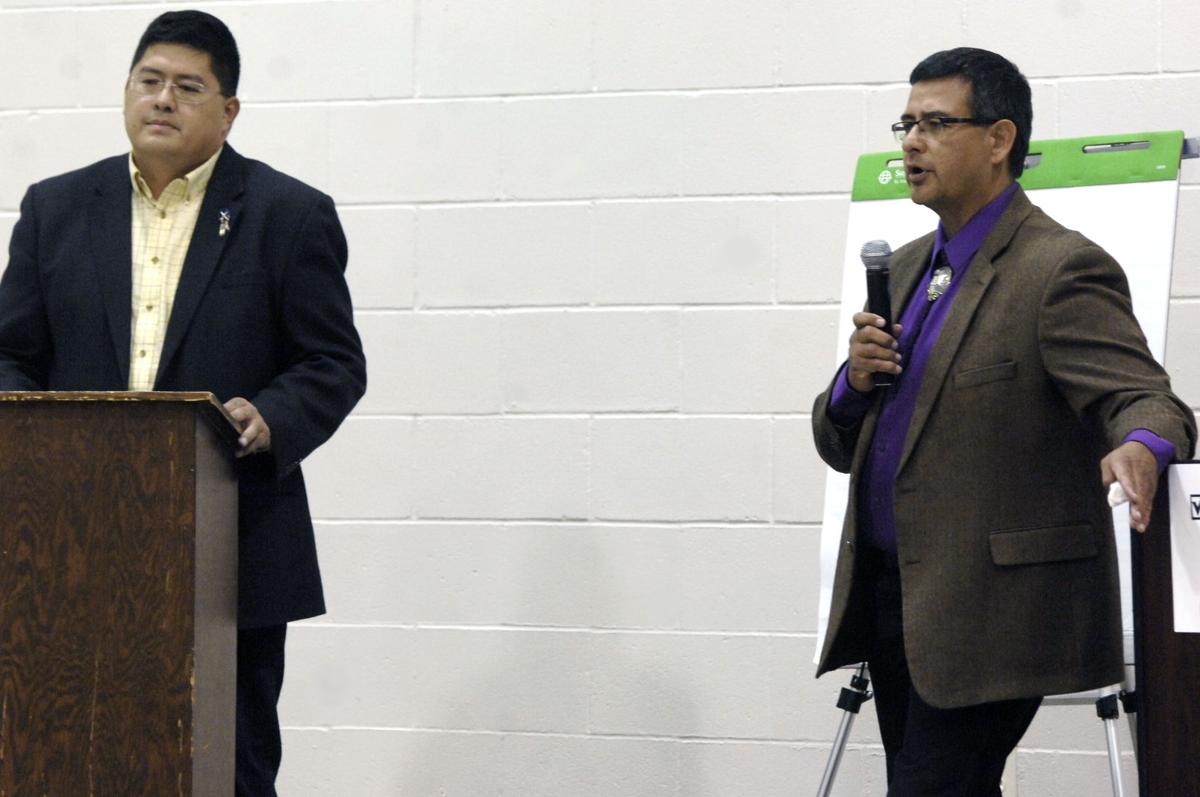 The two men vying to be the next chairman of the wealthiest tribe in North Dakota brought their campaigns to Bismarck on Tuesday night.
The Three Affiliated Tribes has about 800 enrolled members who live in the Bismarck-Mandan area and if they're willing and able to drive to the reservation on Nov. 4, they are eligible to vote.
About half of the tribe's 14,000 members live away from Fort Berthold, but the Bismarck block is the largest concentration of them.
Several among the 150 or so who attended the debate said the election between Mark Fox, the tribe's tax director, and Damon Williams, in-house tribal attorney is the most important election the tribe's modern history.
Dakota Eagle, 27, a student at the tribes' college, said she was at the debate with her small son and husband to help make an informed decision. She said she's never lived on the reservation, but what happens there matters to her.
"This is one of the most important elections in the tribe's history, with oil development," she said.
The reservation has 25 rigs drilling, 1,300 oil wells and produces 333,000 barrels of oil per day. About $25 million in oil tax revenue flows to the tribal treasury each month and the tribes' annual budget has swelled from a modest $20 million annually to $520 million.
Both Fox and Williams defeated current chairman Tex Hall in the primary election, setting the stage for change in direction after Hall's four years in office.
Hall's term of office was tainted by investigations into his self-dealings, and allegations that used his position to enrich his private oil company. He has apparently already packed up his office and is mostly a no-show at the administration building.
Both candidates offered a vigorous performance and while they agreed on the need for change, they promoted their own version of it.
Both men want to reform tribal government and change it from a small, powerful council to an expanded three-branch system.
"If we don't change our government, nothing changes, with millions and billions going to waste," Fox said. He's proposing adding a legislative branch and adding an elected secretary, treasurer and attorney general.
Williams said he plans to call for a constitutional convention, that people can attend virtually, or in person, and create a new set of legal bylaws for the tribe, instead of a 1934 boilerplate document and one that's been piecemealed by councils over time.
"We can change nothing until we change the constitution," Williams said. "You will decide what our government looks like. I refuse to tell you what to do. You can decide for yourself."
Al Nygard said while he was leaning toward one of the candidates, what he heard at the debate would settle the question one way or the other.
"This is a huge election. It affects to a great degree what happens down the road. We're six years into development and the bottom line is, we've got to deal with it in a positive way," Nygard said.
The candidates agreed that the tribe should invest in education, not on the details.
Fox said the tribe should pay for college for members. "Why can't we do that? You want to be a doctor, we can pay for that. We're soon to have billions of dollars and here we have concerns about you have to pay that back?" Fox said.
Williams said he believes in student loans and individual responsibility, along with repayment for members who come back to the reservation.
"We need to bring the next generation one more step. All I ask for is that you graduate, and I hope you will come home to help your people. One day this money will be gone," Williams said.
He said oil revenue should help the tribe truly improve the quality of life.
"There should be real change in how we work with, not against the membership," he said.
They were asked how to prevent corruption in tribal politics.
"Corruption is our fault," Fox said. "Every time we have an election, we think about the wrong thing. We think 'What can I do for me, for my family?' Not enough are saying, 'What are we going to do for everybody?"
Both also called for allowing enrolled members to vote by absentee ballot instead of forcing voters to travel back to the reservation.
Fox said it amounts to disenfranchising voters.
"We need to give everyone a ballot and reinfranchise people," he said.
Williams said the opportunity to make real change in government accountability may not come again.
"We will never have this chance again. We will have too much money, there will be corruption and people will go to jail if nothing changes," Williams said.
Fox said it's as simple as putting more people around the table of government, with checks and balances and more in on the decisions.
"No more helicopters, no more boats. If we don't change government, nothing changes," Fox said.
The debates will continue tonight from 6 to 8 p.m. at White Shield and from 6 to 8 p.m. Sunday at North Dakota State University in Fargo.