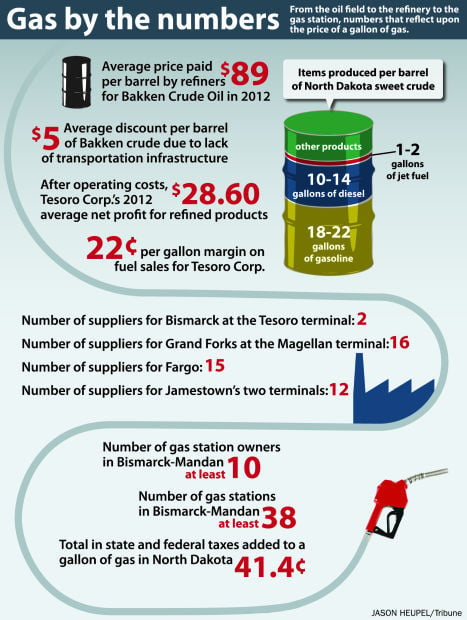 From the time it comes out of the ground to the time it is pumped into the tank of a vehicle, gasoline goes through a number of changes that affect its price — and customers are watching closely.
Ryan Mitzel of Bismarck has a Gas Buddy app for his phone and tries to keep his tank over half full so it doesn't "sting" as much when he has to fill up.
"I have to put in premium (gasoline), so it is what it is," he said. "I'm actually surprised it's $3.99. I thought it would be closer to $4.50 with the Fourth of July."
Mitzel said gas was a $1 cheaper in Texas when he was there recently, which he said was a "real eye opener" about how much more North Dakotans pay.
According to Oil Price Information Service, the average retail price in Bismarck-Mandan was about $3.24 per gallon of regular unleaded before tax and and $3.65 per gallon after tax Friday. That was a 38 cents per gallon difference between the price paid at the refinery terminal and the price paid by the gas station.
But how is that number decided?
When refined, North Dakota sweet crude produces between 18 and 22 gallons of gasoline per barrel, 10 to 14 gallons of diesel, and 1 to 2 gallons of jet fuel, along with several gallons of other products, said Justin Kringstad of the North Dakota Pipeline Authority, but mixture varies by refinery.
The price paid by refiners for Bakken Crude Oil changes from day to day but averaged $89 per barrel in 2012, according to Tesoro Corp. U.S. Securities and Exchange Commission filings. For the first quarter of 2013 it averaged $93 per barrel.
Because transportation infrastructure is not available to get crude oil from the Bakken to the rest of the country, Bakken crude is discounted an average of $5 per barrel compared to its closest counterpart West Texas Intermediate Crude, according Tesoro Corp.'s SEC filings.
Tesoro ships crude via the Tesoro High Plains Pipeline to its Mandan refinery, Kringstad said. The pipeline, terminals, trucking and other crude oil gathering services for Tesoro are all run by Tesoro Logistics Limited Partnership. Tesoro Corp. pays set fees to Tesoro Logistics for its services but would not say how much those fees are. According to Tesoro Logistics' SEC filings, it made $33,012 in revenue from its pipeline and $39,420 from it's Bakken trucking services in 2012.
Tariff rates are fees charged for the use of a pipeline. The rates of the different branches of the pipeline carrying crude oil into Tesoro's refinery range from 73 cents per barrel to ship from Dodge in Dunn County to Mandan to $1.76 to ship from Black Slough in Burke County, according to North Dakota Public Service Commission data.
Tesoro Corp.'s SEC filings showed that the difference between the cost of crude oil and the value of refined products was $32 in its Mid-Continent Region, which includes the Mandan and Salt Lake City refineries. After operating costs, the company's average net for refined products in 2012 was $28.60 before depreciation. That number was $22.04 for 2011 and $19.19 for the first quarter of 2013. The Mid-Continent had the highest net of any other region for Tesoro.
According to SEC filings, Tesoro Corp. had a 22 cents per gallon margin on retail fuel sales companywide in 2012. The company sells a barrel of refined products for an average of $123.20 with a per barrel sales margin of $12.44. That data was not available by region. Tesoro Corp. did not comment on what portion of the value of a barrel was made up by gasoline.
The price charged at a terminal for fuel is called the rack price. If a distributor has a contract for fuel, the distributor may pay a lower contract price. From May 1 through May 17, the rack price went up 70 cents, said Dave Froelich of Missouri Valley Petroleum, an area distributor. According to Gas Buddy, the state average also went up 70 cents during that time, from $3.53 to $4.23 per gallon of regular unleaded gasoline.
Along with transportation and other refining costs rack price is based on competition, said Ron Ness, president of the North Dakota Petroleum Council:
According to the OPIS, Bismarck has two suppliers at the Tesoro terminal — Tesoro and Conoco Phillips. The rack prices for those two suppliers Friday were $2.95 per gallon and $2.94 per gallon of regular unleaded gasoline respectively. Branded Tesoro unleaded with 10 percent ethanol was $2.85.
Grand Forks has one terminal run by Magellan with about 16 suppliers. The prices ranged from about $2.83 per gallon through Noble to $3.04 per gallon through Calumet.
Fargo has about 15 suppliers. Prices ranged from about $2.84 per gallon through Cenex and Holly Frontier and $3.05 per gallon through Calumet.
Jamestown has two terminals — one carrying Tesoro product and the other run by NuStar Energy with a variety of sources — and about 12 suppliers. Minot has a terminal with fuels from Cenex and two other suppliers. Some gas sold in North Dakota also is trucked in from Glendive, Mont., Froelich said.
You have free articles remaining.
Ness said the reason Bismarck-Mandan only has two suppliers is that historically there has not been the same population volume to the west as there is in eastern North Dakota and Minnesota. He said Tesoro has shipped its products east toward the larger Minneapolis market and other refiners have followed suit.
The refined gasoline gets from the refinery or other terminals along pipelines via truck. Gas stations may have their own truck or hire a transport company. Most hire a distributor. How far a distributor will travel is based on cost and where the company has locations, Froelich said.
Several gas station owners in Bismarck said they pay a flat delivery fee based on mileage, on top of the price paid for the fuel itself. Some owners said they also pay a percentage or so many cents per gallon for filling. Deliveries are usually between 8,000 and 11,000 gallons, Froelich said.
"Freight cost is the least to haul from Mandan," Froelich said. "Glendive might be cheaper but the additional freight costs even it out ... Each company has its own policy on how they bill for freight."
Those distributors have to have a contract with the supplier and are required to buy a minimum number of gallons, which Froelich said limits the number of distributors because each has to have enough of a market. Tesoro Corp. would not comment on the requirements a company must meet in order to buy directly from the terminal.
There are about 214 companies on the North Dakota Tax Department motor fuel dealers list. That list includes distributors that sell to gas stations as well as cooperatives, gas stations on Indian reservations and distributors that sell directly to farmers and contractors, like Gray Oil Co. of Mandan. There are three distributors with Bismarck addresses: Red Carpet Petroleum Inc., the co-op Farmers Union Oil Co. and Unistop Inc. Missouri Valley Petroleum is the only other company listed in Mandan.
There also is a difference between branded and unbranded stores and distributors. Those branded Tesoro only carry Tesoro fuels. If there is not a supplier's name on a station, it is unbranded. According to Tesoro Corp.'s SEC filings there are 94 branded fuel dealers in North Dakota — 87 Tesoro and seven Shell.
"The trade-off is we have a reliable supply," Froelich said. "(Unbranded stores) are the last on list when supply gets short."
There are at least 10 gas station owners and at least 38 gas stations in Bismarck-Mandan.
Profits will vary from week to week depending on when gas station owners buy fuel and what the price is from one time to the next.
"It balances out in the end from a retail standpoint because of price volatility driven not so much by supply and demand, but unfortunately by speculation and manipulation of the stock market," said Mike Rud of the North Dakota Petroleum Marketers Association.
Fuel taxes add to the cost. The North Dakota motor fuel tax is 23 cents per gallon for gasoline, according to the North Dakota Tax Department website. The special fuel tax rate also is 23 cents per gallon. Special fuel includes clear diesel, soy, kerosene, propane, compressed natural gas and other special fuels. A 4 cent-per-gallon tax is imposed on dyed diesel and biodiesel. With federal taxes, 41.4 cents total is added to a gallon of gas and 45.4 cents total is added to a gallon of diesel. Processing fees for credit card transactions also take away a large chunk of gas station profits.
"On a $3.50 gallon of gasoline a retailer is paying about 2.5 percent per gallon credit card processing fee if the consumer pays with plastic," Rud said. "This translates out to about 8 cents per gallon off the top of any gross profit."
Add on other expenses like marketing and employee wages, Rud said: "It's safe to say when you include other expenses your profit margin on that gallon of gas will be roughly 2 to 3 percent."
Compare that to a hardware store with a net profit of about 4.5 percent, a bank with about a 7 percent net profit, a clothing store with about an 8 percent net profit or an insurance company with about an 18 percent net profit, according to Butler Consultants, a financial advising company.
"What's a fair margin?" Ness asked. "Consumers are demanding when it comes to gasoline."
In Bismarck, if gas station owners don't know another station has a cheaper price, their customers know and tell them, even if it's just a difference of pennies, Ness said.
"Would you drive from that station to another (to save) a buck?" he asked. "You price-shop gasoline."
Ness said when prices go up, often Bismarck gas station owners will "eat" the first five cents in difference if they had to fill at the higher price in order to keep the same price as neighboring stations have posted on their signs.
"There's not a more competitive business than the retail fuel market," Rud said. " I know marketers in Fargo who have managers drive around three to four times a day just doing price checks."
Likewise, station owners will raise prices, even if they have enough supply to sell at a lower price, because they don't want other station owners to stay low after they've had to fill and make them lose those customers they gained earlier.