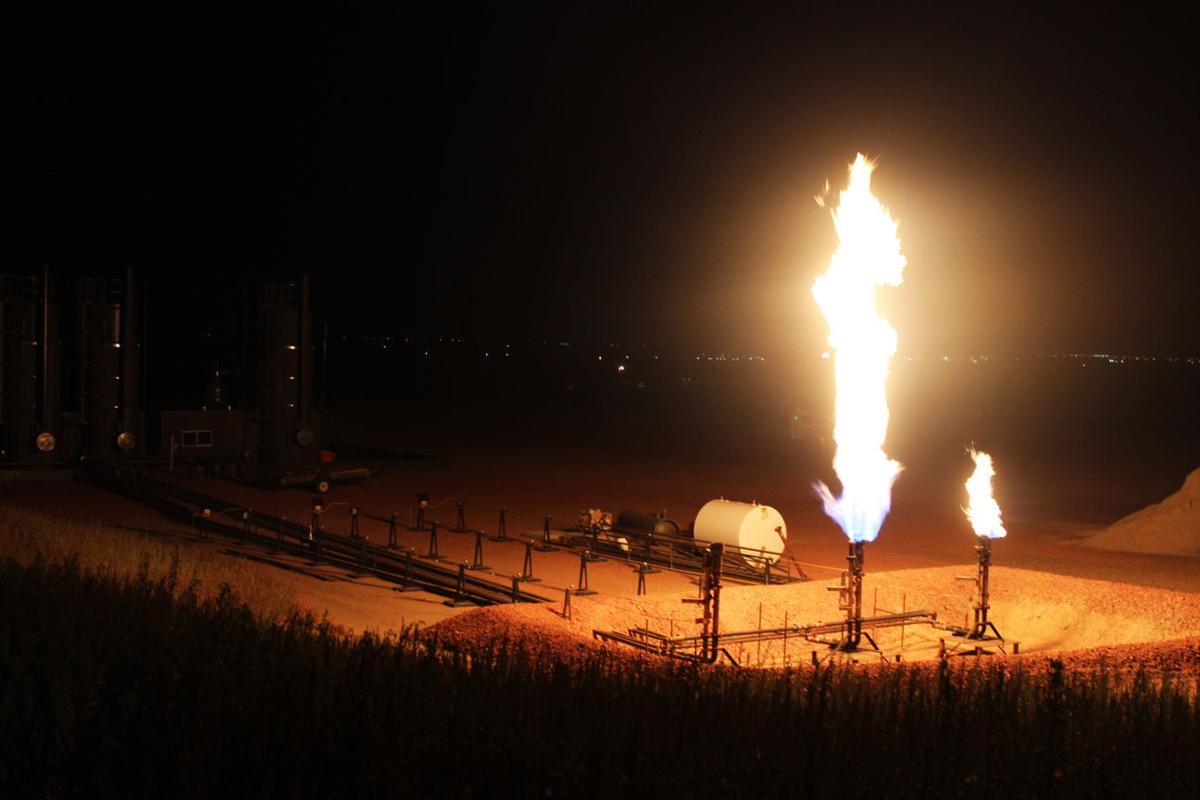 State environmental regulators are looking for the public's input as they prepare to assume greater oversight from the federal government of emissions from oilfield facilities.
They also are weighing a request from an oil company that officials are concerned could lead to more emissions over time.
The North Dakota Department of Environmental Quality will hold a hearing Tuesday to get feedback on those issues.
North Dakota already has rules in place to prevent emissions of natural gas extracted from oil wells from escaping into the atmosphere. The state requires companies to install emission controls at well sites. The emissions can contain pollutants, and methane -- the main component of natural gas -- is a potent greenhouse gas that contributes to climate change.
Companies most often install a capture system that directs gas to a flare if they are not able to connect to a pipeline that will carry the gas to processing facilities.
Oil companies must also comply with federal Environmental Protection Agency rules that seek to prevent emissions of volatile organic compounds, a source of pollutants within gas that can contribute to smog.
"It sets out a process by which companies need to maintain, inspect and report issues related to their operations," Environmental Quality Director Dave Glatt said.
The Legislature this year approved funding for Environmental Quality to add new staff and software so that the state can administer the federal emissions program.
Glatt said he estimates staff will have to process about 15,000 reports annually that come in from oil companies as they monitor their facilities in the Bakken.
Brady Pelton, government affairs manager with the North Dakota Petroleum Council, said having the state assume control will help ensure better communication over emission issues.
"Whereas on a federal level, when you have a federal agency the size of the EPA, that responsiveness just doesn't exist to the level that it does here in the state," he said.
Environmental Quality is seeking input on how to proceed in adopting the federal emissions rules and how those rules should coincide with the state's existing regulations. Glatt said the department will need to figure out how far to go in enforcing leaks, especially small ones that can escape through equipment meant to handle the gas.
Pelton said the federal rules apply only to newer oilfield facilities or ones that have experienced recent modifications and do not cover older wells that have been operating for decades. Yet, the state rules cover both.
"We will need to do some syncing up," he said.
The hearing Tuesday also will give the public a chance to weigh in on a formal petition from oil producer Continental Resources to change the state's emissions rules, a request that comes as the company and Environmental Quality await a state Supreme Court decision on a separate lawsuit that Continental filed over the state's emissions enforcement procedures.
Continental maintains that the state has imposed a "zero leaks" rule that "is impossible to achieve with current technology" and is more stringent than federal rules, the company said in its June petition to the department.
"The mere existence of a fugitive emission does not automatically mean that emissions control equipment is not functioning properly," the company said.
Continental is asking Environmental Quality to add an exception for such leaks in state rules, as long as emission control equipment is installed and operating.
Glatt said fulfilling the request could affect the state's ability to ensure oil companies are maintaining their emission controls once installed.
"Our concern is that there would be no incentive for industry to properly maintain their systems, which would result in increased emissions," Glatt said.
Continental said in a statement that the company's proposal is intended to ensure the state acts timely to keep its rules consistent with federal regulations.
"Continental's proposal will help ensure regulatory certainty, enhance DEQ's regulatory authority to enforce proper maintenance of emissions control systems, and ensure that North Dakota continues to enjoy the nation's cleanest air," spokeswoman Kristin Thomas said.
Pelton, with the Petroleum Council, said his group is not yet taking a stance on Continental's request, though it does believe the state will need to adjust its existing emissions rules as it adopts the federal rules.
"We are not yet clear on what those changes need to be," he said.
Wayde Schafer, a spokesman for the Sierra Club in North Dakota, said the state needs more, not less, oversight of the oil industry.
"We really should be tightening up the regulations and inspections and control over leaks and flaring," he said, adding that such emissions are one of the main contributors in North Dakota to climate change.
Scott Skokos, executive director of the Dakota Resource Council, said his group wants to ensure oil companies are not allowed to emit more methane or volatile organic compounds, particularly as the EPA under the Trump administration has proposed weakening Obama-era rules surrounding such emissions.
The hearing will take place at 6 p.m. Tuesday at the department's Environmental Training Center, 2639 East Main Ave. in Bismarck.
Be the first to know
Get local news delivered to your inbox!