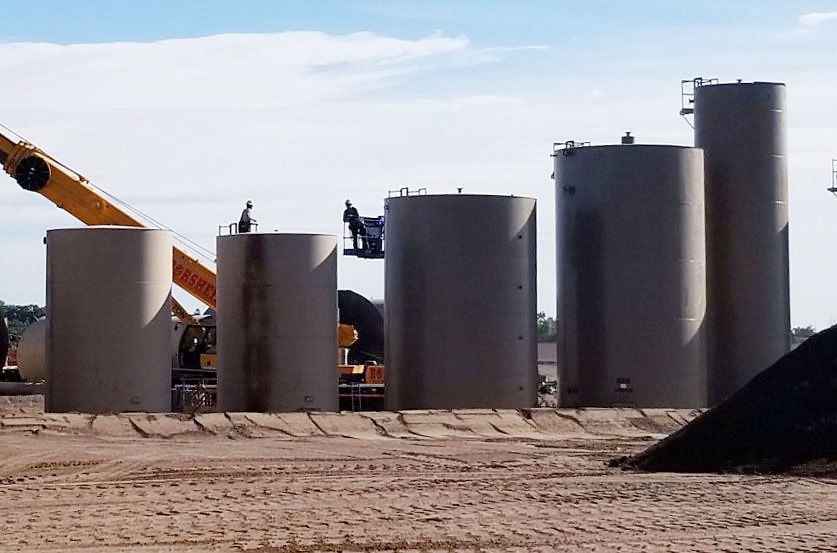 State officials and oil industry leaders want to commission a study of lightning strikes at saltwater disposal sites.
Lightning has hit saltwater facilities in western North Dakota at least four times since June. The strikes have caused fires, as well as spills of oil and brine.
Salty water known as brine comes up to the earth's surface alongside oil and gas at well sites, and it's carried by pipeline or truck to disposal wells where it's processed through tanks and injected back underground for storage.
People familiar with the facilities say tanks made of fiberglass seem to be particularly susceptible to fires when lightning strikes.
The North Dakota Oil and Gas Research Council last week took an initial step to commission a study of the issue, deciding to pursue a request for proposals. The council, made up of state officials and representatives from the energy industry, identifies oil- and gas-related research projects to pursue. Up to $10 million in oil taxes fund its activities each biennium.
The state's Industrial Commission, chaired by the governor, will need to grant approval to move forward. Industrial Commission Executive Director Karlene Fine said that could happen at its next meeting Aug. 28.
Lightning-related fires at disposal sites present a safety issue in the oil fields, according to Ron Day, a member of the research council who works for Marathon Petroleum. He supports studying the issue further.
"It's really just to try to understand, is there a connection to fiberglass tanks, is there a way to lightning-proof or reduce the threat of lightning to those facilities?" he said.
The Energy and Environmental Research Center at the University of North Dakota is working up a plan for an initial study to present to the Industrial Commission, including a cost estimate for the state and time frame.
The center is not aware of the breadth of existing research on the topic, according to John Harju, EERC's vice president for strategic partnerships. A "short scoping study" could examine what's already been done and involve conversations with stakeholders, he said.
"Maybe there are definitive works out there and guidelines that could be augmented or drawn upon," he said. "I think that would guide any subsequent, directed research."
A more in-depth study could come down the road, he said.
First responders in the Bakken say lightning-related incidents at saltwater disposal sites can be taxing on rural fire departments that have to monitor and put out the resulting fires.
North Dakota does not require disposal sites to install lightning protection equipment, but some facilities do so voluntarily. Even then, it's not always effective.
At least one saltwater disposal company operating in the state, White Owl Energy Services, recently opted to build new facilities with steel tanks rather than fiberglass to reduce risk. Using steel tends to be pricier, but it helps dissipate static and the material is easier to ground, according to the company.
Be the first to know
Get local news delivered to your inbox!