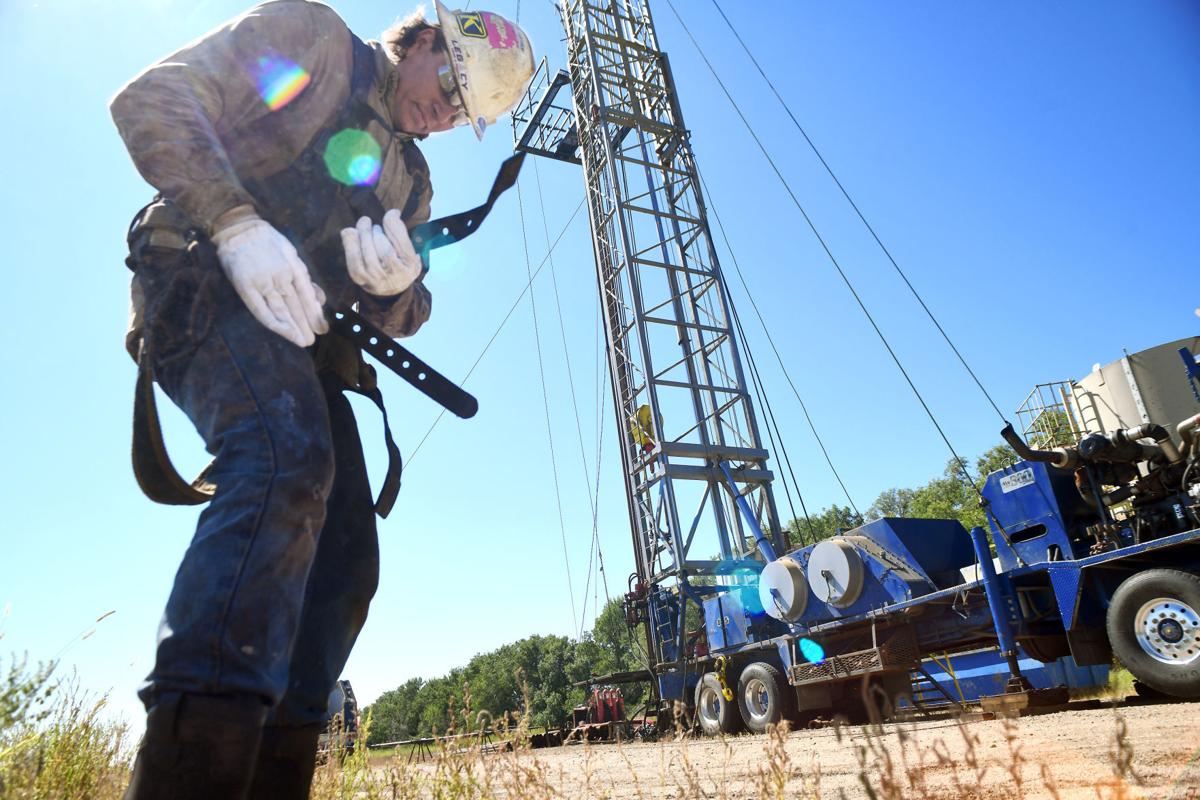 ANTLER -- Pumpjacks have bobbed up and down for decades in the old oil fields north of Minot, but many of the machines sit still today.
Some were idled this spring because the price of oil tanked when the coronavirus pandemic hit, and their owners concluded the wells are not profitable at the moment. Others haven't pumped oil in years, and their operators never got around to plugging them with cement and cleaning up sites.
The latter scenario occurred at a Bottineau County well known as E. Pearson 5-I22 near Antler. It last operated in February 2017 when it pumped a meager 41 barrels out of the ground that month, state records show.
The well sat idle until last week when Ham's Well Service of Westhope brought in a workover rig to begin the job of plugging the hole, ensuring that it will never produce oil again.
Federal coronavirus relief dollars, funneled through the state, are providing paychecks for the four oil workers manning the small rig.
"It's putting some people to work," Ham's co-owner Daryl Anderson said. "It's been pretty skinny for the last little while."
The company laid off three-quarters of its 60-member workforce earlier this spring when oil prices went south, drilling dried up across the state and thousands of wells were idled. Ham's managed to secure a loan through the federal Paycheck Protection Program and brought many of its workers back on temporarily, but there wasn't a lot of work to go around.
So the company had its employees clean, paint and repair machinery.
Ham's then entered into a contract with Tioga-based Neset Consulting Service, which is overseeing work at the site after the company successfully bid on a package of wells under North Dakota's new abandoned well plugging and reclamation program. The state effort aims to keep roughly 1,000 oil workers employed through the rest of 2020 and return 2,000 acres of oil infrastructure, gravel well pads and roads to farmland.
The well near Antler is among the first in the state to get plugged under the program.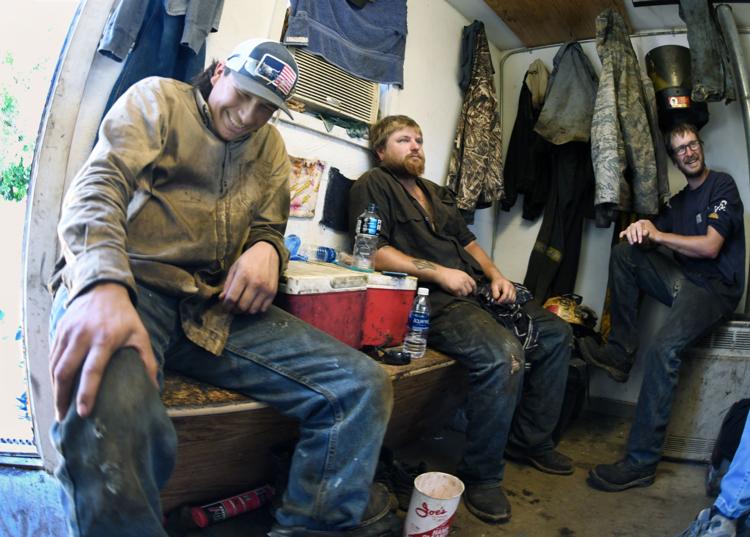 For Ham's employees such as derrickhand Dahlton Poitra, the program meant he could put down the paintbrushes and cleaning supplies earlier this month to get back to his normal job on the rig.
"It feels good to do what you love doing again," he said on a recent afternoon at the Antler well site.
Oil workers back on the job
Poitra spoke while on a break from inserting tubing down the 4,000-foot hole drilled in 1979, a necessary step in the effort to flush any residual oil out of the well before it can be sealed off.
Wells will be sealed with approximately 400 cubic yards of cement, but workers will need to address a number of particulars at each site such as the amount of oil left inside, the condition of the well and any contamination.
"Every well is going to have a little different personality," State Mineral Resources Director Lynn Helms said.
Between all the work required to plug the Antler well, clean up the site and reseed it, 80 workers from a number of contractors will filter in and out over the course of a few weeks, estimated Larry Dokken, an independent consultant helping the North Dakota Oil and Gas Division administer the program.
That scenario is set to play out 400 times this year at well sites throughout the western and north-central part of the state, where neglected wells sit in old oil fields. While most of the wells produced oil, some are disposal wells where salty brine -- a byproduct of oil production -- is injected back underground for permanent storage.
The plugging and reclamation effort is funded primarily through $66 million of the $1.25 billion the state received in federal CARES Act coronavirus relief aid, as authorized by the North Dakota Emergency Commission and the legislative Budget Section earlier this year.
"It's a huge thing for the state of North Dakota keeping people employed," Dokken said.
State data shows that since the pandemic began, nearly 11,000 oil and gas workers have filed unemployment claims, about half the workers in the sector, which also includes mining and quarrying.
A problem decades in the making
North Dakota has hundreds of abandoned wells -- far fewer than in other states with an older oil industry, but a sizable problem nevertheless.
A well is considered abandoned once it has gone one year without producing any oil. At that point, state rules say a company must either restart it or plug it.
The regulations also spell out requirements for bonding if a well were to remain abandoned. Bonding is a form of financial assurance that the state can seize if a company shirks its cleanup responsibility.
State officials say some wells have sat inactive for as long as 22 years, although that's not the norm.
"The bonding needs to be proper or some other program in place so that the burden does not end up on the landowner or the taxpayers," said Troy Coons, chairman of the Northwest Landowners Association, which has pushed for years for the state to take a tougher stance to address the issue.
Abandoned wells can be a nuisance. Some pose environmental problems -- they can leak underground, and emissions can escape. Farmers must maneuver their machinery around them. If a well is not producing any oil, mineral owners are not collecting royalties, either.
Helms, whose Oil and Gas Division pursued an effort last year to strengthen bonding requirements surrounding abandoned wells, said the problem developed "over decades." Many of the wells being plugged under the new program were drilled in the 1950s, 60s and 70s, before the state had rules in place governing their eventual cleanup. It's not uncommon for them to have been transferred numerous times between companies over the years.
"We have changed and tightened our rules considerably since that time to get a handle on it," Helms said.
State records show that the Antler well is owned by Zargon Oil, which received a letter from the Oil and Gas Division last year giving the company a deadline of January 2020 to take action at the site.
Helms said Zargon appears to have "drug their feet," as companies often do handling abandoned wells.
"And then COVID came," he said.
Many oil companies are strapped for cash right now amid low oil prices. Zargon did not respond to a request for comment.
The landowners association still wants the state to do more to ensure the abandoned well problem doesn't grow larger, as is a concern when oil downturns idle numerous wells and companies file for bankruptcy. Some members also have concerns about the large scope of the new program and whether the plugging job will be done right with adequate inspections, Coons said. The Oil and Gas Division is requiring its inspectors to monitor work at the sites.
The landowners group is researching the true cost of plugging and reclaiming a well, which the state estimates to be $150,000 on average. Some sites with a lot of contamination are much more costly to clean up, Coons said.
"There needs to be a lot of change yet. This is just the tip of the iceberg," he said. "We can't always count on all the taxpayer money."
Not every company with a well in the program is getting help from federal coronavirus dollars. Helms said the state is seizing bonds from five companies due to past complaints about abandoned wells, and that money will go toward the cleanup effort.
Restoring farmland
When the well near Antler is plugged and reclamation work finished, state officials estimate about 5 more acres will return to farmland at the site.
"There shouldn't be any evidence at the surface here at all," Helms said.
All wells will be capped off 4 feet below ground so that farmers can work their fields without worrying about hitting a post where the well once stood.
"I'm glad it's getting plugged," said Norman Buynak, who farms the land around the Antler well. "We get no benefit out of it, period."
He harvests wheat, canola, corn and soybeans -- which he also could plant there in future years. He's had trouble growing crops at other plugged sites, however, as soil is disturbed and salt contamination persists.
"Everybody's concern is the salt," he said.
Next to a tank battery near the well is a patch of infertile soil where oil companies once dumped brine into a pond, a common practice in the region in the early days of the oil industry in North Dakota. Such a disposal method is not allowed today, as the salt can linger in the ground for decades and prevent even weeds from growing.
Salt also can get into the soil when a pipeline or some other piece of infrastructure leaks.
The state's program requires that a worker survey each abandoned well site for salt and hydrocarbons. Officials don't anticipate that the Antler well will have much contamination, as state records do not indicate any leaks at the well site itself, although they do show that spills have occurred at facilities nearby.
Helms estimates that as many as 40% of the sites will require longer-term remediation because of extensive contamination. The CARES Act money will fund some of the work, but it must be spent by the end of 2020, he said. Officials are seeking clarity on whether they can prepay companies to continue reclamation work in 2021.
The state maintains a fund for cleaning up oil field sites when it cannot determine a responsible company. The fund has $27 million and is replenished each year with oil tax revenue, among other money sources. Some of those dollars could go toward an ongoing reclamation effort, Helms said.
A federal stimulus program?
It's possible that other states could pursue similar well-plugging programs using federal dollars.
"This is a problem not just in North Dakota but really across the country," said Daniel Raimi, a senior research associate with the Washington, D.C.-based think tank Resources for the Future. "In every major oil- and gas-producing state, there are a considerable number of orphaned and abandoned oil and gas wells that pose environmental and health risks to the local population, as well as to the global climate."
Abandoned wells are known to cause a significant source of emissions, including methane, a potent greenhouse gas that contributes to climate change.
Several members of Congress are working on legislation to set aside additional stimulus money designated specifically for abandoned oil field wells. Helms said he's hopeful that the money, if it becomes available, could go toward North Dakota's ongoing reclamation efforts to clean up contamination at abandoned well sites.
"One of the challenges of deploying a program like this is that you don't want the federal government bailing out states and companies who have failed to properly plan for the future," he said. "One option would be for federal funds to incentivize states to enhance their requirements on bonding or other financial assurance to prevent this cycle from playing itself out again the next time there's an oil price crash."
Tougher bonding enforcement could come to fruition in North Dakota as state regulators intend to buckle down on operators whose wells have been plugged with CARES Act money.
"I'm pretty sure there will be changes for all these companies," Helms said.
Waiting for relief
The state's announcement earlier this year that it planned to develop the well-plugging program prompted a few companies to act on their own to avoid any potential state sanctions.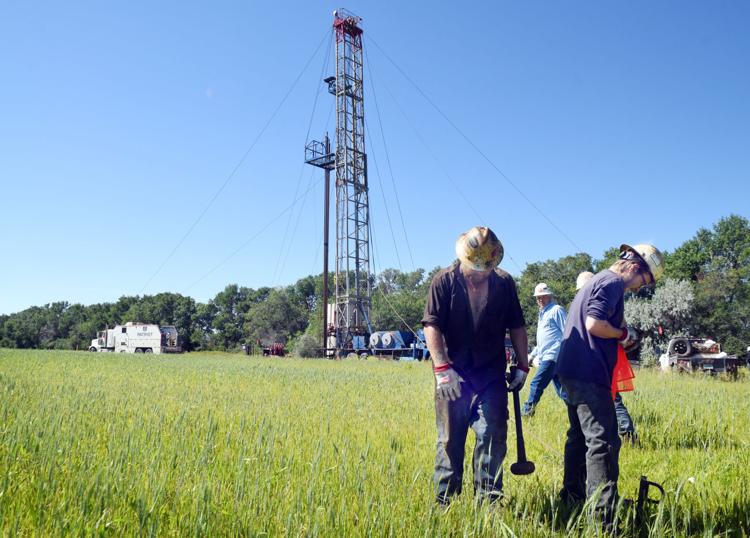 One of the seven workover rigs Ham's is operating now at another site, for example, is for a company that's plugging its own well outside the state program.
The pumpjacks that sit atop the wells in the program all will be taken to a central location when the holes are plugged. They could end up in use again, possibly in Ohio or Illinois where the oil industry has expressed interest in purchasing the small pumping units commonly used with older, shallower wells in North Dakota, Helms said.
While those pumpjacks find a new home, officials hope the workers who plug the wells won't. They view the program as a way to make sure a skilled workforce remains in the North Dakota oil fields when crude prices recover, to bring idled wells back online and start drilling new ones.
That's on Anderson's mind as well as he looks to the future for Ham's.
"We've got good hands, and we want to keep them," he said.
Concerned about COVID-19?
Sign up now to get the most recent coronavirus headlines and other important local and national news sent to your email inbox daily.