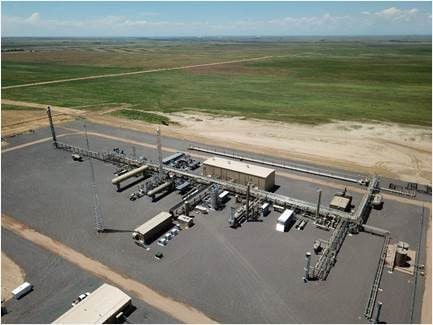 State regulators on Wednesday approved two natural gas projects: a processing plant along the North Dakota-Montana border and a pipeline in Williams and Mountrail counties.
Construction is slated to begin this week on the Bill Sanderson Gas Processing Plant west of Williston in Williams County, according to Outrigger Energy II, the company putting forward the project. The facility will handle up to 250 million cubic feet per day of gas.
The North Dakota Public Service Commission voted to grant the project a permit at a time when oil prices have fallen due to a lack of demand during the coronavirus pandemic. Many oil producers are idling wells and drilling fewer new wells.
Commissioner Randy Christmann said that during the last oil downturn in 2015, "a lot of the players responded by investing into long-term infrastructure that really paid off down the road."
"In this case, when you hear the amount of unemployment claims coming in and such, it might be a very right time for a company that is financially able to go ahead with a construction project this summer," he said.
Commission Chairman Brian Kroshus added that projects like the Sanderson gas plant position the Bakken for future development "in a responsible way."
"These projects tie back to a reduction in flaring, and that is a good thing," he said.
As more processing plants and pipelines have come online over the past year, the percentage of excess gas burned off in flares alongside oil wells has fallen significantly in North Dakota. The state is nearly back in compliance with its 12% flaring target after flaring peaked at 24% of all gas produced during one month last summer.
The new gas plant is expected to cost $150 million and become operational around the end of 2020, according to an application filed with the PSC.
The commission did not take any action on concerns raised by a member of the Turtle Mountain Band of Chippewa Indians at a hearing last month about the history of land ownership surrounding the site. Commissioner Julie Fedorchak said such a matter falls outside the PSC's jurisdiction.
Fedorchak, in speaking about the Sanderson plant, brought up last week's announcement by Great River Energy that it plans to close Coal Creek Station, the largest coal-fired power plant in North Dakota.
She said utilities are increasingly turning to natural gas-fired power to "bridge the gap" with renewable power. Wind turbines and solar panels do not generate power 100% of the time, and utilities often fire up gas plants in the interim to ensure that the power supply across the electric grid matches demand.
"If we're going to make these transitions, we have to have facilities like this processing the natural gas that's produced so it can be used for those types of purposes," she said.
Gas processing plants remove natural gas liquids such as ethane, propane and butane from raw gas extracted from oil wells. Once processed, the gas is ready for use in power generation, home heating and other applications.
The PSC on Wednesday also approved a short pipeline to transport processed gas from Liberty Midstream Solutions' County Line gas plant to Alliance Pipeline's Tioga Lateral pipeline.
The new Alliance Sales Line will run for 4.7 miles and is projected to cost $4.6 million.
Fedorchak said the pipeline allows for "another off-ramp" for more Bakken gas, as it will be carried on the Alliance Pipeline toward Chicago. A lot of gas produced in the Bakken is carried out of state on the Northern Border Pipeline, which is seeking approval from the federal government to enact stricter limits on the gas it transports, effectively requiring more processing before the gas is ready to go into the line. The Alliance Pipeline does not have such a requirement, allowing facilities without the ability to further process gas, such as the County Line plant, to still get its gas to market, Fedorchak said.
Be the first to know
Get local news delivered to your inbox!