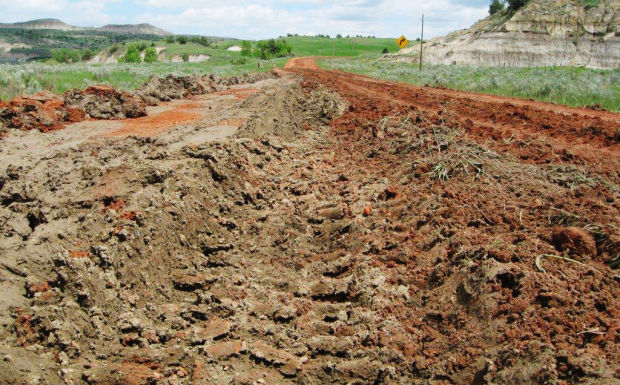 Trucks trying to move oil, salt water and other product around the oil patch are encountering a long string of days when gravel roads are closed for heavy-duty business.
The rain and soft drizzle caused counties to close roads again this week, starting Sunday, after being closed for three to four days days last week.
As of Monday, the restriction limiting weight to 12,000 pounds — about a pickup weight and excepting school buses — is in effect in McKenzie, Billings, Stark, Dunn, Williams and Mountrail counties. The restriction won't be lifted until conditions dry out again.
This adds up to a substantial number of days when trucks have to severely lighten loads of oil and salt water, and freight, or sit tight until the ban is lifted.
"It's one of the longest (stretches) since the spring of 2012. This is a long one," agreed McKenzie County Commissioner Ron Anderson.
The immediate forecast doesn't look promising for reopening the roads anytime soon, but six hours of warm sunshine, or even just a wind and no more rain could change that outlook in a hurry. Counties post their road status on www.ndenergy.org.
Dunn County Highway Superintendent Mike Zimmerman said he catches a little grief from out-of-state truckers who come in unaware of the ban.
"I tell them it might cost them a $1,000 to get stuck a day or two, but the taxpayers have to pay tens of thousands of dollars to repair the roads," he said.
He said he turned down an overweight permit Monday from a trucker who wanted to haul a 446,000 pound load down a gravel road.
"I said, `Uh, no,'" Zimmerman said.
Overall, there are far fewer trucks moving around the countryside these days, with oil drilling cut back and few wells being hydraulically fractured. Companies are turning to above-ground hoses to move water from ponds or wells to frack sites rather than endless rounds of water tanker trucks, Anderson said.
What hasn't changed is the need to haul salt water off of oil well sites. Salt water is produced on nearly a one-to-one barrel ratio as oil and roughly 1 million barrels of the salt water is either trucked or piped for deep well injection.
Patrick Walker, owner of a disposal company, 1804 Operating, said his company notices the drop when tankers can't haul away the salt water. He said oil companies maintain enough storage to have a buffer when roads are closed or blocked.