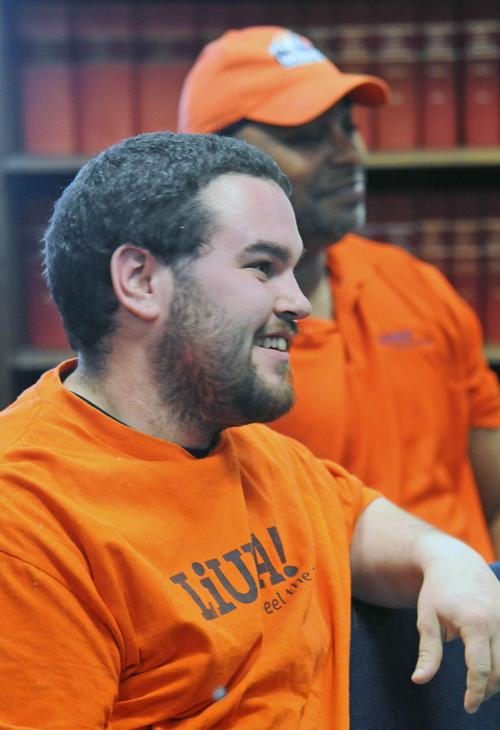 A company planning a multibillion dollar pipeline project that would move hundreds of thousands of barrels of oil from the state moved one step closer to construction Wednesday following permit approval by North Dakota regulators.
North Dakota Public Service Commission members approved the siting permit for the Dakota Access Pipeline, which has been under review for more than a year.
The pipeline is to be built by Dakota Access LLC, a partner of Dallas-based Energy Transfer Partners. The 1,168-mile, 30-inch diameter pipeline begins in western North Dakota near Stanley and would end near Patoka, Ill.
"This project will take trucks off the road and provide a safe alternative to crude by rail," Commissioner Chairwoman Julie Fedorchak said.
Only two of the three commissioners voted Wednesday; Commissioner Randy Christmann removed himself from review of the project earlier this month due to a conflict of interest. The company is negotiating with Christmann's mother-in-law for an easement on a portion of her property.
Energy Transfer Partners issued a statement to the Forum saying it was pleased with the PSC's decision and hopes to achieve a similar outcome in Iowa.
"Dakota Access Pipeline is an important energy infrastructure project that will provide a more direct, cost-effective, and safer manner to transport the currently constrained supply of light sweet crude oil out of the production areas in North Dakota to refining markets around the country," it said.
South Dakota and Illinois regulators have issued permit approval in their states. Approval is still pending in Iowa.
When completed, the Dakota Access Pipeline would transport as many as 450,000 barrels per day of Bakken crude with a future capacity of 570,000 barrels per day.
Tentative plans are to begin pipeline construction in the spring and have the line in service by late this year.
The route through North Dakota extends approximately 358 miles and passes through seven counties: Mountrail, Williams, McKenzie, Dunn, Mercer, Morton and Emmons.
The pipeline has an overall cost of $3.78 billion; $1.4 billion of the total cost would be invested in North Dakota.
Fedorchak said the project had an exhaustive review process, with hearings held in Mandan, Killdeer and Williston.
She said reclamation and protection against leaks were major priorities during the review process, leading to approximately 40 safety and reclamation requirements being included in the permit.
Among the items required in the permit include a monitoring system to be installed, monitoring 24 hours a day from a Texas site and remote shutdown capability in the event of a leak. Emergency response equipment also will be located in Bismarck, Epping, Williston and Watford City.
"We looked extensively at the safety plans," Fedorchak said. "We listened to the public input and the company listened to the public input."
The company's most recent numbers put easements secured along the North Dakota portion of the route at 88 percent.
Commissioner Brian Kalk said the review process went well and that it's important to continue to build energy infrastructure to get product to market.
"This is the right decision," Kalk said.
Steve Cortina, a representative for the Local 563 Laborers Union, was among several members present Wednesday who applauded the decision after the vote was taken. The union represents members in North Dakota and Minnesota.
Cortina said between 300 and 500 jobs would be created for the construction phase of the project in North Dakota.
"It's a huge boost," Cortina said of the project.
He said the union has supported the project for months and it would keep workers busy as infrastructure build out continues in the state.