"Amy" walks into the hotel lobby, thinking she is meeting a man who had arranged to pay $300 for sex on an out-call basis.
Before she can get to the room, the supposed "john" -- Rob Fontenot, an undercover agent with the North Dakota Bureau of Criminal Investigation -- shows her his badge and takes her outside to his unmarked SUV. He is there just to talk, he reassures her, not to make an arrest.
In the front seat, Fontenot shows Amy the Backpage ad that brought them together this October afternoon in Williston.
"Give me a call now … don't miss the opportunity to experience true bliss," reads the ad posted at 2:10 a.m. that day.
She doesn't recognize the ad as hers until Fontenot points out the phone number.
"Oh, then yeah, it was mine," she says. She posts a lot of ads, she tells Fontenot, and uses fake photos.
Amy - the name she advertised under - is 19, though her ad says 21. She tells the agent she has been in the life since she was 13.
Her mother worked as a prostitute.
"I just grew up with it," she says with a shrug.
Amy, with her Michael Kors bag and Rock Revival jeans, boasts about the money she makes and her addiction to designer labels.
How much money are we talking about? the agent asks.
$95,000, she says. Between January and April.
Some of the oil guys are dirty and gross, she says, but there's an upside.
"I get more money when they stink," she says.
Her brother, a truck driver, told her about the oil boom in North Dakota. There's money to be made up there, he said. So she packed her designer clothes and made the move.
Her brother thinks she works at Wal-Mart.
"I like my job," Amy says, a little defensively, a little defiantly. "I have fun doing it. I get to party all the time."
Fontenot, the BCI's point person for human trafficking, is skeptical. He sees that her sparkly pink fingernails are broken. She has a cut on her arm, bruises on her leg.
She tells him that two days earlier, she fled topless from a Williston house after a "trick" attacked her. They had undressed, she says, and he asked for his money back.
No refunds, she insisted.
Then he pounced on her, she tells Fontenot, and injured her shoulder, took her sweatshirt, broke her pepper spray and stopped her from dialing 911.
"He just went crazy on me," she said, adding that she thinks he may have been on meth. "I could not get out of the house."
She rattles off the address to Fontenot, but she said she did not report it to local police. The home is owned by an oilfield services company, according to county records.
Amy said she freaked out and cried after escaping to her car. The incident triggered her post-traumatic stress disorder, a result of being kidnapped and held hostage, she tells Fontenot. She said she's also had a .22-caliber gun shoved inside of her, leaving her unable to have children.
The last time Amy was with law enforcement was during an investigation of a man who had been her trafficker. He pleaded guilty this fall in federal court in another state to forcing women to travel to several states, place ads online and engage in prostitution.
"He was a (expletive) monster," she said. "He never hit me because I know my place and I play my role very well."
Amy insists she doesn't have a boyfriend or pimp now.
"Every single girl you see on Backpage besides me probably has a pimp."
Not Amy, she says. "Because I'm smart."
While four years ago the bureau was involved in a sting targeting and arresting women working in prostitution in Williston, the focus today is on investigating the traffickers.
Fontenot responds to Backpage ads in the guise of being a "date," and uses his time with the women to see if they are being trafficked, or know someone who is. He works on building relationships with women to get information on traffickers while trying to identify underage victims.
The BCI allowed Forum News Service reporters to sit in the backseat during some of the interviews.
"A lot of times they won't tell you about their boyfriend or their pimp, but they'll tell you about one they used to have or their friend's pimp," Fontenot told other law enforcement officers at a training session this fall.
Conversation rather than arrest and interrogation is one of the tactics law enforcement officers are using today to try to identify traffickers and put them behind bars.
If prosecutors could show in court some of the ways people compel women into prostitution, literally showing the terror and violence they employ, putting the pimps and traffickers away likely would be much easier.
But they can be subtle, those who manipulate women and girls into a life of forced sex for money. They say they will harm a girl's parents or siblings, a woman's child. They have embarrassing photos and will see that they are published. They say they will tip authorities to a woman's shaky immigration status, threatening deportation.
"At the end of the day, these are very difficult cases to prove," Assistant U.S. Attorney Jennifer Puhl said at a recent human trafficking summit in Bismarck. "It doesn't take a lot of skill or talent to find weaknesses in a human trafficking case."
To convict someone of human trafficking at the federal level, prosecutors need to prove that the defendant compelled someone to engage in commercial sex acts through the use of force, fraud or coercion. (Those elements are not required if the victim is under 18, just as "consent" is no defense in a case of statutory rape.) State statutes have similar requirements for prosecution of adults.
Most often, the human trafficking cases involve subtle forms of coercion, not physical restraints or chains.
"Admittedly, these are the most difficult forms of coercion to prove. You can't take a picture of it. You need the victim's cooperation. You need the victim's testimony," Puhl said. "Only the victim can explain the climate of fear. Only the victim can describe why she did it."
But first, authorities need to identify victims, who often don't consider themselves victims or are too fearful to speak up about their trafficker.
"Without a 'bad guy,' it's hard for us to make a case," Fontenot said.
If officers encounter a woman engaged in prostitution, it may take six or seven positive interactions before the woman tells officers about her trafficker, Fontenot said. In such cases, "much more of a rapport-building has to take place."
If the woman talks to law enforcement several times, she often will give inconsistent statements, giving a defense attorney an opportunity to point out holes in the case, said Christina Sambor, an attorney and project coordinator for FUSE, North Dakota's anti-trafficking coalition.
"That gives somebody on the other side of a case a lot to work with," Sambor said.
Marlyce Wilder, state's attorney for Williams County, which charged its first human trafficking case last year, said she anticipates the challenges to prosecuting these cases will be similar to challenges in domestic violence.
"Many believe they are in love with the abuser, that the abuser loves them, and perhaps they may even have children in common with him," Wilder said. "During the grooming process, the abuser has likely convinced the victims that no one else cares about them – at least not the way that he does."
Heidi Carlson, a former victim of sex trafficking, was married to her trafficker and has children with him.
"He was a brutal, brutal, brutal man," said Carlson, who was trafficked for 10 years, including in the Dakotas. "He tried to kill me several times and I actually should be dead."
The man was never prosecuted.
"I would never testify against him. I was too scared," said Carlson, who lives in the Twin Cities.
Years later, some encouraged Carlson to take civil action against the man. But she did not want intimate details of her life to be analyzed in a court proceeding.
"To put my life out there would not have been healing for me," Carlson said.
The serious trauma that victims experience makes it difficult for them to testify.
Before Levell Lee Durr pleaded guilty in his federal trafficking case, one victim's psychologist wrote to the court urging that the trial be delayed because testifying would be extremely traumatic. The woman is "severely psychologically fragile," the psychologist wrote, and is dealing with trauma flashbacks, anxiety and trouble sleeping.
Tim Purdon, U.S. attorney for North Dakota, emphasizes the importance of victim services. That was key in convicting Durr.
"If we're going to hold the bad guys, the traffickers, the people who trade in flesh responsible, we're going to need these folks as witnesses," Purdon said.
Societal issues or misconceptions held by juries and judges may also factor into getting a conviction for human trafficking.
"I think jurors have stereotypical views of very many types of cases, and this is just one of them," said Kelly Dillon, deputy Ward County state's attorney. "When most people hear human trafficking, they think of the 12-year-old locked in the basement. And that's just not what we're seeing out here."
In an upcoming trial in Moorhead, Minn., prosecutors plan to call two expert witnesses on sex trafficking to educate jurors about why victims are often reluctant to seek help and reasons why victims may continue to be loyal to their traffickers.
"Jurors without any knowledge of sex trafficking are likely to misunderstand or be confused by this and other behavior," writes Pamela Harris, chief assistant Clay County attorney, in court records.
While some say attitudes are changing about prosecuting women for prostitution, North Dakota agencies arrested more women for prostitution last year than in 2013.
Of the 55 misdemeanor prostitution arrests through the end of November last year, 20 were women and 35 were men, according to a Forum News Service analysis of cases filed in state and municipal courts.
In addition, at least five men were charged in 2014 with felony human trafficking or promoting prostitution offenses in North Dakota district courts. In North Dakota federal court, four were charged with sex trafficking-related offenses in 2014, in addition to more than a dozen cases that worked through federal courts related to men attempting to pay for sex with minors.
In Grand Forks, police are reluctant to arrest a woman for prostitution, said Lt. Jim Remer. Instead, detectives there have been doing "knock and talks" for the past 1½ years, similar to what the state BCI's Fontenot does now.
Police do not arrest the women during these conversations unless they have outstanding warrants or other circumstances that would warrant an arrest, Remer said.
"In the old days they were called the prostitutes," Remer said. "I think you need to look at them and view them as possibly victims of trafficking."
Puhl encourages agencies to make that police policy.
"It's not the right thing to do to charge a victim of prostitution just because we can," Puhl said, adding that it works against police efforts to cut into the sex trade.
"Who's going to cooperate with law enforcement? Is it going to be the law enforcement officer who's arrested that prostitute every time he's encountered her and thrown her in jail?" Puhl asked. "No, she's going to trust that individual who has picked her up six, seven times and each time he has given her his card and said, 'Call me, I'm here for you, I care about you and I'm ready to work with you when you're ready to leave this lifestyle.'"
About a third of the women arrested for prostitution in North Dakota last year were caught up in undercover sting operations, an examination of records shows.
In Minot, where police do the most enforcement of prostitution, accounting for about half of the state's prostitution arrests in 2013 and 2014, stings have targeted women placing ads as well as the men buying sex.
"We have to go about it that way," said Dillon, the deputy state's attorney, adding that the stings were in response to complaints about prostitution from the public. "If we're looking at ultimately getting the pimps, I think we have to go about it that way."
In other cases in Minot and elsewhere, women were arrested after police received reports from hotels or encountered the activity while on patrol.
In a Williston case, a woman convicted of prostitution spoke Mandarin Chinese, but her Backpage.com ad was in English. That, along with suspicions about an older man who posted the woman's bond, later led city prosecutor Taylor Olson to call the FBI and report that the woman likely was not acting alone. The woman was deported before authorities could investigate further, Olson said. The suspected john, who jumped out a hotel window when police arrived, was not charged.
In Divide County, the far northwest corner of the state, deputies found a man and woman engaged in sex for pay in a pickup while another man observed from a different vehicle, holding onto $1,500. Deputies cited all three.
An examination of court records also showed that two women convicted of prostitution in municipal court in 2014 were considered victims in other courtrooms.
In one case, 67-year-old Marvin Rex Lord was convicted in Burleigh County District Court of facilitating prostitution by arranging to meet men in a Bismarck hotel lobby and directing them to a room he had rented with his wife. A hotel manager witnessed the activity and called police.
To county prosecutors, the woman, a 42-year-old Asian woman who did not speak English, was a victim, said Pamela Nesvig, assistant Burleigh County state's attorney. But in Bismarck Municipal Court, the same woman was considered a criminal, charged with Class B misdemeanor prostitution. She pleaded guilty to the charge and was given credit for the 14 days she served in jail.
Lord pleaded guilty to the Class C felony and was given credit for the 50 days he served in jail with the remainder of a three-year sentence suspended.
In another case, Minot police arrested a woman for prostitution twice in August, once during a sting and once after a hotel reported suspicious activity.
Minot police had encountered the same woman in June while assisting with a human trafficking investigation. She is identified as a victim in a federal court case involving Durr, a Milwaukee man who pleaded guilty to recruiting two women to work as prostitutes in North Dakota.
When police questioned the woman in June, she gave them a false name and ID and later said her pimp forced her to assume a false identity, court records say. She did not cooperate with the human trafficking investigation.
"She did say, though, that law enforcement doesn't understand, that it is similar to brainwashing, that she's so frightened that she can't explain her circumstances," FBI Special Agent Bruce Bennett testified during a hearing in U.S. District Court.
Durr was in jail when the August prostitution arrests occurred.
The police officer who arrested the woman for prostitution the second time said that when he questioned her, she said she was working alone. In that incident, she also was arrested for possessing drug paraphernalia. That charge is still pending, along with a charge for bail jumping.
Windie Lazenko, a victim advocate who offered assistance to the woman, said she should have been offered services rather than convicted of prostitution.
"The fact that Durr wasn't controlling her at that time might have been a reason. But we know they don't just stop. Just because their pimp is locked up doesn't mean they stop," Lazenko said.
The number of men prosecuted in North Dakota for purchasing sex has increased each of the last several years.
In Minot, a sting in September resulted in the arrest of 10 men for misdemeanor prostitution over the course of 8½ hours. Capt. Dan Strandberg said police hope such stings will deter demand for prostitution.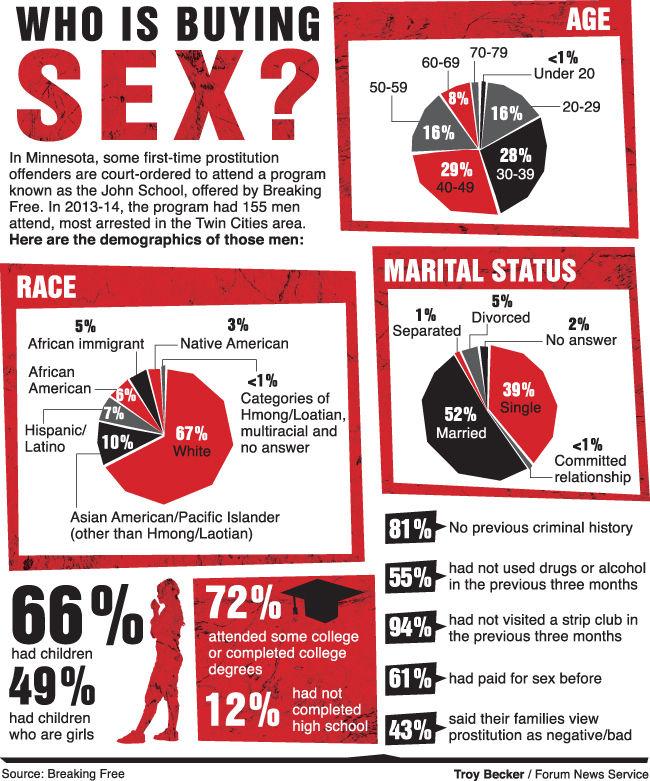 "It's market-driven, it's supply and demand, and if there is not a demand, then hopefully there won't be a supply," Strandberg said.
Most men convicted of misdemeanor prostitution in North Dakota plead guilty to the charge and receive a fine or suspended jail sentence.
In cases where the men responded to ads for sex with minors, they face more serious charges of human trafficking at either the state or federal level.
Officials often prefer to take the cases federal because the penalties are more severe. In North Dakota, recent federal sentences resulting from stings led to prison sentences of one to five years, plus at least five years of supervised release and requirements to register as a sex offender.
Rylee Nelson contributed to this report.