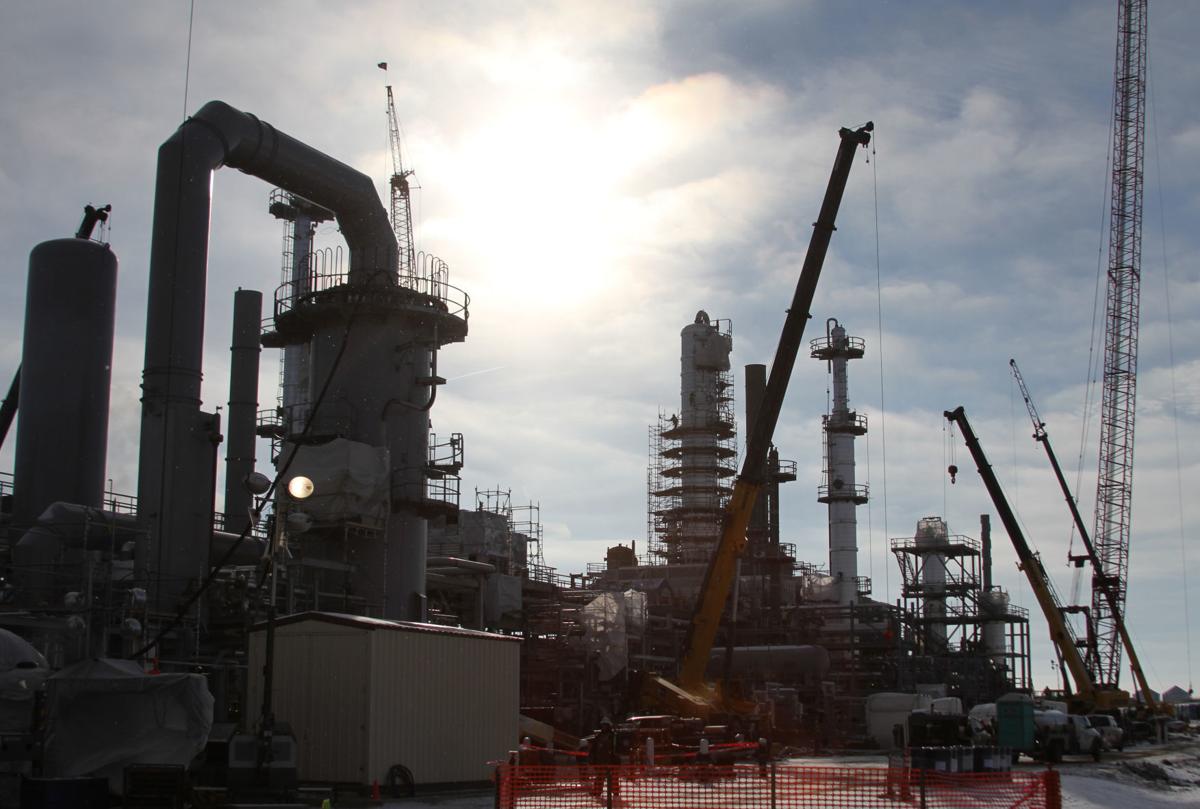 The owner of a small crude oil refinery in western North Dakota is proposing to convert the facility to process vegetable oil instead of petroleum to produce renewable diesel.
Andeavor, formerly known as Tesoro, plans to export the renewable diesel to California, where the product is in high demand. 
Andeavor has applied for a permit from the North Dakota Department of Health to convert the Dickinson Refinery to a facility that would process locally produced soybean oil and other renewable feedstocks.
The renewable diesel plant would be a first-of-its-kind facility for North Dakota as well as Andeavor.
"We see a lot of benefits and are excited about the project," said Destin Singleton, Andeavor spokeswoman.
The health department opened a 30-day public comment period on the proposal on Wednesday.
State health regulators reviewed the plans and concluded the facility is expected to continue to qualify as a minor source of hazardous air pollutants, which means emissions are limited to less than 100 tons per year of any pollutant. They will make a final decision on the air quality permit after receiving public comment.
Much of the equipment at the refinery will be repurposed and the footprint of the facility is not expected to change, said David Stroh, environmental engineer with the Division of Air Quality.
Andeavor is still reviewing the proposal internally, but decided to move forward with seeking the health permit, Singleton said.
The proposal builds on a pilot project at the Dickinson Refinery, which has involved processing vegetable oil along with Bakken crude to produce a 5 percent renewable diesel blend, Singleton said.
Now Andeavor proposes to create a renewable diesel product by processing only vegetable oil feedstocks, including soybean oil and distillers corn oil.
The renewable diesel would meet both the federal Renewable Fuels Standard and California's Low Carbon Fuel Standard.
"We're seeing that the technology is working and we believe this conversion will be an effective value-driver for both us and the state," Singleton said.
The refinery, which Andeavor purchased from MDU Resources Group in July 2016, processes 20,000 barrels of crude oil per day. It will continue to employ 80 people.
"It's creating a reliable, long-term operation for the refinery," Singleton said.
The new project would process 12,000 barrels per day of renewable feedstocks from local agricultural sources. Andeavor is working to secure agreements with regional suppliers.
The renewable diesel will primarily be shipped by rail to California. Rail shipments are estimated to be about 18 rail cars per day, similar to the volume the refinery currently ships.
The project is expected to be complete in late 2020, subject to permitting approval. Andeavor declined to disclose the cost of the project.
Shawn Kessel, deputy director for the North Dakota Department of Commerce who recently served as Dickinson city administrator, said the project is exciting in terms of the level of investment and creating another market for agriculture products.
"This seems to solidify the plant's future as a renewable producer in North Dakota," Kessel said.
In May, Marathon Petroleum Corp. announced it is merging with Andeavor, which also owns the Mandan Refinery.
The merger will not affect the renewable diesel proposal, as both companies continue to operate as separate organizations, according to Singleton. The merger is anticipated to close by the end of this year pending shareholder approval, she said.
Andeavor's application and other documents related to the air quality permit are available for review at www.deq.nd.gov/aq/publiccom.aspx#DR. Comments are accepted through Aug. 31 at AirQuality@nd.gov. Comments can be mailed to North Dakota Department of Health, Division of Air Quality, 918 E. Divide Ave., Bismarck, N.D. 58501-1947.
Andeavor plans to host a community open house on Aug. 13 in Dickinson to share more information.
Be the first to know
Get local news delivered to your inbox!